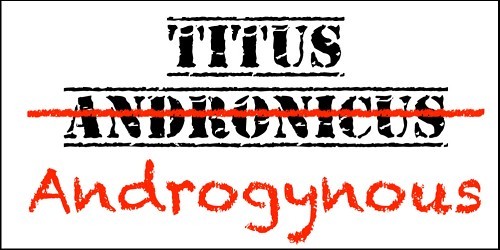 TITUS ANDROGYNOUS
WRITTEN BY WILLIAM SHAKESPEARE (mostly)
Bare Bones Shakespeare
TITUS ANDRONICUS, QUINTUS - Austin Lyles
SATURNINUS, DEMETRIUS - Daniel Lunt
AARON, BASSIANUS, CLOWN - Javier Morante
MARCUS, MARTIUS - Kei Striker
TAMORA, YOUNG LUCIUS, GORE CAPTAIN - Ashley Ottesen
LUCIUS, CHIRON - Julia Nelson
LAVINIA, NURSE, AEMILIUS, MUTIUS - Elyssa Underwood

STAGE MANAGER – John Masters
PRODUCER – Julia Nelson
---
Reviewed Performance:
Reviewed by Travis McCallum, Associate Critic for John Garcia's THE COLUMN
A quiet evening at Rover Dramawerks in Plano, I sat down in a small arena space along with my fellow audience members to enjoy an adaptation of one of Shakespeare's bloodiest plays. The stage manager, John Masters, is the EMCEE for the night's festivities. He injects a bit of humor to warm up the audience with housekeeping tidbits typical to any show. Not once, but twice does he warn of impending onstage violence, crude language and all manner of derogatory acts to come.

As was explained to me from the onset, the actors had only 9 days to learn their lines and rehearse. Some only 4. And one brave individual had started just yesterday. She would be reading from a script on stage. Titus Androgynous was in all fairness a passion project for the actors to send a PSA in today's charged political climate.

In addition, Masters explained, the entire show was company-directed as a collaborative process with a style akin to production practices in the Shakespearean area.

I am thankful for his warning and explanation for the next hour and a half to come.

Titus Androgynous is an unpolished passion project that left me feeling like I was watching a run-through rehearsal 2 weeks before a finished product. From the beginning of the play actors come on set screaming their lines and it becomes very clear there is no intention behind their actions.

The show quickly becomes a spectacle, a show! Any sense of realism is lost behind their boisterous façade, save one actor. Indeed, perhaps it was the directing intention to treat half of the performance as a satire. The actors often broke the 4th wall, engaging the audience as the Roman citizens, appealing to our empathy and sharing inside jokes. The timing was off in many places including exits and entrances where actors would bump into each other at the doorways, often saying sorry out of character. Lines were forgotten or misspoken out of turn, only to be repeated again. Not to mention the actors continued to talk over each other throughout the show. It became very clear they were simply reciting memorized lines and not listening to what their speaking partner had to say.

One of my biggest pet peeves is empty movement. So many times an actor would cross to another part of the stage while speaking, but with no reason to move to any location. Even worse, non-speaking actors would cross and distract from whomever was speaking at the time. Blocking as a whole seemed like a giant improv game.

Another mistake I saw repeatedly were rushed monologues. Before a big scene ended and all the actors were able to exit the scene, a character would burst into his/her monologue without a single beat.

When I saw the show there were only 7 audience members all on one side of the arena. The actors catered a majority of their acting towards us, which honestly was a good adaptation on the fly. But I couldn't help wondering how they might have managed some of their scenes in a full house.

One of the most common problems I see beginning actors do is that they hug the wall furthest away from the audience because they are nervous and afraid. In this case, there were many times the action was literally riding up on the empty audience chairs opposite our side.

Titus Androgynous is a minimalist production so there are no extravagant costumes. No music or fancy lights. Just a few props and the occasional block or table. Everyone wore black shirts, pants and shoes. The men had their shirts tucked in, while the ladies did not. To distinguish the different characters, they wore capes, shawls or tunics. This became especially important because each actor played up to three different characters.

A good example of character differentiation was the goth usage of fedora's. One particular costume choice I liked was the red socks creatively used to signify amputee's body parts.

I mentioned one actor pulled off a realistic role on stage. I was very impressed with Tamora (Ashley Ottesen) throughout the show. She started really strong with her weeping and pleading to everyone. Later we can see her heart harden as she seeks revenge.

Aaron (Javier Morante) was full of confidence on stage, which sold the illusion that he was in control of the scenes. I appreciated someone who could be the authority and guide the momentum.

Both Lucius (Julia Nelson) and Demetrius (Daniel Lunt) made a dynamic duo to be remembered. Their sadistic excitement energized the audience as they tortured, raped and killed many characters on stage. I couldn't help but admire their gaudy stances. There was one scene where tension built over a conversation on revenge between Titus (Austin Lyles) and Marcus (Kei Striker). Seeing how they built off each other into this powerful energy of rage and determination was a welcome sight.

Bless Elyssa Underwood for stepping in on short notice to fill all the extra roles needed. She fit the character of Lavinia best—a daughter of Titus who is brutally raped and then has her tongue & hands cut off.

I had a very hard time keeping up with the actors' transformation between different characters because often times they did it all within a blink of an eye. It would have been better to space character transformation over time, but I understand because of the cast size they were limited in their options.

As the play progressed towards the end I could tell the actors spent considerably less time in the latter parts. The final death scene had one of the coolest stage spacing's, but unfortunately was ruined when in the middle of a conversation all the dead bodies suddenly got up and walked off stage. And then Marcus & Lucius attempted to hold an invisible Titus in their hands, it was most awkward!! Why couldn't the actor just stay there dead?

Overall, Bare Bones Shakespeare lives up to its name as a minimalist production company working off the passion of its actors. I recommend this show to anyone interested in an intimate performance filled with harrowing progressive issues sure to strike a nerve and call to action social change.

I must warn you that Titus Androgynous is not for children, nor will it have a high production value of a modern show. The good news is the tickets are inexpensive and it's a perfect date to take someone in this spooky holiday month we call Halloween.
---
Titus Androgynous
Bare Bones Shakespeare
October 4 through October 13
Rover Dramawerks
221 W Parker Rd, Plano, TX 75023
For more information and tickets call 972-849-0358 or go to
www.roverdramawerks.com