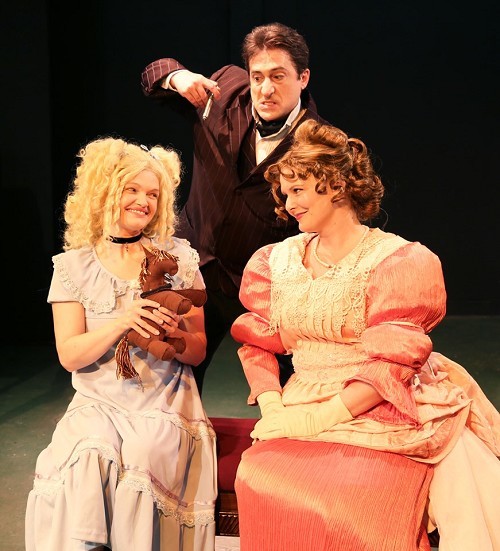 CHEMICAL IMBALANCE
By Lauren Wilson
Rover Dramawerks
Director/Set Designer- Mikey Abrams
Stage Manager- Gabby Lundy
Fight Choreographer- David Saldivar
Master Carpenter- Harley Roche'
Scenic Painter- Kasey Bush
Costume/Hair and Makeup Designer- Shanna Gobin
Sound Designer- Robbi Holman
Lighting Designer- Kenneth Hall
Properties Designer- Kristin M Burgess

CAST
Ivy- Lynsey Hale
Euphronia Jekyll- Sue Goodner
Ambriosia Jekyll/Constable- Alex Moore
Plodgett- Stephanie Felton
Henry Jekyll- Cameron McElyea
Xavier Utterson/Lieutenant- Art Kedzierski
Rosamunda Dewthistle- Kristin Sutton Ford
Lady Throckmortonshire- Andi Allen
Calliope and Penelope Throckmortonshire- Sara Snyder
---
Reviewed Performance: 10/11/2019
Reviewed by Jordan Thomas, Associate Critic for John Garcia's THE COLUMN
If you are looking to get into the spooky spirit this season with a classic dark tale, while at the same time enjoy a satisfying sinister comedy, dash on over to Rover Dramawerks for their production of Chemical Imbalance.

Chemical Imbalance is a dark comedic adaptation of Robert Louis Stephenson's gothic classic, The Strange Case of Dr. Jekyll and Mr. Hyde. It is quite refreshing that a story first published in 1886, initially taken as a serious frightening story, has been seamlessly transformed into a clever comedy.

This being my first visit to Rover Dramawerks, I was surprised, yet delighted to enter the theater and see a non-traditional stage. The playing space was intimate, and the seating was that of an L shape. With an open seating policy, I suggest arriving early to ensure you get your seat of choice. Although I doubt there is a bad seat in the house for this production, I greatly enjoyed my seat in the middle of the larger section, and I recommend it to all. Just remember to look to your left for the pure comedy that is Stephanie Felton as Plodgett in the dinner scene!

Director Mikey Abrams has assembled an all-star cast with no weak player in sight. His casting was delightful as each player brought a strong performance, and their own lot of outrageously bold facial expressions. It is also not too often that you see a show where each actor so perfectly physically looks like they could actually be the character they are portraying. This production was full of well-timed comedic moments and smooth transitions. Abrams' blocking choices were seamless and used each part of the space well. I truly enjoyed the creativity displayed when Ambriosia Jekyll, played nicely by Alex Moore, would hilariously maneuver herself in a great effort to unite Dr. Jekyll and Rosamunda Dewthistle throughout the play. Abrams' led a strong cast that delivered a stellar performance with energy and commitment.

Mikey Abrams also acted as the Set Designer, successfully creating a cohesive and workable playing space to let his vision shine. The production mainly takes place in the Jekyll drawing room, which was set dressed to a T. During act two when playing cards were gathered from a desk, I had no disbelief that that desk was a part of a true home and used regularly by real people, and as Dr. Jekyll entered his laboratory (ever so satisfyingly pronounced in the English accent throughout) the overwhelming number of beakers and bottles filled the area to truly showcase a lived-in working lab. One interesting choice was that of having a dinner scene with a table tall enough to stand behind, rather than the traditional level with the use of chairs. This choice at first appeared like it was made to save space and time in a scene change. However, as the scene progressed it was revealed to fit the needs of the scene quite perfectly, especially with the layout of the stage and audience. While the overall design was wonderful, Abrams really missed a great opportunity to design the space behind the drawing room French doors leading outside. This area was used throughout the production and was a true disappointment being left a blank black wall.

Costumes, Hair and Makeup were designed by Shanna Gobin. Gobin brought in some delightful creations, and I especially loved the color and fun of anything worn by Lady Throckmortonshire. I would not call these creations devoutly time period, but I feel as if this adequately plays into the overall humor of the production. Lighting Design by Kenneth Hall was tasteful and effective. Lights were consistent and proper when indoors and outdoors with many special effects peppered throughout. Lighting in this production added to the humor of the action on stage and truly helped propel the story as it was being told.

Henry Jekyll as portrayed by Cameron McElyea, is a fairly serious character far too interested in his experiments and career as a doctor to even notice anything else around him, especially obviously interested women like the lovely Miss Dewthistle, adorably played by Kristin Sutton Fort. McElyea does a phenomenal job of playing Henry Jekyll as a passionate, driven man, and an equally wonderful job as Mr. Hyde, the alter ego he turns into after drinking a prepared concoction. His characters are each profoundly distinct and his transformations are dramatic and humorous all at once, especially as they happen more and more frequently.

The cast as a whole ensemble was committed to their roles and to this story. Without the full commitment this production would not have been the success that it was. The epitome of such commitment is seen in Andi Allen's portrayal of Lady Throckmortonshire. One must truly be present to behold such facial expressions and comedic reactions. Her daughters Calliope and Penelope Throckmortonshire were played by Sara Snyder. Snyder as a grown adult had the interesting task of playing young twin girls with quite the opposite personalities. Snyder was able to jump from one character to the other with ease, even in conversation between the two girls.

Standout performances include Lynsey Hale and Stephanie Felton as Ivy and Plodgett respectively. Ivy and Plodgett serve the plot as the house maid and cook. These ladies each provide constant comedy, despite not always being given dialogue in every scene. True entertainment comes from watching them at any given moment with their wild facial expressions, energetic reactions and bold character choices.

Chemical Imbalance sports a delightful twist on the serious original story of Jekyll and Hyde. This production is sure to get you in the spirit of spooks and thrill this season and give you many a laugh along the way. With a running time of less than two hours, this fast-paced comedy is sure to delight. Support local theater and head on over to Rover Dramawerks for their production of Chemical Imbalance before it closes October 26th.
---
CHEMICAL IMBALANCE
Rover Dramawerks
221 W. Parker Road
Suite 580
Plano, TX 75023

Plays through October 26th.

Thursdays and Fridays at 8pm; Saturdays at 3pm and 8pm.

Tickets range from $15-$24.

For more information and to purchase tickets, go to http://www.roverdramawerks.com or call their box office at 972.849.0358.