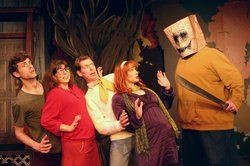 CAMP DEATH
Pocket Sandwich Theatre
---
Reviewed Performance: 10/23/2011
Reviewed by Christopher Soden, Associate Critic for John Garcia's THE COLUMN
I don't know if you were around when John Carpenter's Halloween opened in the late 1970s but it set the formula for numerous other films, including Friday the 13th, in which horny teenagers were punished by a knife-wielding psychopath, for "getting busy" when they should have been watching the kids in their care. Camp Death, Pocket Sandwich Theatre's latest pop culture spoof (playing through November 12), is a gleefully absurd tribute to the Slasher Film genre. Written by Kevin Michael Fuld and set in the woods just outside Camp Silver Lake, Camp Death follows a group of teenagers eager for some recreation in nature and some natural recreation.

Ruby is still not ready for heavy petting and loss of virginity (which, consistent with Slasher Film Logic, saves her life). Alice longs for the affections of Jessie, but sadly, intelligence is no substitute for Molly's smokin' attributes. Steve tries to convince Alice she deserves better, but cannot quite make the cut. They've all heard of Joey Manchester, the serial murderer supposedly lost in a fire, but much to their peril, they dismiss him as urban legend. When Joey, disguised in a surprisingly creepy grocery bag mask, starts attacking hapless teen horndogs, not even the authorities (Sheriff Cunningham and Deputy Browning) are willing to believe or assist in his capture.

There is nothing quite as relaxing or irresistible as one of PST's popcorn throwers, and Camp Death is no exception. Through costume, dialogue, and plot it references numerous other films and television shows (besides the previously mentioned Halloween and Friday the 13th) including Scooby Doo, Where are You?, Nightmare on Elm Street, and Silence of the Lambs. Fuld and director Dona Safran have no compunctions when it comes to going over the top. If unexpectedly breaking into song or an outlandish costume change makes for a funnier show, then why not? I suspect they begin with the premise that if audiences will sit through movies that so flagrantly strain credulity, why not push the envelope even further? It's difficult (for instance) not to laugh when Joey takes the time to phone Son of Sam, and get his advice on an ethical problem. It's a blast to visit Pocket Sandwich and just surrender to helpless, mindless merriment.
---
CAMP DEATH By Kevin Flud
Pocket Sandwich Theatre
Through November 12, 2011


Shows are at 8:00 on Thursdays, Fridays, and Saturdays; 7:00 on Sunday. Food and beverage service is available one and a half-hours before show time. Ticket prices are: $10 Thursday; $15 Friday; $18 Saturday; and $12 Sunday.

Theatre is located at 5400 East Mockingbird Lane, Suite 119, Mockingbird Central Plaza, one block east of Central Expressway. For reservations or info call 214-821-1860.