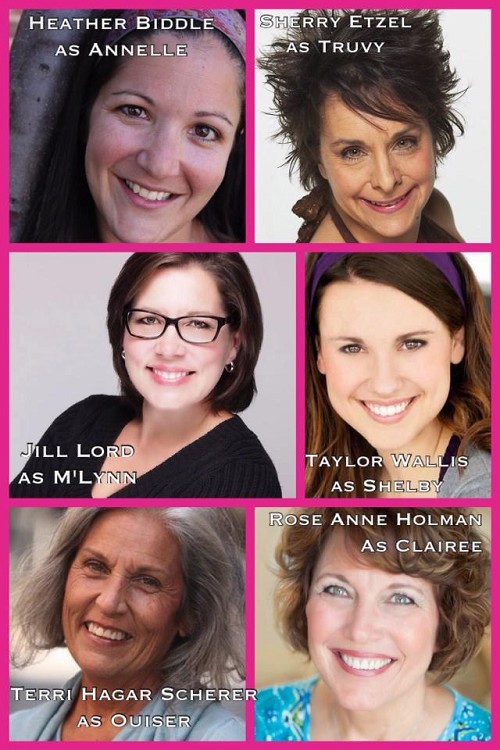 STEEL MAGNOLIAS
by Robert Harling
OhLook Performing Arts Center
Directed by Tony Daussat
Set Construction by Rick Daussat and Tony Daussat
Costume Design by Patsy Daussat
Lighting and Sound Design by Logan Uhtenwoldt


CAST
Jill Blalock Lord – Mary Lynn "M'Lynn" Eatenton
Sherry Etzel – Truvy Jones
Terri Hagar Scherer – Louisa "Ouiser" Boudreaux
Heather Biddle – Annelle Dupuy Desoto
Rose Anne Holman – Clairee Belcher
Taylor Wallis – Shelby Eatenton Latcherie
---
Reviewed Performance: 10/26/2013
Reviewed by Teri Rogers, Associate Critic for John Garcia's THE COLUMN
When playwright Robert Harling lost his sister and best friend to complications from Type 1 diabetes in 1985, he turned to the women in his life for advice on dealing with the loss. The consummation of their guidance is Steel Magnolias, an enduring tale of love and friendship in a small Louisiana town, serving as both a tribute to his sister and a family history for her only child. When asked how he chose the title, Harling recounted the memory of a neighbor who kept keys and loose change in a floral metal paperweight by her door, which she called a steel magnolia. He remembers, "I found it interesting that the thing was neither steel nor a magnolia but that's what she called it. And the imagery stuck. Something beautiful made of very strong stuff."

OhLook's production opens in Truvy's Beauty Parlor in all its '80s glory: crocheted tissue cozy, mauve paint and glamour shots galore. Down home décor and homespun draperies accent the converted car-port feel, and salon staples like styling chairs and overhead hair dryers abound. As the show progresses, new additions highlight the changing seasons and passage of time, including a Martha Stewart-worthy crafty Christmas tree.

We meet Truvy herself, played by the appropriately gregarious Sherry Etzel, having her voluminous hair teased by the delightfully mousey Annelle, played by Heather Biddle. Annelle, new in town and desperate to hide her past, is introduced to the tender, tough, and hilarious ladies who make up Truvy's regular clientele. The women – Clairee, Ouiser, Shelby, and her mother M'Lynn – have gathered together to get gussied up for Shelby's wedding. Thus begins a journey through three years of Southern life as we follow the stories of faith, family, love, loss and the ever-present strength of a small group of women in Chinquapin Parish.

Without a strong cast, the humor essential to the relationships in this tight-knit group would simply fall flat. Director Tony Daussat's dazzling divas do not disappoint. Taylor Wallis strikes a wonderful chord as the young Shelby, eager to start a life out from under her mother's overprotective hand. She embodies the young diabetic with a realism that would impress a certain screen actor who shares the role, and her scenes with Jill Blalock Lord's M'Lynn are some of the best in the play.

Sherry Etzel exudes charm and humor as the extravagant Truvy while managing to bring out the caring side of a character easily lost beneath mounds of fabulous hair and gallons of Aqua Net. Truvy is a character for which it is simple to take too far, but Etzel holds the reigns nicely and delivers a truly memorable performance. She provides an excellent foil to Heather Biddle's shy, anxious Annelle. While a bit over-the-top in the first scene, Biddle's believability improves as the show progresses and she finds subtle ways to portray Annelle's transformation from the awkward new stylist, to the "hottest ticket in town," a born-again Christian, and finally a Clairee-approved "smart-a**."

The wealthy and widowed Clairee is brought to life by funny lady Rose Anne Holman, who (despite a few line flubs) delivers quite the humorous performance and plays beautifully off the fantastic Terri Hagar Scherer as Ouiser. Scherer's divinely dominating presence and superior delivery of Ousier's acerbic wit launches the audience into fits of laughter from the moment she steps on stage. My word, that woman can make an entrance!

Jill Blalock Lord commands the stage as the at once comfortingly strong, conscientiously maternal, and heartbreakingly fragile M'Lynn. With perfect comedic timing and a set of dramatic chops to die for, Lord makes the audience laugh and weep, sometimes all at once, as a woman fighting the losing end of a battle for her daughter's life.

Costumes by Patsy Daussat are a glorious mix of spandex and daring color combinations for Truvy, floral prints and fabulous color for Clairee, and precious pink for Shelby. From shoulder pads to windbreakers and sequins, these outfits are a welcome blast from the past. Particularly well done are the many costumes that follow Annelle on her transformation, with the exception of a somewhat unrealistic looking pregnancy belly.

If there was a weak link in this production, it would be the technical execution. With a crew of only one, the many changes to the set executed during blackouts drag on for some time, leaving the audience to squirm impatiently in their seats. While Logan Uhtenwoldt's sound design is perfectly suited to the show and delivers a pleasing playlist of '80s hits, there are quite a few errors with sound cues and levels that distracted from the wonderful performances onstage. The lighting, also handled by Uhtenwoldt, is spotty in places. When Daussat blocked his cast far stage right, they are almost completely in shadow causing the audience to miss out on the hilarious faces some of these ladies are pulling.

But this is not a play about the technical aspects. This is a play about the characters, and Tony Daussat's remarkable cast expertly draws the audience into the lives of these tenacious and delicate Southern flowers who remind us all that – with a little humor and good friends – life goes on.
---
STEEL MAGNOLIAS

OhLook Performing Arts Center
1631 West Northwest Highway
Grapevine, TX 76051

Runs through November 3rd

Friday - Saturday at 7:30 pm, Sunday matinee at 2:30 pm

Tickets are $15.00 each.

For information and to purchase tickets, go to www.ohlookperform.com or call their box office at 817-421-2825.