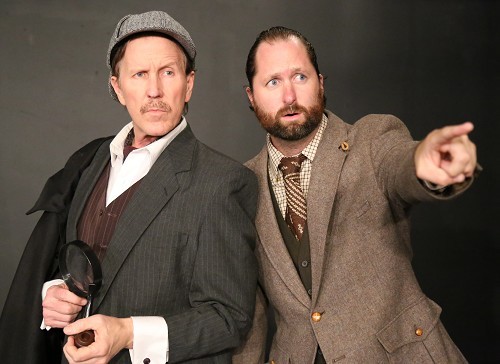 SHERLOCK HOLMES AND THE WEST END HORROR
by Anthony Dodge and Marcia Milgrom Dodge
Rover Dramawerks
Directed by Paul McKenzie
Stage Manager – Chad Jones
Scenic Design – Abby Kipp-Roberts
Lighting Design – Maxim Overton
Costume Design – Shanna Gobin
Sound Design – Paul McKenzie
Properties Design – Terrie W. Justus
Video Design – Steve Roberts

CAST
Player #1 (Sherlock Holmes) – David Noel
Player #2 (John Watson) – Deron Wade
Player #3 (George Bernard Shaw, Henry Irving, et al) – Gary Eoff
Player #4 (Inspector Lestrade, Bram Stoker, et al) – Paelor Cuihn
Player #5 (Oscar Wilde, Sir Arthur Sullivan, et al) – Chad Bell
Player #6 (Dr. Brownlow, Ellen Terry, et al) – Cody Bagshaw
Player #7 (Miss Jessie Rutland, Achmed Singh, et al) – Klarice McCarron
Player #8 (Pianist, et al) – Nancy Lamb
Player #9 (Miscellaneous roles) – Chris Castillo
---
Reviewed Performance: 10/27/2017
Reviewed by Rachel Elizabeth Khoriander, Associate Critic for John Garcia's THE COLUMN
In the early 2000s, Broadway director Marcia Milgrom Dodge and her playwright husband, Anthony Dodge, decided to adapt a 1976 pastiche novel written by Nicholas Meyer, an avid fan of Sir Arthur Conan Doyle and the writer/director of Star Trek II: The Wrath of Khan (among other films). The resulting play, Sherlock Holmes and the West End Horror, revolves around the murder of a theater critic, which Sherlock, listless after the death of his great foe, Professor Moriarty, agrees to take on as his last case after he is implored to do so by none other than a young George Bernard Shaw.

The majority of the plot involves Holmes and Watson butting up against other greats of the theater world as they search for a murderer, and though the script itself is a bit weak, this device and a fair amount of humor keep things interesting—though knowledge of Victorian culture may help you grasp the many allusions woven throughout the script. Among the many theatrical and literary luminaries Sherlock encounters (all of which are played by only five actors) are Oscar Wilde, Bram Stoker, Henry Irving, Ellen Terry, a young H.G. Wells, and W.S. Gilbert and Arthur Sullivan, and quotes and inside jokes from literary and musical works abound.

David Noel's Sherlock Holmes is a throwback to an earlier time—far more Basil Rathbone than Benedict Cumberbatch, but with his own read on the character as well. Though he carries Holmes's signature intensity throughout the play, which is a great foil for the more light-hearted portraits created by the other actors, Noel's Holmes is self-aware enough to realize that he is, at times, the butt of the joke. Noel does initially seem a bit stiff (and during the performance I attended, at least one line appeared to have been missed), but he eventually settles into the role and its accompanying accent, and drives the plot along with unmistakable energy and palpable presence.

John Watson, played by Deron Wade, complements Noel's physicality beautifully. Where Noel's movements are brisk and purposeful, Wade's are mild and graceful. While watching Wade, there were times it felt as though his character's gait and hand motions were a form of dance, particularly when he was examining an imaginary corpse. Still, he was never more arresting than during his narrations, which were masterful and intensely empathetic.

The remainder of the actors have a tendency to steal the scenes they are in and since they play so many roles, it will be hard to cover them all or do so without giving spoilers, so I will limit myself to particularly notable roles.

Gary Eoff's makes George Bernard Shaw, who could easily be played as a brash oaf, lovable in his forthrightness. Eoff's Irish accent as Shaw is formidable and his later turn as Henry Irving is perfect in his sulking.

Paelor Cuihn's Inspector Lestrade is lovably bumbling and his exaggerated facial expressions and purposely menacing movements as Bram Stoker make Stoker one of the highlights of the show. (Cuihn has also got curtain fingering down to an art form.)

Another highlight is Cody Bagshaw's Ellen Terry. When Bagshaw is on stage as Terry, it's difficult to pay attention to anything but him.

Chad Bell is a remarkably flexible actor, playing both Oscar Wilde and Sir Arthur Sullivan as distinctly different yet believable characters. Bell's fluid mannerisms and melodic delivery as Wilde particularly stand out in contrast to his business-like Sir Arthur Sullivan.

Klarice McCarron is affecting as Jessie Rutland and has a lovely soprano voice, but I found her particularly interesting as the young male police officer assigned to the case, wherein she displayed the mannerisms of a young Tim Roth. McKarron's portrait of Achmed Singh is similarly well done, but I had a bit of difficulty with the selection of actors for this particular role when the script has suddenly taken a detour into a critique of colonialism (although I believe I understand the choice).

The cast is rounded out by Chris Castillo, who plays a variety of small roles well and makes (as one audience member shouted to him during his bow) a very fine horse, and Nancy Lamb, who, though usually tucked behind an upright piano, is memorable and capable when she ventures out from behind it.

Set design is sparse, but creates a sense of scope and movement through London by use of a video screen. Backdrops are cityscapes, hauntingly shown in black and white. Apartment spaces are furnished with period furniture, featuring lots of polished wood and red velvet. The majority of the on-stage spaces, however, are created by a series of doors which are wheeled about and reconfigured to create a sense of movement from location to location. A faulty door that would not stay closed caused some consternation during the performance I attended, though the actors improvised well; still, it (and a few other kinks) slowed scene changes and sometimes affected timing.

Lighting is unobtrusive and effective, and special effects toward the end of the play lend to the darkness of the final scenes. Similarly, sound cues are hit perfectly with no obvious technical flubs. Much of the music for the show is classical or old style musicale, spiritedly performed on the piano and perfectly fitting for the subject matter.

Costumes are similarly appropriate, with the majority of the gentlemen in tailored suits, the styles of which vary according to profession, while the police officer dons a standard bobbie uniform, and George Bernard Shaw fittingly wears knickerbockers. The dress for most of the women is somewhat comical, as it is meant to be, except for Jessie Rutland's character, who wears a period dress. Additional details are added to distinguish between characters, such as Sherlock's signature Inverness cape, outrageous and amusing false facial hair for Bram Stoker, and flamboyant costuming for Henry Irving.

And ultimately it is the strength of this production's costuming and characters that keep the audience intrigued. Though the play suffers from a few comedic timing issues and the script drags in some places, the humor is abundant and the portraits of literary notables are entertaining. If for no other reason than these, it's worth seeing a live production of Sherlock Holmes and the West End Horror. Happily, Rover Dramawerk's artistic and technical teams make this an appealing option.
---
SHERLOCK HOLMES AND THE WEST END HORROR
Rover Dramawerks
221 W. Parker Road, Suite 580
Plano, TX 75023

Runs through November 18th.

Thursday, Friday, and Saturday at 8:00 pm with matinees on Saturday at 3:00 pm.

Tickets for Thursdays and matinees are $16.00. Tickets for Friday and Saturday nights are $22.00. Students and seniors receive $2.00 discounts on tickets. Groups of 10 to 19 receive $2.00 off the cost of admission; groups of 20 or more receive $4.00 off the cost of admission. No late seating.

For information and to purchase tickets, visit http://www.roverdramawerks.com/, or call the box office at 972-849-0358.