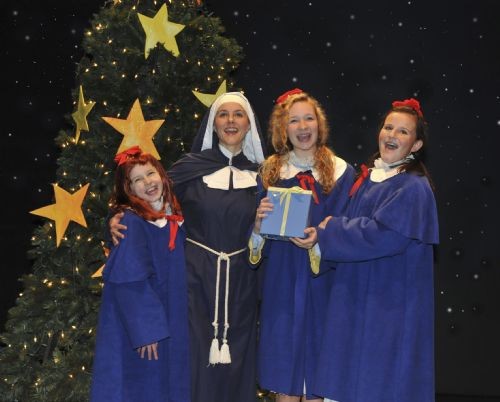 MADELINE'S CHRISTMAS
Book by Jennifer Kirkeby, Music by Shirley Mier
Dallas Children's Theater
PRODUCTION TEAM
Director/Choreographer: Nancy Schaeffer
Musical Director: Adam C. Wright
Scenic Designer: Randel Wright
Costume Designer: Laurie Land
Lighting Designer: Linda Blase
Sound Designer: Marco Salinas
Properties Master: Abram Rankin
Stage Manager: Dwight Sandell



CAST
NOTE: This group reviewed for this performance was the Red Cast.

Madeline: Madie Buckles
Miss Clavel: Lisa Schreiner
Monsieur Brun/Harsha: David Lugo
Mrs. Murphy: Amy Mills
Regine: Zoe Kerr
Isabelle: Tori Gilchrist
Kate: Olivia Jennings
Dominique: Allison Walters
Amy: Yaz Arikan
Mary: Manon McCollum
Juliette: Ryleigh Powers
Simone: Erin McGuire
Daphne: Kendyl Mull
Camille: Alise Newman
Anne: Cambridge Bender
---
Reviewed Performance: 11/19/2011
Reviewed by Ashlea Palladino, Associate Critic for John Garcia's THE COLUMN
As she often does, my 8-year old daughter accompanied me to Dallas Children's Theater to review Madeline's Christmas this past Saturday afternoon. My live-in Junior Theater Critic is particularly fond of shows at DCT because they leave laminated placards on our selected seats with "VIP" printed on them. I am, like, the coolest mom ever when we are escorted into a full theater and shown to our reserved seats near the front of the house! My kiddo feels very important when she visits DCT but my guess is that DCT wants every child who visits to feel that way. Consistently highlighting fun-to-watch, well-produced shows is a sure-fire way to reach that goal and Madeline's Christmas is no exception.

Based on the literary series first introduced by Ludwig Bemelmans in 1939, the story spotlights twelve adolescent residents of a Catholic boarding school in Paris. Madeline is the youngest, the smallest, and without a doubt the most precocious of the girls. She always seems to be getting into some kind of trouble but her angelic countenance and her good intentions typically keep her from punishment. Miss Clavel, the nun who runs the boarding school, is a kindhearted woman who sees the best in all of her charges and cares for the girls with genuine affection though she seems to have a soft spot for Madeline.

Madeline's Christmas focuses on every person at the boarding school (save one) becoming ill right before Christmas and their worry that they won't be able to see their families for the holiday. Madeline, who smartly wears her scarf during a chilly visit to the zoo, avoids the illness and is able to nurse her friends and Miss Clavel back to health?with some magical help from her friend Harsha. Not only does Harsha end the sickness, he also provides the girls a way
to be with their families on Christmas: magic carpets.

The sets by Randel Wright, and lighting by Linda Blase worked together beautifully to showcase the school house "?an old house in Paris that was covered in vines?", the frigid winter weather, and the majestic city of Paris. While I appreciated the symmetry and homogeneity of twelve of everything ? twelve hats, twelve scarves, twelve beds, and twelve magic carpets ? it couldn't
have been an easy task designing for a dozen little girls. Each member of the technical team contributed their individual talents to make this a beautiful production but whoever actually painted the drops and the furniture should be thanked specifically for their inspiring work that very closely mimicked the author's own illustrations.

Laurie Land brought Madeline's iconic look to life: yellow dress, blue jacket, white Peter Pan collar, red bow, and black flats exactly as rendered in the books. All of the costumes were tailored perfectly for each girl, as was Miss Clavel's blue habit and the costumes for the other adults in the show. Harsha's gold and bejeweled magi frock was the most ornate of the costumes which appropriately set his character apart from the uniformity of the boarding school students.

Director Nancy Schaeffer cast this show marvelously with twelve energetic young ladies who were the perfect height to reflect age differences between the girls. When the girls lined up for various bits of choreography, also by Ms. Schaeffer, the stair step effect was proportional and very pleasing to the eye.

Watching children act on stage is one of my favorite pastimes because you just never know what's going to come out of their mouths! Each of these lovely actresses was poised and professional, though ? no flubbed lines or missed marks for this cast. It was obvious these ladies took their roles and their contributions to the show seriously. Music Director Adam C. Wright should be
very proud of his work with these young women as their timing, phrasing, and even their harmonies further proved out their commitment to this production.

Madie Buckles played Madeline for the reviewed performance and what a delight she was. Miss Buckles delivered her lines with vigor, and her expressive face and features only enhanced that delivery. I was impressed with the quality of Miss Buckles' young voice, especially with regard to her vibrato ? it was smooth, unforced and controlled well beyond the typical ability of someone her age.

As the Irish cook Mrs. Murphy, Amy Mills was on stage for only a few scenes, but she took those opportunities to garner some great laughs from the audience. All I will reveal was that this lady was trouble with a broom!

David Lugo spent one scene onstage as the girls' teacher, Monsieur Brun, but it was his work as Harsha that was most impactful. The accents Mr. Lugo settled on for each of his characters were amusing, and his rich, warm baritone represented Harsha well. His portrayal of the mild-mannered magician was thoughtful and unrushed which seemed to mesmerize our audience of little squirmers.

DCT's PR Director, Lisa Schreiner, reprised her role as Miss Clavel for this production and she appeared genuinely happy to be back in the habit. Ms. Schreiner's voice was lovely, but it was her interaction with the girls I enjoyed most. It was apparent Miss Clavel thought of the boarding house and the students as her home and family, and Ms. Schreiner had no problem conveying the importance of those relationships to the audience. Dallas Children's Theater
never fails to remind me that professionalism and production value are not reserved for our local equity houses that offer more mature material.

I don't want to spoil anything, but the final scene in Act 1 is one I'm not likely to forget any time soon. It is technical and mesmerizing and loads of fun. As this particular scene ended, my Junior Theater Critic leaned over to me and whispered, "Mom, you're gonna give them a good review, right?" My thoughts exactly.
---
MADELINE'S CHRISTMAS
Dallas Children's Theater, Rosewood Center for Family Arts
5938 Skillman Street, Dallas, TX 75231
Runs through December 22nd

Friday, 11/25 at 7:30pm
Saturdays and Sundays at 1:30pm and 4:30pm
Tuesday, 12/20 at 10:00am and 1:30pm
Wednesday, 12/21 at 10:00am and 1:30pm
Thursday, 12/22 at 10:00am and 1:30pm

Tickets range in price from $14 to $21 and may be purchased online
at www.dct.org or by calling the box office at 214-740-0051.