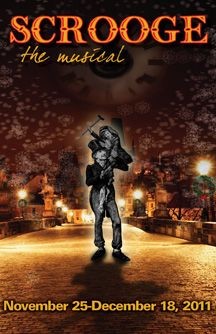 SCROOGE THE MUSICAL
Book, Music & Lyrics by Leslie Bricusse
Runway Theatre
Director - Clay White
Stage Manager - Ornella Bruno
Musical Director - Dr. John Norine, Jr.
Asst. Director - Ashley Hollon White
Choreographer - Anne Black-Scalf
Accompanist - Amy Wyatt
Set Designer - Clay White and Tyler Donahue
Lighting Designer - Michael Ramey
Costume Consultants - Stefanie Glenn and Milette Duff Siler
Sound Designer - Dr. John Norine, Jr.


CAST

Ebenezer Scrooge - Ben Phillips
Bob Cratchit - Kyle Macy
Nephew - Sean-Michael Cohen
Kathy Cratchit - Carly Williams
Tiny Tim - Matthew Montgomery (Double-cast with Camilla Cox)
Mary/Ensemble - Emily Haynes
Hugo Hearty/Dick Wilkins - Matthew Vogl
Jocelyn Jollygoode/Fezziwig - Cody Martin
Pringle/Marley/Christmas Future - Scott Kendall
Mrs. Dilber/School Teacher/Ensemble - Rae Harvill
Beggar Woman/Christmas Present - Daron Cockerell
Urchin 1/Ensemble - Morgan Bennett
Punch and Judy Man/Topper - Jonathon Charles
Tom Jenkins - Wyatt Tackel
Ghost of Christmas Past/Helen - Diane Powell
Jen/Belinda - Gabrielle Marye
Ebby/Peter Cratchit/Boy - Kevin Sweeney
Young Scrooge - Andrew Friedrich
Mrs. Fezziwig/Wine Merchant - Misty Baptiste
Isabel/Mrs. Carstairs - Katie Moyes Williams
Ensemble - Joan
---
Reviewed Performance: 11/26/2011
Reviewed by Sten-Erik Armitage, Associate Critic for John Garcia's THE COLUMN
Charles Dickens' classic tale A Christmas Carol is one of those stories that has been told and retold in a variety of different ways. Scrooge the Musical is a 1992 stage version of the 1970 film starring Albert Finney in the title role. Leslie Bricusse was nominated for an Oscar for his songwriting for that film, and he carried over many of the songs from the movie to this stage production.

I have had the opportunity to see several wonderful shows at the Runway Theatre. Over time it has become one of my favorite local theaters in the Dallas/Ft. Worth area. They consistently put out a quality product in a very intimate venue. Unfortunately, this production of Scrooge the Musical was an exception to their otherwise impressive track record.

Director Clay White had the challenging task of taking a story known so well by so many and make it fresh and captivating all over again. Sadly, with a couple notable exceptions, it didn't feel as though the cast took ownership of their characters. Many of the interactions felt wooden and straight off the pages of the script. In some instances it did feel as though the actor were reading their lines for the first time from a page rather than becoming the character and emoting convincingly. As a result, it was difficult to be drawn into the play and to connect with the characters. In a story that is designed to illustrate a dramatic life change as result of witnessing scenes from the past, present, and future, it is essential that these scenes be compelling. Again, with a couple of notable exceptions, they were not. As a result, the joyous
change of heart of our title character seemed strangely out of place. What did this Scrooge see that we didn't?

That brings me to our first notable exception. Ben Phillips as Ebenezer Scrooge was first-rate. He was compelling, believable, and succeeded in capturing the cold-hearted miserly nature of everyone's favorite holiday Grinch. His opening hymn to "M.O.N.E.Y." was wonderfully done. Phillips shone during his catchy and delightfully malicious rendition of "I Hate People" in the first act. In fact, throughout the evening Phillips was the consummate Ebenezer Scrooge. His vocal strength served to bolster other performers during duets, and provided a regular dose of performance excellence throughout the play.

One of the most memorable moments in the classic Dickens' tale and every subsequent adaptation has been the initial appearance of Marley - Scrooge's deceased business partner. This traditionally terrifying scene sadly fell flat. Scott Kendall as Marley struggled with this iconic scene. He often anticipated lines, reacting physically or facially before Phillips gave him his cue. He wasn't able to pull off scary, and the lines that could have been interpreted as comic also fell short. Phillips did his best to salvage the scene by acting terrified at the sight and words of Marley. During the musical number "Make the Most of this World" we had a difficult time hearing Kendall. Partially because of his difficulty projecting but also because the song was keyed a bit low for him, his voice was swallowed when attempting the notes in the lower register.

Our second notable exception came from Misty Baptiste as Mrs. Fezziwig during the visit to Christmas Past. Her performance was reminiscent of what we would expect to see from Madam Th?nardier in Les Miserables. She was animated, fun, vocally perfect for the part, and a joy to watch. She really shone during the ensemble number "December the 25th". Well done! Baptiste embodied the personality and character of the Dickensian Mrs. Fezziwig beautifully. Cody Martin as Mr. Fezziwig was confident and boisterous but also over the top. It's possible that his characterization could work in a different production but with this cast and this small of a venue, it was overwhelming.

Another bright moment during this visit to Christmas Past was during the song "Happiness" as performed by Andrew Friedrich (Young Scrooge) and Katie Moyes Williams (Isabel). This was a truly touching scene. Friedrich and Williams made the young love between these two characters feel very real during this tender moment. Later in the same scene we had a duet between Friedrich and Phillips. Although Friedrich was believable, and was a very competent actor, his vocal performances throughout the night were strained and clearly a struggle for him.

Our third, and sadly final "notable exception" came in the person of Daron Cockerell as the Ghost of Christmas Present. She was an absolute joy to watch! When she and Phillips were on the stage together I felt like I was watching a different production. Both of these performers filled the stage with their characters, and the entire theatre with their voices. The song "I Like Life"
was performed brilliantly. Both Cockerell and Phillips had fun with this number and Cockerell demonstrated that not only was she an excellent actress but she had a magnificent voice that could fill any concert hall! A great way to end the first act.

Clay White and Tyler Donahue made the most of their small space by creating a tiered set with a walkway/balcony-like structure that went along stage right and up stage. This was a clever design in that they were able to store various set pieces and furniture underneath this walkway in order to make more room onstage for some of the more involved ensemble numbers. On the downside, this set was extremely noisy. Every step made by an actor on this tiered set was heard, and the set was creaking with every move, making it very distracting. This is something that could have been easily avoided with a layer of carpet and additional cross supports.

The light design by Michael Ramey was very good, with the exception of one area down right. There were several moments when a performer would be singing from that position on the walkway and be poorly illuminated. That said, the lighting for the initial emergence of Marley and the appearance of the other phantoms were masterfully done!

Runway had to make a decision. Would they use prerecorded tracks to accompany the singers or create their own accompaniment? Amy Wyatt had the toughest job of the night. I can only imagine how exhausting it must have been to be the only accompanist throughout a two hour show that is over 80% musical. All-in-all she did a good job although there were small mistakes through the
night. The sound generated by the electronic keyboard did not provide the rich accompaniment that would have helped bolster some of the weaker singers in the cast.

A superb job was done by Stefanie Glenn and Milette Duff Siler with costume design. The costumes were rich, period specific, and beautifully constructed! In this intimate venue the audience could see every detail of the costumes - and they looked marvelous.

The second act began with a solo from Tiny Tim played by the young Matthew Montgomery. Although Matthew struggled a bit with the demands of the song, and the lyrics were largely lost, it was a cute moment. From there we went to a frenzied and chaotic rendition of "The Ministers Cat" performed by a healthy portion of the ensemble. The choreography and pace was jarring, and similar to Fezziwig earlier in the play, over the top and out of place with the rest of the
production.

Thankfully, things after that point started looking up. Phillips blew us away with his vocal power and emotion in the solo number "A Better Life". Then the ensemble took the stage, led by Wyatt Tackel as Tom Jenkins, to sing the rousing "Thank You Very Much". This song was by far the best ensemble number out there. When singing together as a chorus the ensemble sounded great, with strong harmonies, good power, and clear enunciation.

Bottom line - Should you take your family to see Scrooge the Musical at the Runway Theatre? Maybe I am the one who is the Scrooge in this case, but sadly this production does not meet their typical standard of excellence. Runway is a great theater company and I look forward to attending some of their upcoming shows this spring. I am confident that they will be wonderful!
---
SCROOGE THE MUSICAL
Runway Theatre, 215 North Dooley Street, Grapevine, TX 76051
Runs through December 18th

Fridays and Saturdays at 8:00 pm and Sundays at 3:00 pm
Tickets are not available for Saturday, December 10th's performance.

Tickets are $15 for adults and $12 for students and seniors.
A service fee is charged for online purchases. You may also purchase them by phone. Visit www.runwaytheatre.com or call 817-488-4842.