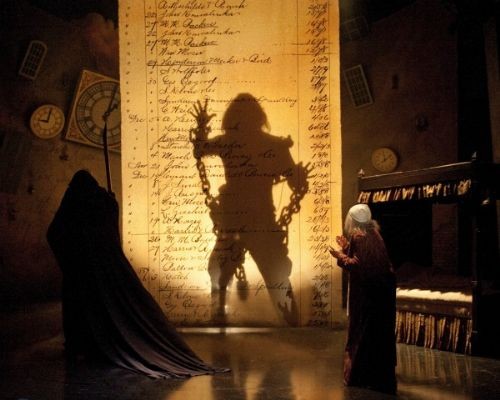 A CHRISTMAS CAROL
Being, A Ghost Story of Christmas by Charles Dickens
Adapted for the Stage by Richard Hellesen
Original Music by David de Berry, with lyrics written or adapted from traditional sources
Dallas Theater Center
Directed and Choreographed by Joel Ferrell
Scenic Design by Bob Lavallee
Costume Design by Wade Laboissonniere
Lighting Design by Matthew Richards
Sound Design by Curtis Craig

CAST

Ebenezer Scrooge----- Kurt Rhoads
Ebenezer the Child/Tiny Tim/Ensemble-----Mark Fisher, Kuran Patel
Ebenezer the Apprentice/Ensemble-----Alex Ross
Bob Crachit/Ensemble-----Lee Trull
Mrs. Cratchit/Ensemble-----Joanna Schellenberg
Fred/Fiddler/Ensemble-----Steven Michael Walters
The Ghost of Jacob Marley/Topper/Ensemble-----Jonathan Brooks
The Ghost of Christmas Past/-----Abbey Siegworth
The Ghost of Christmas Present/e-----David Ryan Smith
The Ghost of Christmas Future-----As Himself
Feeziwig/Subscription Gentleman/Old Joe/Ensemble---Brian Gonzales
Mrs. Fezziwig/Charwoman/Ensemble-----Emily Gray
Dick Wilkins/Undertaker's Man/Ensemble-----Jason Moody
Fred's Wife/Ensemble-----Ashley Puckett Gonzales
Belle/Laundress/Ensemble-----Vanessa Gibens
Belinda Cratchit/Ensemble------Tatiana Angustia, Paloma Renteria
Fan/Martha Cratchit/Ensemble-----Wendy Blackburn
Edward Cratchit/Ensemble-----Trey Cheatham, Drew Favors
Peter Cratchit/Ensemble-----Nathan May, Ben Villasenor
Beggar Child/
---
Reviewed Performance: 12/2/2011
Reviewed by Chris Jackson, Associate Critic for John Garcia's THE COLUMN
Trying to write a review of A Christmas Carol is as scary as The Ghost of Christmas Yet to Come! What can you say that hasn't been said? Everyone knows the story, everyone has seen a production somewhere (if you're local, probably at the Dallas Theater Center) and everyone is either excited or has to be tied and dragged like Marley in his chains to see it again! Sure it's a tradition, and for the youngster ? or the rare adult ? who hasn't seen it before, it's a great theatrical event: a terrific story with a moral, singing, dancing, scenery that moves by itself, colorful costumes, snow - and, best of all, ghosts! What's not to like?

It was the subject of Dickens' first public reading on December 27th, 1852, and remained a part of those readings until his death. Wikipedia's list of the various adaptations for stage and screen, etc, has listed dozens. That's one seriously popular story ? not to mention a terrific money-maker for the producing groups. So, knowing a good thing when they saw it, The Dallas Theater Center first produced a version in the 1969-70 season, waited ten years `till the 1979-80 season to pick it up again and kept it going each year through the 1982-83 season.

Then beginning in 1984-85, and continuing through every Christmas Past to the Present (and Yet to Come?), it has been delighting audiences and attracting huge crowds. DTC has done different versions in different venues, changing the music, scenery and costumes; the ghosts have sometimes been huge puppets, and to watch Liz Mikel descend from the heavens, rocking the rafters with that glorious voice, in the old Arts District Theater was an experience not to be forgotten. Smoke, light and mirrors - and terrific performances - have kept their production worth seeing over and over again.

This year is no exception. The entire cast is new to their roles - no one repeating a character they've played before ? ensuring a fresh approach (and probably some good natured rivalry!). Kurt Rhoads returns after Henry IV and Dividing the Estate to assume the top hat, scarf and penny-pinching ways of Ebenezer Scrooge to brilliant effect.

This production really seems to take the subtitle, A Ghost Story of Christmas, as its starting point. The very opening is a terrible scream, howls, banging clocks, and Jacob Marley dying and wailing of his wasted life in the bed that will become Scrooge's. Lots of fog, discordant caroling, eerie noises and moving figures in the shadows complete the spooky effect. We get the point: Scrooge is a man haunted by life. Rhoads manages to play the deep emotional baggage that Scrooge carries, the anger and the indifference, while never losing the bitter humor that also exists in him. He is unrecognizable with the thinning long white hair, the stoop, and the constant air of sadness.

This is a characterization much more rooted in a past, present and future that seems to have no hope or redemption, making his transformation at the end so much more touching and human. When he at last knocks on Fred's door and asks, "Will you let me in?", you realize that not only is he asking to come in for dinner but to come into life ? back to being a human being. As played by Rhoads and Steven Walters, it becomes a highly charged emotional moment.

Walters, as Fred, plays the optimistic nephew with the energy and truth we have come to expect from all of his performances. The optimism is not without exasperation but it still manages to show the hope he holds for his uncle's ultimate return to the possibility of fulfillment ? by human caring and contact, not by money and worldly goods. The performance is solid and always watchable.

Jonathan Brooks as The Ghost of Jacob Marley is as much a figure haunted as haunting. His posture is that of a prisoner chained to a wall, suffering the fate of his life in a much more graphic manner than just trying to be scary. It is another true and honest performance that gives us glimpses into the man Marley might have become had he had the redeeming ghosts to help him. Brooks also makes his turn as Topper a brilliant set-piece of its own, staging it masterfully and carrying it out without going over the top or falling into cheap stereotypes. The bit he does with the chair at the party is just terrific.

Bob Cratchit is played by Lee Trull. Mr. Trull is, of course, one of our best comics but here he also manages to play the pathos inherent in the character without getting maudlin. His near breakdown when speaking of Tiny Tim's death is incredibly touching. As Mrs. Cratchit, Joanna Schellenberg brings her formidable powers to a relatively minor role, filling it with a whole life of work and love and strength. Indeed the entire Cratchit brood is so loving and real in the way they look at and relate to each other, creating a true feeling of family, not actors playing at being family.

Brian Gonzales and Emily Gray play the Fezziwigs and they are a delight. Dancing and flirting and generally generating enormous holiday cheer, the entire Fezziwig scene is just a whirlwind of music, color and good ensemble performing. Each character is distinct and yet together create a whole much bigger than its parts. Gonzales and Gray also stand out in their other roles in the play.

Abbey Siegworth is the Ghost of Christmas Past, an ethereal, graceful figure whose first appearance gets a gasp from the audience. The transparent hat and soft flowing jacket help to visually impart the spirit that Siegworth embodies as she leads Scrooge through his past, showing him and us the events pivotal in shaping who he has become. Alex Ross plays Scrooge the Apprentice with real presence and emotion in the scene where Belle, nicely played by Vanessa Gibens, returns his ring. The Ghost of Christmas Present is jovially and authoritatively played by David Ryan Smith, and the Ghost of Christmas Future, in an enormous trailing black robe and stilts, is listed as "Himself"!

The entire ensemble, who take on many roles, is so committed, so focused and so talented, that the whole show is just a wonderful experience. Audiences want to know that they are in capable hands. Even subconsciously we don't want to have to strain for the actors, we just want to sit back and relax. With a cast this good and a show this well staged, we can do just that. Joel Ferrell keeps the action swirling and moving, the dances organic, and the songs both logical and moodily effective. This is another fine example of the abilities we have come to expect from Mr. Ferrell.

Time is of course a major metaphor in the story. The past, present and future yet to come are visually there in the many clocks looming over the action, in the constant sound of the striking of the hours, and the ticking as time and life go by - all terrifically done by sound designer Curtis Craig. The set by Bob Lavallee is a marvel of utility and atmosphere, helped enormously by the spot-on (pun intended) lighting by Matthew Richards. Wade Laboissonniere's costumes strike just the right note of period accuracy and theatrical punch.

From the beginning we see Scrooge, pen in hand, writing at his desk. Over and over the image of scratching accounts into a ledger book is used. When a giant ledger page descends late in the play to confront Scrooge, we understand it to be not only a page from his everyday ledger but also a page from his everyday life- the ledger we all create as we live our moments. My favorite image from the show is that of the giant staff carried by the Ghost of Christmas Future flipping to become a giant pen that scratches Scrooge's name on his headstone. A truly goose bump-inducing moment, not because of the ghost, but because it is so absolutely right as a metaphor for Scrooge to contemplate and just so darn perfectly theatrical!

The resources of the Dallas Theater Center are never more evident than in large ensemble shows like this one. They can put together a cast, solidly talented from top to bottom, and a show so technically well done that you'll find it difficult to wish for more. God bless us every one, they have done it again this year so don't miss the opportunity to experience this tradition of Christmas. You won't see it done any better anywhere else.
---
A CHRISTMAS CAROL
Dallas Theater Center, Kalita Humphreys Theater
3636 Turtle Creek Blvd. Dallas, TX 75219
Runs through December 24th, 2011

Wednesday through Saturday evenings at 7:30 pm
Saturday and Sunday matinees at 2:00 pm
Select Tuesday and Sunday evenings at 7:30 pm
Select Thursday and Friday matinees at 2:00 pm
Saturday, December 24th at 12:00 and 4:00 pm

Base ticket prices $15.00-$85.00
Website: www.DallasTheaterCenter.org
Box Office (214)880-0202