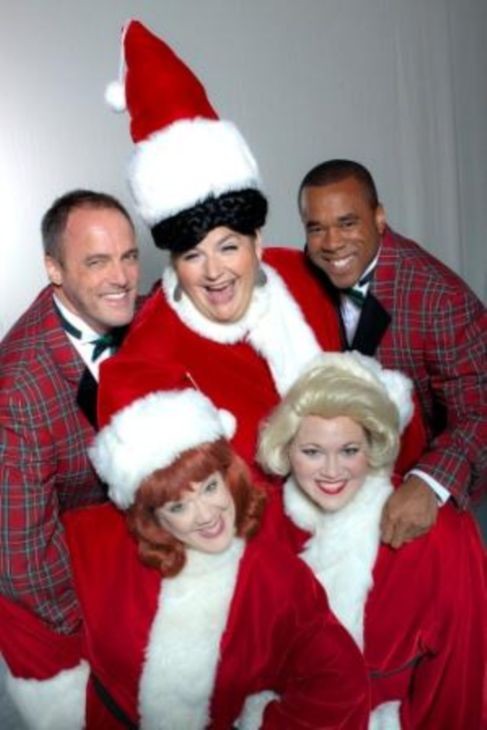 ROCKIN CHRISTMAS PARTY
By Dave Steakley
WaterTower Theatre
Director: Terry Martin
Musical Director: Scott A. Eckert
Original Choreography: Dave Steakley
Musical Staging: John de los Santos
Set Design: Michael Sullivan
Costume Designer: Michael A. Robinson
Lighting Designer: Jason S. Foster
Sound Designer: Scott Guenther
Stage Manger: Heidi Shen
Assistant Stage Manager: Janeth Farnsworth
Properties Design: Georgana Jinks


BAND

Keyboard/Sax: Scott A. Eckert
Keyboard: Adam Wright
Guitar: Dennis Langevin
Bass: Rick Norman
Drums: Alan Pollard


CAST

Gary Lynn Floyd
Denise Lee
Markus Lloyd
Sara Shelby-Martin
Amy Stevenson
Jenny Thurman
Rudolph the Red-Nosed Reindeer: Chloe Hendrick & Mason Hendrick
---
Reviewed Performance: 12/4/2011
Reviewed by Ashlea Palladino, Associate Critic for John Garcia's THE COLUMN
If you are a person who is looking to celebrate the holidays without being Scrooged out of your Nutcracker, WaterTower's Rockin' Christmas Party (running through December 18th) may be just the thing to knock the frost off your stockings. A fast-paced, rollicking revue, Rockin' Christmas Party is glittered with yuletide magic ? and a tree made of bubble wrap. Yes, bubble wrap.

The very tall, ready-to-ship Christmas tree was the centerpiece of Michael Sullivan's set design. Topped with a mirrored disco ball instead of an angel or a star, the tree was adorned with large ornamental orbs in hazy, dusty shades of purple, blue and green. The decorative ball theme continued on to the proscenium where Jason S. Foster's lighting design marvelously transitioned the painted balls through the colors of a jewel-toned rainbow at different intervals throughout the show. A screen behind the proscenium was used as a backdrop for various computer-generated images, all of which flowed seamlessly with Mr. Foster's lighting scheme.

The Rockin' Christmas band, led by Music Director Scott A. Eckert, was stationed at stage right and remained visible throughout the show. I always enjoy watching the band, not only because I like to compare "guitar face" from theater to theater but also because it's easier to highlight individual performances or instrumental solos when the band is visible. In this case it was Mr. Eckert's harmonica solo in Act Two that really caught my attention. These five talented gentlemen determined and maintained the musical step and stride for the cast, and with fifty-four different songs in this production they were busier than Santa's elves on Christmas Eve.

Rockin' Christmas Party may be the only show I'd seen anytime recently where I didn't have at least a minor complaint about the sound design. The band seemed perfectly in balance, and there wasn't a mic pop or a missed cue or any manner of feedback during this production. A big thank you to Sound Designer Scott Guenther who helped keep the focus of this review on positive elements instead of on the distractions a poor sound design could sometimes create.

Director Terry Martin assembled a six pack of D/FW's finest performers to tell this tale of Christmas wishes. Each actor, save one (though I won't give anything away here) was granted the opportunity to relay his or her holiday fantasy to the audience, and then act out that fantasy in song with the help of the rest of the cast. The fantasies ranged in scope from a television special a la Perry Como to an appearance on the Grand Ole Opry with a stop at Studio 54 in between.

Looking through the playbill and speaking to one of the actors after the show, I realized five of this sextet?Denise Lee, Markus Lloyd, Sara Shelby-Martin, Amy Stevenson and Jenny Thurman ? have been a part of Rockin' Christmas Party at least once before. Gary Lynn Floyd was the only Rockin' newcomer but he seemed quite at home amongst this stage family.

Usually in this type of revue it's easy to pick out a performer who outshines or out-sings their cast mates. Each actor had moments of individual brilliance in this production, but I cannot single out one over the other five ? their chemistry and cohesion as a team were that solid.

Probably the most unique thing about this "Christmas" show was that less than a quarter of the tunes therein were actually holiday themed. The majority of the songs were standards from various genres like disco, soul, dance and even a little country. The performers had no problem keeping the audience engaged with songs like "YMCA" and "ABC", and audience participation was definitely encouraged.

Back to those individual moments of brilliance! Mr. Floyd's rendition of "The Christmas Song" was his most memorable and in fact the best of the solo traditional holiday numbers. His voice was fluid and very easy to listen to ? a perfect choice for the most recorded Christmas song in history.

Denise Lee was funky diva perfection during songs like "Lady Marmalade" and "Movin' On Up" (also known as the theme from TV's The Jeffersons). Her smile was slightly mischievous throughout the show and she garnered many laughs for her quips and one-liners.

We were first introduced to Sara Shelby-Martin during her high-energy rendition of "Tutti Frutti". What impressed me most about Ms. Shelby-Martin's performance was her depth of range ? going from "Love Shack" to "Ode to Billy Joe" was quite a leap but her strong, clear voice more than met the needs of both songs.

It was during her fantasy of a Grand Ole Opry Christmas that Jenny Thurman opened up and flexed her comedic chops in concert with her vocal cords. "Blue Christmas" was equal parts humor and beauty, with majestic harmonies provided by Ms. Shelby-Martin and Amy Stevenson, and Ms. Thurman's physicality during "End of the World" and "Stand By Your Man" was downright hysterical.

Ms. Stevenson shone most during her thoughtful version of "Try a Little Tenderness", the first of a four-song vignette that proved to be the most moving section of the production. The cast donned spangled silver choir robes at this point and moved into "Bridge Over Troubled Water", followed by the group's unbeatable "Silent Night" ? the overall standout song of the show.

"I Feel Good" showed us that Markus Lloyd was the Hardest Working Man at WaterTower and his incredible energy didn't stop there as his turns as Michael Jackson, Don Cornelius, and even Shaft were equally impressive. Mr. Lloyd was constantly on the move and singing ? beautifully, I might add ? all the while. I was tired just watching him.

Michael A. Robinson's contribution to Rockin' Christmas Party wasn't as out-front as the performers listed in the previous paragraphs but it was in-your-face nonetheless. His costuming and over-the-top wiggery (that is a real word ? I just looked it up) gave the show an extra element of sparkle and whimsy that made it even more fun. The wigs played such a large part in the show they are probably sitting in a dressing room right now demanding AEA recognition for their participation.

All holiday traditions have to start somewhere and my family just may have found a new one. Rockin' Christmas Party was the perfect combination of holiday revue and weekend dance party, stacked solid with sing-along hits from start to finish. Don't miss this opportunity to see some incredibly talented wigs?err?I mean performers!
---
ROCKIN' CHRISTMAS PARTY
WaterTower Theatre, 15650 Addison Road, Addison, TX 75001
Runs through December 18th

Wednesdays and Thursdays at 7:30pm
Fridays and Saturdays at 8:00pm
Sundays at 2:00pm

Tickets are $30 or $40 depending on performance date and may be purchased online at www.watertowertheatre.org or by calling the box office at 972-450-6232.