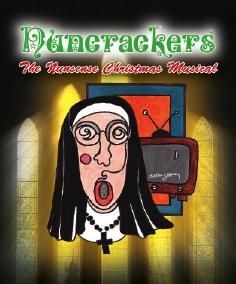 NUNCRACKERS: THE NUNSENSE CHRISTMAS MUSICAL
Book, Music and Lyrics by Dan Goggin
Greater Lewisville Community Theatre
Sister Mary Regina (Reverend Mother): Dena Dunn
Sister Mary Hubert: Tess Moore
Sister Robert Anne: Kristin Spires
Sister Mary Paul (Amnesia): Lana K. Hoover
Sister Mary Leo: Connie Lane

Father Virgil Trott: Michael Pricer

The Students: Madi Gilbert, Kenady Shope, Kendall Tubbs,
Madison Warren & Megan Warren.

Director: Sharon Veselic
Musical Director: Kristin Spires
Choreographer: Eddie Floresca
Stage Manager: Elaine Namy
Costumer: Justin Kailer
---
Reviewed Performance: 12/10/2011
Reviewed by Kayla Barrett, Associate Critic for John Garcia's THE COLUMN
Greater Lewisville Community Theatre's Nuncrackers: The Nunsense Christmas Musical was a fun, high-spirited musical comedy that kept you laughing! In most holiday musicals there are usually a couple of husbands in the audience that take their time in a dark theatre to doze off but not in this show! Nuncrackers offered some audience participation (not too much) and the script was simply hilarious!

The five nuns and Father Virgil exhibited such a wonderful sense of camaraderie. They were genuine and fun. There was never a time that I doubted their characters, and they kept me laughing. I'm always hesitant when it comes to the children cast in theatrical productions.

I know that it can be difficult to direct children and to keep them focused. I would never want to criticize a young child's performance but I could honestly say, with Nuncrackers, there was nothing to criticize! I was impressed that the four young girls who played the school children were so focused, entertaining, and talented. I could tell that the whole cast was having fun with this show!

I couldn't help but recognize the overall vocal quality within the cast and the authenticity of the characters they built.

Lana K. Hoover nailed the part as the hilarious Sister "Amnesia" who was just a few beads short of a rosary. She created the most memorable mousey voice that perfectly fit her quirky character.

A good Brooklyn accent is hard to pull off, but Kristin Spires' performance as the Brooklyn-born Sister Robert Anne was so sincere, I really believed her. Michael Pricer made a fine Father Virgil. I appreciated his reactions and his superb comedic timing. Tess Moore had a beautiful voice and stage presence and Dena Dunn made a funny Reverend Mother. Their info-commercial sequence was hysterical! Each cast member had at least a couple funny moments and they didn't waste one opportunity presented by the script.

The ensemble displayed their comic abilities as well as their vocal talent. Each voice complimented the other in the many musical numbers. There were so many talented voices in the cast I couldn't possibly single any one out. There was a good mixture of strength in the musical numbers. The songs ranged from light and airy, to jazzy belted tunes.

The numbers were all complimented by entertaining choreography throughout. I must say that choreographer Eddie Floresca did a great job engaging the audience with dances that caught the eye and supported the authenticity of each of the well-built characters. One of my favorite musical numbers was "In the Convent" but I won't ruin the surprise for anyone!

The set left something to be desired but it served its purpose. After all, it is a convent basement and besides, anyone watching this fun-filled show was not going to spend any time scoping out painted platforms! Every moment was engaging and director Sharon Veselic made use of every part of the stage. She pulled together an amazing cast and crew to create a great production! Greater Lewisville Community Theatre truly shines this Christmas!
---
NUNCRACKERS: THE NUNSENSE CHRISTMAS MUSICAL
Greater Lewisville Community Theatre
160 W. Main Street, Lewisville, TX 75057
Runs through December 18th

Friday and Saturdays @8:00pm, Sundays at 3:00pm
Additional performance on Thursday, Dec. 15th at 8:00pm

Ticket prices are $18 for adults, $15 for seniors and those 18 and under.

For information, call 972-221 SHOW (7469) or go to glct.org. To purchase tickets, call and leave a message and a callback number. Pay for tickets at the theatre