Darlene Singleton
Associate Critic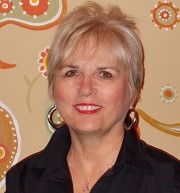 Darlene is a native (4th generation) of Rockwall, Texas and is a founding member of Rockwall Community Playhouse where, over the past 20+ years, she has served as director and producer of numerous plays and musicals to include several works by new playwrights. Darlene holds a Bachelor of Science in Business from Amber University and she recently retired from Raytheon after 33 years where she held various executive roles in Operations.

Over the past 40 years she has been a writer of short stories and is currently working on a comedy that she lovingly says is the sequel to ?Steel Magnolias?. When she isn?t writing or ?capturing the moments? in her blog she is following her passion of directing. Favorite productions include ?Steel Magnolias?, ?Sound of Music?, ?Wizard of Oz?, ?Nunsense?, ?Annie?, and ?Oklahoma? to name just a few.

Darlene intends to spread her love of ?the boards? to her grandsons and she plans to get them onstage where they can express themselves in the glorious environment known as ?Live Theater?!