Richard P. Buswold
Associate Critic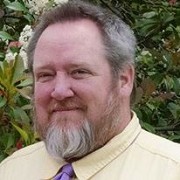 Richard P. Buswold first appeared on stage at age 11 at Coleman Elementary as King George III in a costume he made himself. He has been involved in theatre ever since with more than forty productions to his credit in the last 40 years. He has done almost everything; acting, production assistant, lighting design, sound design, costume construction, stage manager, set design/construction/crew. As of yet he has not directed a show but maybe that will come in time.

He took a 14 year hiatus from the live theatre world to raise his four kids with his wonderful wife, Lori. Lori, his son and oldest daughter have been and are part of the Six Flags Over Texas performing company and his middle daughter performed in the Buckley Award winner for Best Musical 2017, "Mary Poppins" produced by Birdville High School. Yes, the theatre roots run deep in his family. He returned to acting, landing the role of Col. Pickering opposite Stan Graner, in Artisan Center Theatre's 2017 production of "My Fair Lady." His favorite roles have been "Finian's Rainbow" (Sherriff), "The King and I" (Kraholme), "My Fair Lady" (Col Pickering – ACT and Alfred Doolittle – Theatre Coppell), "Big River" (Pap Finn) and being a PA on the Emmy Award winning "Book a Trip" where three of his four kids worked with nationally known children's performer, David Chicken.

Prior to joining The Column he was a contributing critic for another website for two years. He is employed by both Birdville ISD and International Leadership of Texas Schools as an adjunct teacher and is a casino dealer for Dallas based GameOn! party company.