Chris Hauge
Associate Critic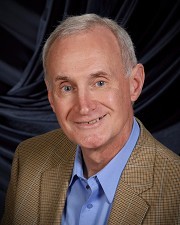 Chris has performed at both equity and non-equity theatres throughout the Metroplex for almost 35 years. Favorite roles include, Kaufmann (Bach at Leipzig-Circle Theatre), Amundson (Terra Nova-Onstage Bedford), Nicky (The Seafarer-Stage West), Gerald (Triangles-The Last Train to Tophet-Pocket Sandwich Theatre (PST)), Nunzio (Over the River and Through the Woods-PST), Matthew Shelton (Losing Daniel-Sibling Rivalry Productions), Gus (Southern Comforts-Grace United Methodist Church), Andy (Love Letters-Grace UMC), Doc (Atomic Cave Girls of Island Zero-PST), and many others.

Chris graduated with a Bachelor?s Degree in Speech & Theatre/Religion & Philosophy from Dakota Wesleyan University in Mitchell, SD in 1977. During his schooling, he spent a summer working with the repertory theatre Black Hills Playhouse run by the University of South Dakota. Following graduation Chris spent a year with Covenant Players, a non-denominational Christian Theatre Group in Reseda, California. He travelled all over the country and performed over 600 times in scripts ranging from a minute in length to full three-act plays. He then came to Dallas where he attended Perkins School of Theology/SMU, earning a Master?s in Theology in 1982.

During his time as an actor, Chris has developed a love for all of those who put their hearts up on the stage, be they actors, directors, assistant directors, stage managers, set designers, Lighting designers, etc... He is aware of the work and courage involved and knows that sometimes things turn out great and sometimes they don?t. He believes that whatever the result, each production must be treated with respect for the love and effort that went into them.

Chris is very excited to be a part of The Column team.
| Show | Theatre Company | Posted |
| --- | --- | --- |
| MISERY | Lakeside Community Theatre | 3/1/2023 |
| MOON MAN WALK | Jubilee Theatre | 2/9/2023 |
| PRETTY WOMAN: THE MUSICAL | Broadway Dallas | 1/27/2023 |
| IRVING BERLIN'S WHITE CHRISTMAS | Family Music Theatre | 12/8/2022 |
| T'WAS THE NIGHT BEFORE… | Texas Trust CU Theatre | 11/28/2022 |
| THE SOUND INSIDE | Kitchen Dog Theater | 11/10/2022 |
| GUARDS AT THE TAJ | Stage West | 10/26/2022 |
| THE CAKE | Theatre Arlington | 10/7/2022 |
| FOUNDERS, KEEPERS | Echo Theatre | 9/27/2022 |
| NEXT TO NORMAL | Upright Theatre Co. | 9/15/2022 |
| A GENTLEMAN'S GUIDE TO LOVE AND MURDER | WaterTower Theatre | 7/28/2022 |
| ARTIFICE | Rover Dramawerks | 6/16/2022 |
| SEX, GUNS, AND VODKA | The Classics Theatre Project | 5/28/2022 |
| SEX, GUNS, AND VODKA | The Classics Theatre Project | 5/28/2022 |
| LIPSTICK TRACES | Outcry Theatre Company | 5/28/2022 |
| JERSEY BOYS – The Story of Frankie Valli & The Four Seasons | Dallas Summer Musicals | 12/31/2021 |
| THE GLASS MENAGERIE | Circle Theatre | 11/4/2021 |
| THE LAST FIVE YEARS | Upright Theatre Co. | 9/13/2021 |
| ART HEIST EXPERIENCE | AT&T Performing Arts Center | 4/5/2021 |
| COME FROM AWAY | Dallas Summer Musicals | 3/13/2020 |
| THE PRODUCERS | Granbury Theatre Company | 2/26/2020 |
| I LOVE YOU, YOU'RE PERFECT, NOW CHANGE | Theatre Frisco | 2/18/2020 |
| ONE MAN, TWO GUVNORS | Circle Theatre | 2/4/2020 |
| DREAMS OF ICARUS | Outcry Theatre Company | 12/27/2019 |
| A CHRISTMAS CAROL | Dallas Theater Center | 11/27/2019 |
| THE TRUE HISTORY OF THE TRAGIC LIFE AND TRIUMPHANT DEATH OF JULIA PASTRANA THE UGLIEST WOMAN IN THE WORLD | Lakeside Community Theatre | 11/4/2019 |
| IN THE HEIGHTS | Dallas Theater Center | 10/2/2019 |
| THE PHANTOM OF THE OPERA | Bass Hall, Fort Worth | 9/27/2019 |
| FIRST DATE | Stage West | 9/18/2019 |
| SISTAS THE MUSICAL | Jubilee Theatre | 8/5/2019 |
| SUITE SURRENDER | Runway Theatre | 8/4/2019 |
| SEVEN BRIDES FOR SEVEN BROTHERS | Garland Summer Musicals | 7/22/2019 |
| THE STAR-SPANGLED GIRL | Theatre of North Texas | 7/6/2019 |
| LA MUERTE DE DON QUIXOTE | Ochre House Theater | 6/26/2019 |
| THE DINING ROOM | Resolute Theatre Project | 6/18/2019 |
| UNVEILED: A ONE WOMAN PLAY | WaterTower Theatre | 6/13/2019 |
| ANASTASIA | Bass Hall, Fort Worth | 5/30/2019 |
| ELTON JOHN & TIM RICE'S AIDA: A TIMELESS LOVE STORY | Plaza Theatre Company | 5/20/2019 |
| AND THEN THERE WERE NONE | Allen Community Theatre | 5/9/2019 |
| OFFICE HOUR | Circle Theatre | 5/3/2019 |
| WOLF AT THE DOOR | Kitchen Dog Theater | 4/18/2019 |
| FOOL FOR LOVE | The Classics Theatre Project | 3/13/2019 |
| YOU GOT OLDER | Kitchen Dog Theater | 2/18/2019 |
| SWEENEY TODD-THE DEMON BARBER OF FLEET STREET | L.I.P. Service | 11/17/2018 |
| A DOLL'S HOUSE, PART 2 | Stage West | 10/30/2018 |
| DISNEY'S NEWSIES – THE BROADWAY MUSICAL | Family Music Theatre | 10/18/2018 |
| ON THE VERGE OR THE GEOGRAPHY OF YEARNING | WingSpan Theatre | 10/9/2018 |
| SURE THING | UNT Drama Lab | 9/27/2018 |
| FUNNY LITTLE THING CALLED LOVE | Richardson Theatre Centre | 8/27/2018 |
| THE MUSIC MAN | Rockwall Summer Musicals | 8/14/2018 |
| MARY POPPINS -THE BROADWAY MUSICAL | Gateway Performing Arts | 8/10/2018 |
| KISS ME KATE | Garland Summer Musicals | 7/25/2018 |
| HAMLETTE | Bare Bones Shakespeare | 7/11/2018 |
| INDIANA SOLO AND THE HUNT FOR THE JEWELLED MACGUFFIN | Camp Death Productions | 6/26/2018 |
| THE MEETING | African American Repertory Theater | 5/8/2018 |
| LETTICE AND LOVAGE | Richardson Theatre Centre | 3/27/2018 |
| FINDING NEVERLAND | Bass Hall, Fort Worth | 3/22/2018 |
| THE GREAT SOCIETY | Dallas Theater Center | 3/16/2018 |
| THE WOMAN WHO KNEW TOO MUCH | Ochre House Theater | 2/14/2018 |
| BUG | Sundown Collaborative Theatre | 11/6/2017 |
| APPLICATION PENDING | Circle Theatre | 10/25/2017 |
| ZORRO - THE MUSICAL | Plaza Theatre Company | 10/19/2017 |
| BAT BOY - THE MUSICAL | Outcry Theatre Company | 10/9/2017 |
| ALICE IN SLASHERLAND | Lakeside Community Theatre | 10/2/2017 |
| AND MISS REARDON DRINKS A LITTLE | Garland Civic Theatre | 9/20/2017 |
| KAPTAIN KOCKADOO | Ochre House Theater | 8/23/2017 |
| BONNIE & CLYDE-THE MUSICAL | Denton Community Theatre | 8/14/2017 |
| HANDS ON A HARDBODY | Runway Theatre | 7/24/2017 |