Carla Wicks
Associate Critic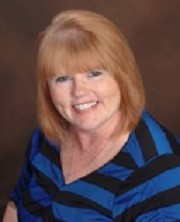 CARLA WICKS has been actively involved in the DFW theater community for the
past five years. Beginning as a costumer's assistant with Children's Theater she
quickly followed that taking on theaters technical side as Stage Manager and
Costumer for adult musicals, musical reviews and dramatic productions. Eventually
she stepped onstage in various roles, everything from musicals to plays she brought
her vocal talent to many productions and her exuberance to every role, from
ensemble to lead. To date she has been involved in over twenty productions. Some
of her favorites include: Secret Garden (Mrs. Medlock) Artisan Center Theater, Hurst,
TX; Red Beard or.... the School for Pirates (Ms. Peevy) at Texas Theater for Young
People, NRH, TX; Sister Act (understudy Mary Martin of Tours and costumer) Artisan
Center Theater; Beauty and the Beast (Stage Manager) Artisan Center Theater; and
Christmas Belles (Geneva Musgrave) Theatre of North Texas, Southlake, TX.

Carla is a veteran of the United States Air Force and a retired registered dental
hygienist with a BS in Oral Health Promotion spending thirty-five years in dentistry.
Currently homeschooling, she has been actively writing for over thirty years and has
technical articles published in Dental Assisting and Dental Hygiene journals. She has
written blogs, published devotionals and had stories she authored about her
deceased military son published in books by Don Jacobson - When God makes
Lemonade and Pat Smith - Second Chances. She has two works, a self-help guide and
a fiction novel, in progress.

Her extensive writing training, through the Jerry Jenkins Christian Writers Guild, led her to be involved with two authors - Eva Everson and Linda Shepherd who wrote a
best-selling book series, The Potluck Club. She collaborated with them, turning their
first book of the six book series into a stage play by the same name. The Potluck
Club, made its World Premiere in Hurst, TX in March 2019. Carla served as
producer, director and actress for that production.

Carla is thrilled to have had these many roles within the theater to allow her the
experience to become a critic for The Column. She is excited to bring her
enthusiasm, and keen eye to all aspects of a production together for reviewing
theater shows in the DFW area. She quotes, "Writing is my heart, watching theater
is a joy and being able to merge the two is indeed a blessing I intend to bring to each and every review."