John Garcia
Senior Chief Theater Critic/Editor/Founder, THE COLUMN. Member, AMERICAN THEATRE CRITICS ASSOCIATION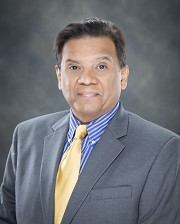 John (ACTOR'S EQUITY CANDIDATE) has over 400 productions under his belt, both in equity and non-equity productions. He has performed in Florida, Oklahoma, Pittsburgh, Boston, and all over the Dallas-Fort Worth metroplex. Professional credits include originating the following roles in the regional premieres of 25TH ANNUAL PUTNAM SPELLING BEE (William Barfee), LaChusia's THE WILD PARTY (Phil D'Armano), PAGEANT (M. Bible Belt), and A NEW BRAIN (Richard). He performed in MAN OF LA MANCHA (Sancho) at Lyric Theatre of Oklahoma starring John Wilkerson (of Broadway's STATE FAIR) and Milena Govich (of NBC's LAW & ORDER). Other favorite roles include FORUM (Pseudolus); HAIRSPRAY (Edna Turndblad), SPAMALOT (Patsy), JOSEPH..DREAMCOAT (The Pharaoh/Simeon); DAMN YANKEES (Applegate); ANYTHING GOES (Moonface); LIL ABNER (Marryin Sam); GUYS & DOLLS (Nicely-Nicely); 1776 (Courier); DROOD (Neville Landless); and many others.

In May 2010 he portrayed a cameo role in the national tour of XANADU the musical starring Broadway star Max Von Essen at Dallas Summer Musicals.

For two years he performed & toured the country with Walt Disney World Entertainment. While at the Magic Kingdom in Florida he had the great pleasure to work with such stars as Tommy Tune, Ann Miller, and New Kids on the Block. He also performed in many of Disney's Television specials and holiday telecasts of their parades/shows, as well as shows at the Magic Kingdom, Epcot Center, and the MGM Studios.

In 2005, John was awarded the Distinguished Alumni Award for Excellence in Theater from the University of North Texas.

As the Editor and Founder of THE COLUMN, John has had the honor to interview and meet such major stars as Val Kilmer, Constantine Maroulis, Christopher Seiber, George Hamilton, Douglas Sills, Christian Campbell, Christine Ebersole, Anthony Rapp, Adam Pascal, Charles Busch, Craig Bierko, Jarrod Emick, Wilson Cruz, Max Von Essen, Leslie Jordan, Tom Wopat, Patrick Cassidy, Morgan Fairchild, Diana DeMarco, Lisa Rinna, Matt Cavanaugh, and many others.

John is also the Executive Director/Producer/Founder of THE COLUMN Awards, which is the ONLY Awards organization in the DFW metroplex that honors excellence in Theater. THE COLUMN Awards is also the ONLY awards organization in the United States that serves as a major fundraiser for BROADWAY CARES/EQUITY FIGHTS AIDS. All proceeds (after operating expenses) go to BC/EFA.

John's dream came true in 2011 when he co-hosted and performed at THE COLUMN Awards gala with his idol & inspiration, Broadway legend & two time Tony Award winner, Chita Rivera. He has performed and co-hosted past COLUMN Award Galas with a variety of stars including Orfeh (Tony Award nominee, LEGALLY BLONDE), Tony Award winner (A CHORUS LINE) Donna McKechnie, Max Von Essen (EVITA Broadway revival), Ron Bohmer (PHANTOM OF THE OPERA, RAGTIME), Tyler Maynard (Drama Desk nominee, ALTAR BOYZ), Original Broadway stars of RENT- Anthony Rapp & Tony Award winner Wilson Cruz, Michael Urie (TV's UGLY BETTY), Christian Campbell (TV's BOOK OF DANIEL, film TRICK), Stephanie D'Abruzzo (Tony Award nominee AVENUE Q), George Wendt (Emmy winner, CHEERS), and Richard Thomas (TV's THE WALTONS). Come 2014 he will co-host the gala with Broadway superstar Rachel York (Original "Norma Cassidy" in VICTOR/VICTORIA; KISS ME KATE, ANYTHING GOES).

John is also one of the most in demand judges in high school Forensic tournaments. He has judged all over the DFW area as well as state, regional, and national competitions. Due to his unique way of judging, John was featured in the 2011 documentary THANK YOU FOR JUDGING which was all about Forensics.
Finally, since its inception, John has served as a judge for the Dallas Summer Musicals High School Musical Theater Awards.