Chad Bearden
Associate Critic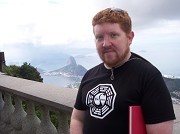 Chad Bearden, as a member of the artistic community, has spent over ten years contributing to local theater. As a director, he has produced over 40 stage productions, with a body of work stretching from flashy musical affairs to subtle and intense one act plays. As a writer he has, in collaboration with young and aspiring theater troupes, written over 20 original scripts, including two commissions from the Angelina Arts Council in Lufkin, TX. As an actor, Chad has performed with the Regal Opera Company of Colleyville, Theater Fusion in Dallas, OhLook Theater in Grapevine, and Dana's Studio of Dance in Southlake.

Armed with a passion for reading, Chad earned his B.A. in English Literature from Austin College, and spent most of his adult life providing critical and editorial insight to such publications as The Eagle, the student publication of Northeast Texas Community College, where he served as Entertainment Editor; Suspension, the campus literary magazine of Austin College, where he was both a staff editor and contributor; and Examiner.com, where he currently writes reviews and criticism of Victorian Literature."
Past Reviewed Shows listed by most recent to oldest.