Mary L. Clark
Associate Critic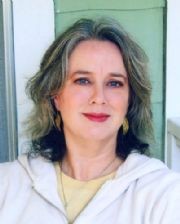 Mary L Clark's bio reads like a jack of all trades life, which it has been. Obtaining two degrees in theatre from The University of Texas at Austin, she performed or worked in most of the theatres around at the time including Zachary Scott Theatre, Center Stage, The Univ. of Texas Theatre, Melodrama Theatre, the gorilla theatre of Liberty Lunch, and the infamous Esther's Follies.

Having also worked at NYC's Public Theatre, and done theatre barefoot on the street in New York and Chicago, her Dallas exploits found her acting and working with the likes of Dallas Theater Center, Garland Civic Theatre, New Arts Theatre, Theatre Three, StageWorks, Kitchen Dog Theatre and Undermain Theatre.

Stepping sideways into the world of film, industrials and theme parks, Mary was Production Director for the Batman Stunt Spectacular at Six Flags, a Production Assistant for Oliver Stone's JFK, a PA and actress for The Tomato that Ate Cleveland (whose idea was stolen by The Attack of the Killer Tomato!), and the maker of buckets of blood for Tobe Hooper's Texas Chainsaw Massacre - the original.

In Theatre Administration, Mary was the Box Office Manager at Theatre Three for 3 years. She wrote the first box office procedures manual, set up the still in use combined arts computer mailing list, designed and wrote a procedures manual to run the mail list and organized the volunteer usher program.

Mary has been a theatre and film critic/writer for such rags as the Dallas Voice and The Met, including writing a feature article on her time working on JFK.

As said, Mary L Clark's theatre life has been rather eclectic, full of experiences, and one she is ever so glad she journeyed.