Mark-Brian Sonna, Associate Critic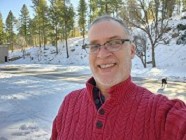 Having been raised in Irapuato, Mexico, He came to the world of dance at the age of 15, when as a theatre student at Arts Magnet High School, he took an intro to dance class as my PE. he was a dance major at SMU, while simultaneously having a career in professional dance. Then he retired from the world of Ballet. Along the way he managed to pick up a degree in Anthropology, Spanish, and did Master?s Studies in Medieval Spanish Literature. He continues to work as an actor, playwright, director & choreographer. In the 30 plus years he's directed, danced, choreographed, written & acted in more the 80 shows. He's translated numerous plays and written over 20 new works for the stage. He is a certified interpreter and translator and can read and translate 9 languages, some of which are defunct. He's also done films, Prime Time TV series, many commercials, and lots of voice over work. In 2004 he founded MBS Productions as an outlet to produce new works for the stage, be it world premieres, new translations, or new adaptation of classic works. His little company was even named as one of the ?top 5? theatre companies in the DFW area by WFAA in 2010. Almost every year his productions have landed on the top 10 lists of area critics. As an actor and playwright, he's received numerous nominations for my work in theatre, but is quickly becoming the Susan Lucci of the awards scene: no wins. Perhaps after his 20th or so nomination he'll get one like she did! You can read more about him at www.Mark-BrianSonna.com or through his agent Linda McAlister.
Past Reviewed Shows listed by most recent to oldest.