Laurie Lynn Lindemeier
Associate Critic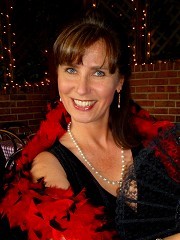 Laurie Lynn Lindemeier has performed and written all her life, most recently as a community voice columnist for the Dallas Morning News. Laurie delights in marrying the arts of writing, music and theatre as a reviewer and critic.

Writing is Laurie's passion. In the wee hours of the morning Miss Lindemeier sits at her laptop writing and revising book projects and magazine articles. Afternoons Laurie instructs talented young singers and pianists while seated by her grand piano.
Miss Lindemeier?s performance background includes singing contralto in the Dallas Opera Chorus for three seasons, and performing leads with Deep Ellen Opera, Texas Gilbert and Sullivan Company, Cathedral Players of Dallas and Surfside Theatre in Cocoa Beach, Florida.

In the late 1980?s Laurie lived in Florida. While there Miss Lindemeier sang as a cantor at a synagogue and was a featured soloist with the Florida Spacecoast Philharmonic Orchestra at the Kennedy Space Center. She also worked behind the scenes as stage manager of Tartuffe with the Ensemble Theatre.

Laurie received her English degree from Gustavus Adolphus College, a private college in St. Peter, Minnesota. Miss Lindemeier also studied two terms at The University of Exeter in England. During that time she played "Miranda on the greens" in Shakespeare's The Tempest. Miss Lindemeier continues her Shakespearian love affair by attending and/or reviewing the bard's performances in the Metroplex as often as her scheduled allows.

Laurie is a hybrid singer - a lyric spinto soprano with low notes. Opera and musical theatre delight her equally. When Miss Lindemeier reviews musicals she listens carefully to the singers and observes how their dramatic capabilities couple with their vocal communication and technical prowess. In addition, as an award winning watercolor artist, the set colors and design catch Laurie's attention. As a musician, the quality and balance of the orchestra to the voices may make or break Miss Lindemeier's impression of a performance.