Scott W. Davis
Associate Critic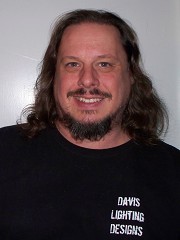 Scott has been in the entertainment industry full time since 1986.He began his career in the Cleveland area doing Summer Stock at the famous Great Lakes Theatre Festival and Cain Park while honing his skills as a theatrical lighting designer at the University of Akron. While there he received an opportunity to work at The Ohio Ballet under the tutelage of Tom Skelton as his ALD on several different occasions which prepared Scott for the lighting career ahead of him.

Scott's career as a lighting designer has spanned the entire spectrum of the entertainment industry. From theatre to concerts to film and video, Scott has lit every facet of the industry but his heart has always been in the theatre. Scott's had the pleasure of working with some of the greatest companies in the DFW area as well as the US including Cleveland Playhouse, The Ohio Ballet, E.J. Thomas Hall, Music Theatre of Denton, Richfield Coliseum, Chrysler Hall, Carousel Dinner Theatre, The Kenley Players, Cain Park, Great Lakes Shakespeare Festival, Virginia Stage Company, Virginia Opera, Lyric Stage, Troika, Virginia Summer Musicals, Dallas Theater Center, Media Theatre, Newgate Theatre, Trinity Repertory Theatre, ART at Harvard University, The Sandra Feinstein Gamm Theatre, The Providence Black Repertory Theatre, Runway Theatre, AART, and America's oldest continuously running little theatre The Barker Playhouse.

Scott has been a member of several theatre and journalist based organizations including The United States Institute for Theatre Technology, The Drama League, The Theatre Communication Group, and American Auto Racing Writers and Broadcasters Association.

Past Reviewed Shows listed by most recent to oldest.