Michala Perreault
Associate Critic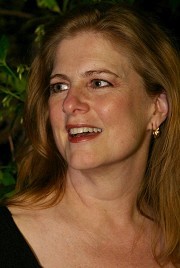 A Classicist by training - bring on those Greek tragedies! - Michala's love of and training in theatre began in New England in high school when required to pass Public Speaking. Once initial terror faded a gradual blossoming occurred, encompassing acting, design and production through two years of summer stock theatre and into university years and beyond in Canada and the UK.

Credits include "Stella" in Streetcar; "Abby" in Arsenic and Old Lace; "Pooh" in musical adaptation of Winnie the Pooh; Hermia in A MidSummer Night's dream; Jasmine in Aladdin; Pinocchio & Blue Fairy in Pinocchio; costumes for Cabaret; make-up for A MidSummer Night's Dream; vocal and dialect coach for Captains Courageous, Spamalot, Les Fourberies de Scapin, and others.

A DFW-area voice-over artist (SFOT, FW Zoo, Le Theatre de Marionette, industrial film, et al) she has enjoyed interviewing many local and national stars in the music, theatre, film and sports worlds. Michala "gives back" to the community in gratitude for the patience, precision and love of her first theatre coach by coaching and judging debate and forensics competitions at local, regional and national levels, most recently as debate coach at South Grand Prairie High School. Her sports commentary can be enjoyed on Twitter @IBleedBaseball. Joining the staff of hallowed reviewers at The Column is both an honor and pleasure.
Past Reviewed Shows listed by most recent to oldest.