Carol M. Rice
Associate Critic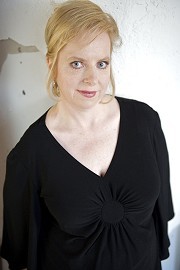 Carol M. Rice
is a playwright, director, actor, and producer, as well as being the Executive Artistic Director of Rover Dramawerks. She has an MA in Drama (Playwriting Emphasis) from Texas Woman's University and she has reviewed in the past for Pegasus News. Her plays
Murder at the Orient Burlesque
(which received a Column Award Nomination) and
Around the World in 80 Days
have been presented by Rover Dramawerks, and her melodrama,
The Belle of West Texas
, was recently presented by McKinney Repertory Theatre. Her children's play,
The Big Bad Wolf and His Brother
, was performed at three drama camps in the Washington D.C. area in the summer of 2014. Several others have been done at drama camps all over the Metroplex.
Carol is a proud member of the Dramatists Guild and 365 Women A Year, an international playwriting consortium devoted to writing plays about women from history. Carol also organized and produced the first festival in Texas at Rover Dramawerks of the inaugural year's plays, featuring ten productions and staged readings by playwrights all over Texas; her own play,
One Night in the Garden
, was one of the featured plays.
Carol has also directed many plays and musicals, including several new works, such as The Cupcake Conspiracy, Written in Time and Silver Screen Slayer. Other favorite directing projects include Noises Off, Lend Me a Tenor, and The Musical Comedy Murders of 1940 for the Pocket Sandwich Theatre; The Nerd for Garland Civic Theatre; Death and The Compleat Wrks of Wllm Shkspr (abridged) for Bucket Productions; Inherit the Wind, Murder on the Nile, and Crimes of the Heart for Mesquite Community Theatre; and The Crowd You're in With, Gilligan's Island: the Musical, Lady Windermere's Fan, Morphic Resonance, and Who Was That Lady I Saw You With? for Rover Dramawerks, to name a few.

Some of Carol's more notable acting roles include Jenny in Everything in the Garden and Susan in Woman in Mind (Column Award Nomination) for Rover Dramawerks; Queen Aggravain in Once Upon a Mattress for Greater Lewisville Community Theatre (Column Award Nomination); Aquanessa in 20,000 Babes Beneath the Sea for the Pocket Sandwich Theatre; and I Hate Hamlet for Provo Theatre Company. She has also worked with MBS Productions, Dallas Children's Theater, and Theatre Three over the years in various capacities.