Holly Reed
Associate Critic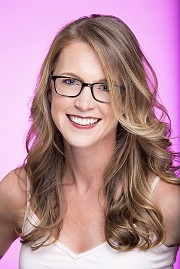 "What good is having a belly if there's no fire in it. Wake up, drink your passion, light a match, and get to work." (Simon Sinek) With an extremely?active muse, a surplus of passion, and a resolute drive to achieve, Holly proudly embraces the title of creative multi-hyphenate.?

Holly?is the owner of?Reed Creative Group? an award-winning design and marketing agency.?She has also been blessed with a lifelong career in vocal and theatre performance and directing.?Various theatre roles include Nancy (Oliver!), Ms. Teevee?(Willy Wonka), Miss Minchin (The Little Princess), and Corrie ten Boom in the International Ballet Theatre's premiere of The Weaving. Holly has been?featured in video, film and commercials and enjoys mentoring and inspiring others.?

Holly is also owner of the popular online resource MusicalWriters.com, an online community to encourage and equip musical theatre writers. Holly wrote music (along with husband Kelvin) and lyrics for ?That?s What Friends Do? for?Girlhood the Musical?by Larry Little/CPA Theatricals. She also wrote book, music and lyrics for the children?s musical?Camp McAuliffe for McAuliffe Elementary School in Lewisville, Texas. Current?new?musicals in development include?Come Find Me - A Christmas Musical,?Edmond?s Orchid, and?The Weaving.

Holly holds a BFA in?design and music from The University of Texas at Arlington and is a member of ASCAP and the Dramatists Guild.?
Past Reviewed Shows listed by most recent to oldest.