Nicole Mulupi
Associate Critic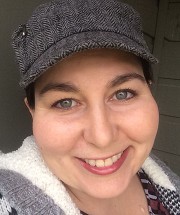 Nicole Mulupi holds a Bachelor of Arts degree in vocal music education from the University of New Orleans. Growing up in that musically and artistically rich city, she developed a deep, if eclectic, passion for artistic expression, which she could no longer contain in the classroom. After eleven years as an elementary music teacher, including two summers as a teaching artist with Big Thought, she stepped away from the classroom-and the school auditorium-to begin writing, performing and producing. In June of 2015, she started her own business, Mooloopy Media.

Nicole's theatre credits include principal roles, character bits, and chorus roles. She recently played Mrs. Sowerberry and the strawberry seller in Oliver! with the Grand Prairie Arts Council. She has also worked with Sent Church as the dumb-but-confident tough girl Vicky in monthly FAM JAM skits, as the jealous wanna-be Camille in Christmas at The Morton, and as a chorus member in scenes from practically every Christmas movie musical in Mrs. Mert's Holly Jolly Merry Christmas Movie Night. In college, she performed and served as stage manager for Opera Scenes: Shakespeare at the University of New Orleans, performing in scenes from Verdi's Macbeth, Mendelssohn's Midsummer Night's Dream, Bernstein's West Side Story, and Prokofiev's Romeo and Juliet. Her principal roles tend to be character roles which usually require an accent, which is a particular talent of hers.

In addition to her acting roles, Nicole has had experience in sound, lighting, costumes, sets, and backstage crews with The Actors Conservatory Theatre in Lewisville, Plano Children's Theatre, and Frisco Youth Theatre. And, she regularly serves as worship lighting tech at Sent Church in Plano, since 2012. Ms. Mulupi has sung-and loves singing-everything from Palestrina masses to madrigals to opera, jazz, rock, gospel, pop, emo, and yes, musical theatre. Her performing ensembles include choirs and worship teams from the four churches at which she has been a member, the University of New Orleans Chorus, Chamber Singers, Chorale and Gospel Choir, and the Plano Civic Chorus for two seasons.

As a writer, she has until now kept her talent mostly to herself and her friends. However, in 2002 she did win first place, and a $200 scholarship, in UNO's Annual Music Department Essay Contest, judged by a professional journalist, for her response to the topic of Noel Coward's quote, "It's amazing how potent cheap music is." (And yes, thankfully, it is!) Nicole is now an active blogger and working on several articles, a book of essays, a memoir, a short story, and a novel, in addition to the educational resources she creates for her online teacher store.

Nicole is excited to have the opportunity to experience and review all of the great theatre offered in the Metroplex. Break a leg!