Scott Hazard
Associate Critic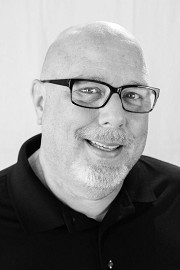 Scott was involved in his third grade class?s production of Mary Poppins, but it was when he started college at age 30 that he was first bitten by the theatre bug. While attending LSU-Alexandria, Scott auditioned for and was cast in Lanford Wilson's THE RIMERS OF ELDRITCH, so started his love of and
respect for live theatre, as well as his earning a minor in theatre during his time at LSU.

Some of Scott?s favorite roles have been Roy Manual in NICE PEOPLE DANCING TO GOOD COUNTRY MUSIC, Walter in KEELY AND DU, Preacher/Judge in THE RIMERS OF ELDRITCH, Henry Benish in PLAY ON, Tim in NOISES OFF, Gen. Ghengis Khan Schmidts in SUESSICAL, Mushnik in LITTLE SHOP
OF HORRORS and Pap Finn in BIG RIVER.

Scott has worked in theaters in Alexandria, La., Miami, Daytona and New Smyrna Beach, Florida and has been active in community theaters in Mineola, Lindale and Denton Texas. Highlights of his directing
experiences have been Edward Albee?s AT HOME AT THE ZOO at the APEX Theatre in Tyler and REBEL YELLS, a Civil War play by Texas playwright, Steve Warren, at Mineola?s Lake Country Playhouse.

He has been involved in some 60+ productions over the past 20 years and has performed most all technical duties. Scott worked as a production assistant for Radio City and appeared in the Super Bowl
XXXIII halftime show in Miami. He worked as a utility on-air personality at KZMZ 96.9 in Alexandria while attending college.

Past Reviewed Shows listed by most recent to oldest.