Dean Lindsay
Associate Critic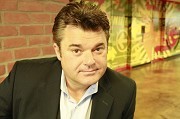 Avid, curious and open-minded fan of all live performance, Dean Lindsay is the Host of "The DEAN's List" seen of the C-Suite Digital Network and YouTube. He is hailed as an "Outstanding Thought Leader on Building Priceless Business Relationships" by Sales and Marketing Executives International as well as a "Sales-and-Networking Guru" by the Dallas Business Journal. His books, THE PROGRESS CHALLENGE and CRACKING THE NETWORKING CODE: 4 Steps to Priceless Business Relationships have sold over 100,000 copies worldwide and have been translated into Chinese, Hindi, Polish, Korean, Spanish and Greek. Dean has had the privilege of sharing his "one-man business growth insights show" from the main stage in several countries including: Spain, Turkey, Poland, Ecuador, Mexico, Canada, Switzerland, Venezuela, Sweden and the islands of Aruba and Jamaica.
A cum-laude graduate of the University of North Texas, Dean is an award-winning songwriter, marathon runner, founding member of the Texas Shakespeare Festival, and an alumni of the international sing and dance troupe, Up With People. Dean?s UWP cast was the first ever to perform in - what was then - Soviet Union. Dean served as a commercial acting instructor at KD Studio and as LeAnn Rimes on-set acting coach on both a Hallmark Movie of the Week and on the soap opera Days of Our Lives.
Dean also played Clint Black's sidekick in the Still Holding On: The Legend of Cadillac Jack and played one of the "bad guys" in the Warner Brothers' blockbuster TWISTER (Dean urges you to not look to hard for him in the film however, sharing that "the flying cow ended up with a bigger part than I did.").
Note:
John Garcia was Dean Lindsay's first "post high school" theater director when they both attended UNT - then North Texas State University.
More on Dean Lindsay - including episodes of The DEAN?s List - at
www.DeanLindsay.com
Past Reviewed Shows listed by most recent to oldest.