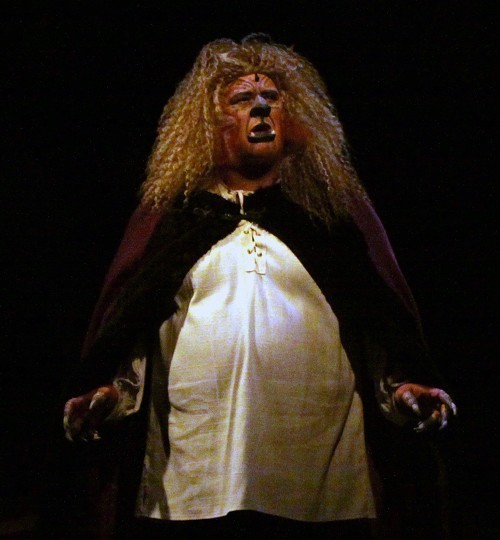 DISNEY'S BEAUTY AND THE BEAST
Music by Alan Menkin, Lyrics by Howard Ashman and Tim Rice, Book by Linda Woolverton
Plaza Theatre Company
Directed - Jodie and Soni Barrus
Music Direction - Soni Barrus
Stage Management - Ruth Ann Warwick
Choreographed - Tabitha Barrus
Dance Captain: Eden Barrus
Fight Choreography - Luke Hunt
Costume Design - Tina Barrus
Set Design - JaceSon P. Barrus, Soni Barrus and Jodie Barrus
Light Design - Cameron Barrus
Sound Design - G. Aaron Siler
Property Design - Soni Barrus
Mural Painting - Julie Lee
Scenic Painting - Julie Lee and Marlena Almond
Floor Painting - JaceSon Barrus, Jodie Barrus and Jay Lewis
Beast Prosthetic Design & Creation - G. Aaron Siler
Makeup Design - Maria Bautista
Wig Stylist: McKenna Meachem
Makeup Assistance - Michelle Cawood
Set Painting - Marlena Almond
Costume Seamstresses: Soni Barrus, Amy Skinner, Dale Parker, Rachael Bond, Mar Almond, Kathy Lemons, Madison Heaps, Stephanie Gentry, Stormy L. Witter, Emily Warwick, Michelle Cawood, Jordan Thomas, and Eden Barrus

CAST:
The Beast: Brian Lawson
Belle: Tabitha Barrus
Lumiere: JaceSon P. Barrus
Cosgsworth: G. Aaron Siler
Mrs. Potts: Courtney Mitchell
Babette: Kelly Nickell
Madame de la Grande Bouche: Christia Caudle
Chip: Mimi Barrus
Maurice: Jay Lewis
LeFou: Michael D. Durington
Gaston: Matt Victory
Monsieur D'Arque: Jade Rudolph
Young Prince: Beau Scott
Silly Girls: Bonnie Gentry, Eden Barrus, and Molly Morgan
Enchantress: Lisa Randol

Townspeople/Enchanted Objects: Amanda Foster, Anna Looney, Bentleigh Nesbit, Harrison Cawood, Hayden Cawood, Henry Cawood, Hunter Patrick, Lena Moralez, Maddie Almond, Madison Heaps, McKenna Meachem, Parker Skinner, Rachel Daniels, Rodney V. Hudson, and Stormy L. Witter

** Some parts are double cast. This listing shows the performers the night the show was reviewed. **
---
Reviewed Performance: 2/6/2016
Reviewed by Nicole Mulupi, Associate Critic for John Garcia's THE COLUMN
Disney's version of the 18th century French fairy tale classic Beauty and the Beast first appeared to rave reviews as an animated movie in 1991. The screenplay was written by Linda Woolverton, who also wrote the book for the Broadway adaptation of the film. As the first animated film ever to receive the nomination for Best Picture at the Academy Awards, it was hailed as an instant classic, celebrated for it's gorgeous animation, timeless story line, and Academy Award-winning musical score by composer Alan Menken and lyricist Howard Ashman. Three years later, in 1994, it was adapted for the stage and became Disney's first-ever Broadway show. Tim Rice replaced the deceased Ashman as lyricist, and seven new songs were added for the Broadway release. With a 13-year run, it became the ninth longest-running show on Broadway and has been performed all over the world to an audience of over 35 million theatre-goers.

For Disney fans in the Metroplex who would love to see Beauty and the Beast come alive on stage (and who wouldn't?), it is well worth the cost of admission and a drive to Cleburne to see this charming production directed by Jodie and Soni Barrus. Upon entering the theatre, I first recognized the stage floor – a replication of the ballroom floor in Disney's movie – beautifully painted by JaceSon P. Barrus, Jodie Barrus, and Jay Lewis. I found my seat and waited for the show to begin, admiring the walls that surrounded me, which depicted various settings from the animated movie, including the forest, the castle gates, the tavern, and the castle west wing. Julie Lee's captivating murals combine a rustic Old-World ambiance with a hint of magic and mystery that invites the audience to feel at home in the story even before the show begins. A small theatre-in-the-round, the Plaza's seats are all within about twenty feet of the stage. There's not a bad seat in the house.

Act I begins with a prologue, narrated over an orchestrated music accompaniment track; the characters mime the action while two dancers with ribbons move gracefully around them. The young prince is played by Beau Scott and the Enchantress by Lisa Randol. Though they have no lines, they are believable in their roles and do a good job introducing the plot. The dancers are somewhat of a distraction. Little girls will love them, though. There is something for everyone in this family-friendly production.

For a small theatre company, the level of talent here is mind-blowing. Strong performances all-around and not a note out of tune.

Tabitha Barrus is the perfect Belle. Her role demands a great deal of emotional contrast, as she plays opposite so many characters with different motivations. She is kind and pleasant toward most of them, though with Gaston, LeFou, and early scenes with The Beast we get to enjoy a bit of quick-witted sarcasm and unrestrained anger. There is real tenderness in scenes with her father, Maurice (played by Jay Lewis), and her romantic scenes with The Beast are particularly poignant, especially when she sings over him and professes her love as he lay dying.

The Beast, played by Brian Lawson, blew me away. His voice and expressions are so similar to Robbie Benson's, and his mannerisms so close to Disney's original Beast, that he could have walked right out of the animated movie. (Some credit must also be given to G. Aaron Siler for his prosthetic design and creation, and to Maria Bautista and McKenna Meachem for the makeup design and wig styling. Lawson looked like The Beast.) Throughout the Beast's personal journey, Brian Lawson performs with a sincerity and depth that make the character come alive. Ultimately, as a tortured soul searching for a reason to hope, The Beast is heartbreakingly relatable; you can't help but root for him.

Jay Lewis does an outstanding job portraying Belle's bumbling, stuttering father, the inventor. He completely owns the role. In fact, I prefer his interpretation over any I've seen, including the original. He is fatherly and wise, but with a childlike trust in others. His soft voice contributes a sensitivity to the role that is lacking in other versions.

The villain of the story, Gaston, is played by Matt Victory. He does not have the commanding height or build that would be ideal in casting, nor does he have the voice to rival Richard White's animated Gaston. However, he is certainly entertaining. You can't help but laugh when he lifts one leg onto a chair or when he flexes his muscles (which he does almost every time he is on stage). He is cocky and full of personality.

Gaston's sidekick, LeFou, is played by Michael D. Durington, who is absolutely ridiculous in the role, which is exactly what he should be, given that his name means "The Fool". He is particularly funny in the scene where he is nearly strangled as Belle tries to get her father's scarf from around his neck.

The three Silly Girls constantly follow behind Gaston hoping that he will give up on Belle and marry one of them instead. Bonnie Gentry, Eden Barrus and Molly Morgan were over-the-top with their desperation for Gaston's attention, and they got a lot of laughs, as well.

JaceSon Barrus first enters the stage in a minor role in the opening scene as the librarian in Belle's village. Though the part is small, his talent is big enough to make him memorable. His primary role is that of Lumiere, the debonnaire French valet who is turning into a candelabra. He plays alongside G. Aaron Siler's hilarious Cogsworth, the uptight overgrown pocket watch. When these two are together, they play off each other like peanut butter and jelly. The energy between them is contagious, and their comedic timing is impeccable.

Courtney Mitchell gives a solid performance as the vibrant and maternal Mrs. Potts, a part-human-part-teapot who works to build a sense of comradery between the other servants. Her primary hope is for her little son, the teacup Chip to one day be able to run and play and be human again. She also sings the title song beautifully.

Mimi Barrus is adorable as Chip, the large teacup on the rolling cart, occasionally pushed onstage by his mother Mrs. Potts. You can never see more than Chip's face until the very end of the show, when he becomes human again. Mimi Barrus brings every ounce of perkiness that the original Chip gave to the show.

Kelly Nickell plays a very fun Babette, the flirtatious French chamber maid/feather duster and the object of Lumiere's affections. She is on and off stage throughout the show, always offering comic relief in the form of coquetry.

Christia Caudle's Madame de la Grande Bouche is delightfully over-dramatic and over-dressed. Her operatic sing-speech, long fake eyelashes and excessive makeup add another layer of humor to a great comical cast.

Jade Rudolph as Monsieur D'Arque is the slimy, creepy, opportunistic owner of the asylum. His rich, deep bass voice stands out among the cast. The song "Maison de Lunes" features three-part harmony between Rudolph, Michael D. Durington, and Matt Victory. It is one of the highlights of the show.

Beau Scott, the young prince (not in beastly form), returns during The Beast's transformation at the end of the show. He makes the ideal princely version of Brian Lawson's Beast. He has a few lines, and then he sings in the finale. I was not able to hear some of his lines, though. I am not sure whether his mic was too low or muted. This was the only time in the entire show that I actually missed something that was said or sung, though.

In addition to the principal cast, there is an outstanding group of ensemble cast members who play townspeople and enchanted objects. When the ensemble performs, the stage is so full that, as an audience member, you feel you are on stage with them.

Sound design was very good, though the person running sound either cut the track off early twice, or there were minor technical difficulties. The digital enchanted rose did not stay on consistently, either. There were no disturbing mic issues, though, and no feedback. And that's saying a lot for community theatre.

The costume designer, Tina Barrus, and her team of seamstresses created an incredible array of beautiful costumes. From villagers to enchanted objects to Belle's beautiful golden ball gown, the costumes were stunning.

Tabitha Barris and Luke Hunt choreographed the dancing and fight scenes, respectively. Overall, the choreography was very strong. The only critiques I have are that I would have liked to have seen more intentional choreography for the wolf attack scenes and, perhaps, to hear sound effects for the fight scenes. Those particular scenes did not trigger any suspension of disbelief, so they came off as a bit awkward. With theater-in-the-round, though, it is difficult to fake a blow and make it look convincing from every angle.

Cameron Barrus did a wonderful job with light design. One of the best moments for lighting was the bar scene in which Gaston and LeFou plan a trap for Belle's father, Maurice. All of a sudden, the lights go to blue and a spotlight is placed on Gaston and LeFou while the ensemble stays frozen in time. The dim blue lighting is enough to see the frozen forms of the customers, but the emphasis is on the secret plan that only Gaston and LeFou are privy to. I was impressed by how still the ensemble was able to stay, remaining frozen for several minutes. It was one of the most aesthetically pleasing scenes in the production.

In addition to Julie Lee's stationary murals, set designers JaceSon P., Soni and Jodie Barrus, and set painter Marlena Almond created several moveable set pieces. These pieces were brought on stage to represent each location (the village, the tavern, the castle bedroom, the castle ballroom, etc.). This minimalist design plan enabled them to make the most of the floor space they had. With their set design, the Barruses have done a superb job of balancing story, artistry, and practicality.

If you're looking for a family-friendly, exceptional theatre experience, look no further than Plaza Theatre Company's Beauty and the Beast. It is a marvelous production in an immersive setting where you and your family can lose yourselves for a couple of hours in some good, old-fashioned Disney magic. But, get your tickets soon, because the theatre is small, and they're selling out quick!
---
DISNEY'S BEAUTY AND THE BEAST
Plaza Theatre Company, 111 S. Main St. Cleburne, TX 76033
Playing through March 12, 2016

Shows run on Thursday, Friday and Saturday nights at 7:30pm and Saturday Matinees at 3:00pm.

TICKET INFORMATION
Prices are $15 for Adults,
Seniors (65+) - $14
Students (HS and College) - $14
Children (12 and under) - $13
Group rates available for ten or more

For tickets and information, visit the 24-hour online box office to choose your seats and buy your tickets: http://plaza-theatre.com