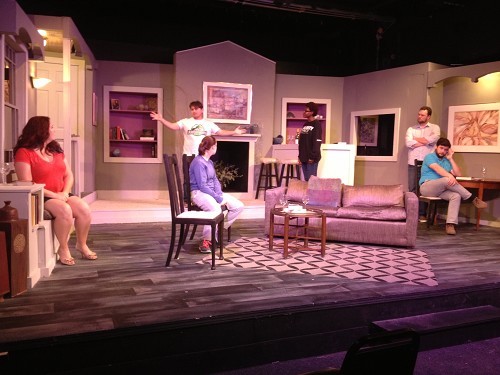 THE BOOK CLUB PLAY
Music by Karen Zacarias
Greater Lewisville Community Theatre
Directed by Dena Dunn
Stage Manager: Jeremy William Osborne
Set Designer: George Redford
Lighting Designer: John Damian, Sr.
Sound Designer: Danica Bergeron
Projection Designer: Doug Hay
Costumes Designer: Hope Cox
Props Designer: Connie Hay

CAST
Ana: Amanda Carson Green
Lily: Bwalya Chisanga
Jen: Emily-Ann Moriarty
Rob: Greg Hullett
Will: Dustin Curry
Alex: David Petty
Pundit: Greg Phillips

---
Reviewed Performance: 4/30/2016
Reviewed by Charlie Bowles, Associate Critic for John Garcia's THE COLUMN
Secrets. We all have them, don't we? Some are so small we don't think anyone wants to know. Some are so big we wouldn't tell another soul. Those, unfortunately, are the kinds of things that come out at Book Club.

The Book Club Play opens the curtains on tightly held secrets in a group of friends who meet weekly to discuss books. Ana started her book club, or so she thinks. Her husband and friends join and allow Ana to run things, though at times she seems like a dictator. But they connect and coalesce. It's a passion, a cherished experience. But things change. New people join. And an anonymous live video camera intrudes on the experience. Suddenly Book Club turns into reality TV, shades of Big Brother, and everything goes to hell in a handbasket. And, in this play running on Main Street in Lewisville, the results are fascinating and funny.

The Book Club Play by Karen Zacarias was directed by Dena Dunn in an outstanding directorial debut. Zacarias' script offered her great material to work with, but it required close attention to comic pacing, appropriate emphasis, and acting for comic effect. It needed actors who could be funny while their characters were being serious. And an actor who could be funny just walking on-stage could help. She scored on all three as this appreciative audience howled all night, often after being shocked by some line or look.

Dunn's design team created the living room of Ana and Rob where all the action takes place. The set was designed by George Redford as a modern day full-featured living room with couches and chairs, tables, a bar, paintings on the wall, and, yes, bookshelves. Colors were pastels and comfortable, the kind of place you might want to live. Props Designer Connie Hay made the place look lived in and gave actors tools of living, like food and bar drinks and pizza boxes and, yes, books.

Projections by Doug Hay identified people and books they're reading and introduced new scenes. The simple word projection showed above a large painting over the fireplace. It was an unobtrusive time marker to keep the audience up with the fast-moving text.

John Damian, Sr. provided lighting that pulled out the colors of the set pieces and added some nice hues, like the soft purples in the pre-show set. Sound Design by Danica Bergeron provided a few subtle effects during a few moments, like a plane in the background, but sound was mostly a hint.

Costumes by Hope Cox used modern dress for most everyone. There were quick costume changes by every actor at every scene change, so there had to be lots of costumes on the rack. Red haired Ana wore various print and flowery short dresses while Lilly opened with a green business suit and Will wore a grey vested suit. Each actor stayed with their general character look through their changing costumes, like there was a character type built into the costumes. One actor played multiple characters so differently each time he appeared, including females and males, that you wouldn't know it was the same actor. And his outlandish costumes and costume pieces facilitated his even wilder character changes.

Ana originated Book Club in her house. It's pretty much her club. Amanda Carson Green played the brash, confident Ana who has a clear vision for the rules to enforce, the books to allow, and the process to follow. Green exuded leadership from the beginning as we saw Ana proudly take charge. For Ana, it was the only way it could be and Green allowed Ana to have this self-confidence, at least until things began to unravel. In time we saw Green take Ana through a spiral into a dark place and her character arc was palpable.

Ana's husband, Rob, played by Greg Hullett, was not so much a book type, as maybe an ESPN guy, but he hangs out with the club and avoids reading the books. Hullett made Rob an everyman who questioned the formality, rules, and expectations by his wife, and certainly chimed into discussions about the books, especially if there was a movie of it, but he mostly liked the food. As the butt of many jokes about this, Hullett showed Rob's sense of apathy about it. But Rob finally reads a book, a short one, and it affects him. It turns out he really has some secret desires of his own and Hullett unwinds Rob's self-discovery slowly, and as it turns out, hilariously.

Will is Ana's original boyfriend, before Rob, and Rob's roommate in college. Dustin Curry created this intellectual book type who argues he's the real originator of Book Club, but allows Ana to hold on to her illusion. There's a long-time relationship with both Ana and Rob, more so than we could guess, which creates undercurrents of tension. In time a book he didn't want to read opens the gates of his own revelations and Curry plays these with deft timing as he takes Will into places that shocked the others, and the audience.

Emily-Ann Moriarty plays Jen, a long-time member of the club who has problems with rigid formality and agrees with Rob that sometimes the books are too long. Moriarty shows a constant sense of mental disorganization, but Jen is often the voice of sanity in a rigid world and Moriarty allows her to waver through her own roller coaster arc.

Lily only recently joined Book Club after being invited by Ana, her co-worker. Bwalya Chisanga gave Lily a character of a millennial amongst 40-somethings, challenging notions like print books versus Kindle, selections of modern books, like Twilight, and an open sexuality. Chisanga had an obvious comfort with the more experienced actors and fast-paced text, though she struggled with lines a bit. But she was a great casting choice for this role and gave Lily a visible sense of balancing between youth and inner power, as well as her own revelation from reading a book. She committed to her character choices fully and so we saw a Lily that was an equal among the older club members and an actor who was fun to watch.

Alex joins the group at the unexpected invitation of Jen, to the great consternation of several members. A super-intellectual literature professor, Alex brings a different vibe to the group and changes dynamics significantly, which leads to life changes for all. David Petty played Alex as an explorer with a life crisis who's willing to open his mind to new experiences and ideas. He thinks Book Club will be his ticket to recovery. Instead, he's met with icy silence by some, hostility by others, and a love fest by one. Petty nails this guy who knows he's not liked much, yet has strength to challenge the status quo. Alex is really the comic foil, a butt of comedy, and how Petty plays these moments is funny in itself.

Greg Phillips created a group of characters himself, collectively called, Pundit, as in an "expert" who has a lot to say about everything? Whether it's Sam the Walmart guy, Elsa the literary agent, Frank the Secret Service Agent, Carl Banks the prison book dealer, or Edith Simpson, the old skydiving librarian, Phillips was Johnny-on-the-spot to provide commentary and advice for book clubs everywhere. Each small monologue, which happened during scene changes, both shocked and delighted us with outlandish, hilarious characterizations. They looked simple, but covered lots of preparation time, like great stand-up comics. With a total change of costume each time, including wigs and makeup, Phillips changed his voice, his facial and body postures, and his unconscious mannerisms so much you could not tell it was him. There's lots to like in his performances, but one that cracked me up was Sam the Walmart guy from Amarillo, with his strong West Texas accent, a look of that old backroom worker who always has lots to say about everything, and an indescribable jaw action that was so funny it hurt. Phillips characters got to say things about the themes of this play that no one would say normally. His characters could be the conscience of Zacarias' story.

Ana's original dream was, "about elevating our conversation, our thoughts, and our souls through great literature. And being brave and trying new things and allowing the world to see how reading improves our lives." Well, her mind was opened far larger than she imagined. Every other character faced an individual crisis that revealed their own inner struggles and this shows power books have always had. Book Club is where some of that power unfolds. Of course, it might be better to avoid the camera.

The Book Club Play is a story about people who connect through crisis and find real people beneath the usual facades. In those connections, real friendships are born. Director Dunn's vision fit well with Zacarias' story and this set of actors embodied each of these characters and brought their inner lives to the stage. Greater Lewisville Community Theatre has hit the ball out of the park, and I highly recommend The Book Club Play for an evening of laughter, entertainment, and a great experience in theater.
---
THE BOOK CLUB PLAY
Greater Lewisville Community Theatre, 160 W. Main Street, Lewisville, TX 75057
Plays through May 15

Friday-Saturday at 8:00pm, and Sunday at 3:00pm. Tickets are $18.00 and $16.00 for seniors 65+ and those18 and under. For information and to purchase tickets, visit www.glct.org or call the box office at 972-221-7469.