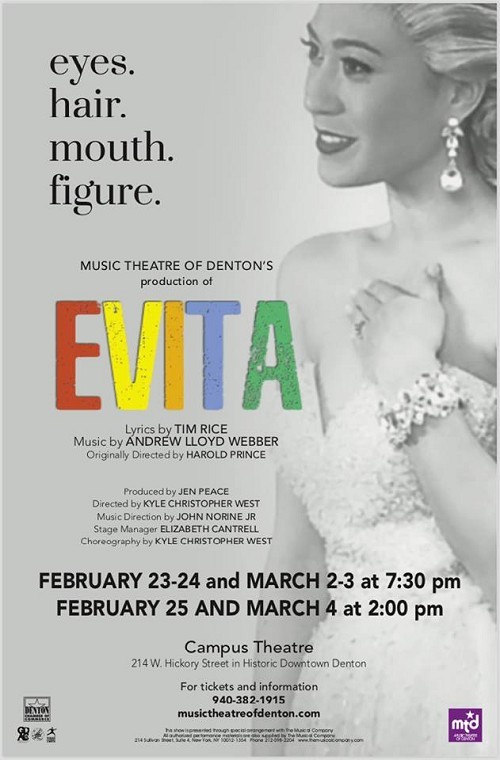 EVITA
Lyrics by Tim Rice
Music by Andrew Lloyd Webber
Music Theatre of Denton
Director/Choreographer – Kyle Christopher West
Producer – Jen Peace
Music Director – John Norine Jr.
Stage Manager – Elizabeth Cantrell
Set Designers – John Norine Jr, Kyle Christopher West
Scenic Artist – Tony Rose
Costume Designer – Jonathan Martin
Sound Designer – Pat Schaider
Light Designer – Les C. Deal
Wig, Hair and Makeup Designer – Logan Coley Broker
Properties Designer – Jessica DeLeon

Cast:
Che: Michael McCray
Eva: Alena Cardenez
Magaldi: Spencer Kapral
Peron: Scott Deck
The Mistress: Gabie Hocson
Child Soloist: Madison Verre
Company: Logan Coley Broker, Katie Buck, Kate Dressler, Trinity Ehrhart, Braiden Fisher, Danielle
Taylor Graves, Dillon Hanson, Rae Hillman, Gabie Hocson, Tara Linn Hunter, Spencer Kapral, Sara
Kennedy, Belinda King, Jonathan Martin, Megan Maynard, Anthony Ortega, Lorens Portalatin, Tony Rose, Alex Sutherland. Madison Verre, Kiba Walker
---
Reviewed Performance: 3/24/2018
Reviewed by Jeri Tellez, Associate Critic for John Garcia's THE COLUMN
I have seen several shows at Music Theatre of Denton, and every one of them was top notch; Evita was no exception. The entire performance was captivating, and it was obvious a lot of talent and hard work went into this Jen Peace production.

Director Kyle Christopher West did an outstanding job. He wove the cast, orchestra, set, costumes, technical crew, and all the other aspects of the show into a masterful tapestry that told Eva's story in a magnificent way. Everything worked well together; nothing stood out as being much better or worse than anything else. His choreography was unique and charming, and displayed the difference in attitude of the various groups that the ensemble represented.

Music director John Norine Jr. had a challenging assignment with such a large cast, and harmonies that were close and sometimes dissonant. The singing in Latin wouldn't have made it any easier, and it was beautiful. The parts were well balanced among both the cast and the orchestra.

As Eva, Alena Cardenez was outstanding. She didn't just portray Eva, she became Eva. Her voice was beautiful, and her range of emotion was diverse and authentic. A pet peeve of mine is when a character is sick, but their singing is as strong as ever, and Cardenez didn't do that. During the portion of the show when Eva was sick, she sounded sick, but her singing was still beautiful. That was impressive.

Narrator Che (Michael McCray) walked us through the story with skill and ease. He was part of the story, but yet wasn't. Offering insights and history not delivered by the actors, he easily slipped back and forth across the 4th wall. McCray's singing was clear and enjoyable, and he seemed to appear and disappear like magic.

Juan Peron, portrayed by Scott Deck, was a wonderful enigma. He was charming and genuine, even though he gained power through questionable means, and his henchmen seemed very ominous. By the end of the show, his love for Eva was apparent.

Spencer Kapral's Magaldi turned out to be a stand-up guy in spite of first impressions. When we first see him, he seems like a womanizing lounge lizard, but tries to keep Eva from being corrupted by the lowlife of Buenos Aires. Kapral manages the dichotomy with ease. I'm not sure if that was the intent, but it worked well.

The solos sung by Gabie Hocson and Madison Verre were, in a word, exquisite. They weren't just singing, they were displaying their pain and longing through the music. Both ladies' performances were very moving.

The company moved seamlessly from descamisados to army generals to aristocrats, etc., always enhancing the scene, but not stealing it. They had a lot of adapting to do between scenes, and did it well. I noticed that the makeup of some groups changed from time to time, probably due to costume changes and available personnel. There was a lot of coordination on the part of Elizabeth Cantrell to keep it all straight.

Technically, the show was almost flawless. I saw nothing to indicate there were any issues with wigs, sets, props or costumes. Except for a couple late mic cues and slow spotlights, execution was on point. Both Pat Schaider (sound) and Les C. Deal (lights) did an excellent job of being inconspicuously brilliant. The voices were well balanced as far as volume, both among the cast and with the orchestra. The lights were perfect in that they enhanced the scenes without really being noticeable.

The set was simply beautiful. The two large moving pieces were used very effectively, and when they were moved, it somehow seemed to flow naturally as a part of the show. The painted buildings, I assume created by Scenic Artist Tony Rose, were surprisingly realistic. It was just amazing.

I have to mention Jonathan Martin's fabulous costumes. The army officers were a genius combination of General MacArthur and Fidel Castro. The sunglasses were a nice touch. Eva's ball gown, OMG, I gasped when I saw it, it was so stunning. Che's everyman look and Peron's distinguished hero presentation were both perfect.

Logan Coley Broker's wig, hair and makeup designs were marvelous. The makeup was perfectly understated, and the only way I knew if an actress was wearing a wig (except for Evita) was if I had seen them before and knew what their hair looked like.

All in all, this presentation of Evita lived up to its epic reputation. I was timely yet timeless, and left me in awe.
---
Evita runs through March 4 at the Campus Theatre.
For tickets and information go to MusicTheatreOfDenton.com or call 940-382-1915.