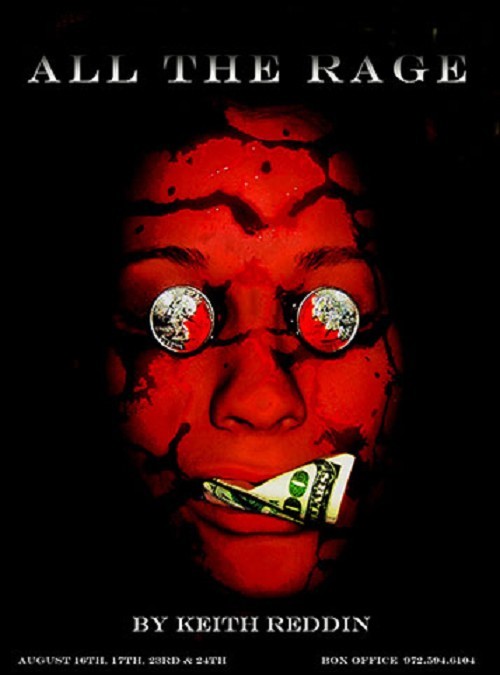 ALL THE RAGE
by Keith Reddin
MainStage Irving-Las Colinas
Director – Gillian Salerno-Rebic
Set and Lighting Designer – Charles Wallace
Costume and Sound Designer – Gillian Salerno-Rebic
Stage Manager – Lindsey Humphries


CAST
Warren – Shane Beeson
Helen – Aubrey Ferguson
Tyler – Paul Vaughn
Agee – Jake Shanahan
Tim – Michael Speck
Norton – Van Quattro
Tennel – Chip Wood
Annabel Lee – Nikki McDonald
Sidney – Matthew Brown
Chris – Angel Velasco
---
Reviewed Performance: 8/16/2013
Reviewed by Scott W. Davis , Associate Critic for John Garcia's THE COLUMN
All the Rage should really twist the mind and keep you intrigued as you watch it. Unfortunately, Mainstage Irving-Las Colinas's Theatre On The Edge production needs a little help with that.

A gunshot starts off a whole world of twists, lies and deceit. A body lies on the living room carpet of Helen and Warren's home. Tyler, the police officer in charge of the investigation, never seems able to find the right evidence to prove that the death was murder. Not finding what he needs, he makes the decision to retire to Arizona to bird watch. It's a dry heat you know. This journey intertwines through the lives of the characters; among them are an estranged husband and wife, a gay couple, a criminal and his underage sister/lover, an eccentric millionaire and his former personal secretary turned video store owner. Everyone's got a gun, and they're all willing to use it.

The show was written in 1997 and has been a stable production for many small experimental theatre companies. In 1999 a movie version of the show was produced and released by 20th Century Fox under the name "It's The Rage". The screenplay was also written by playwright Keith Reddin.

Mainstage Irving-Las Colinas, formerly ICT Mainstage, is using the Rudy Seppy Rehearsal Studio for this production. What a fitting space for this play - small, intimate, with only about sixty seats.

Designer Charles Wallace produced a set with nothing but set pieces and dressing. No flats or platforms, just chairs, tables, and other pieces of furniture. It was a very effective use of the space, and by the middle of the show you could tell where you were by the furniture that was there. The Millionaire's wing-backed chair was impressive. I could see it in my living room right now to tell you the truth.

Mr. Wallace's lighting design was extremely stark. While some scenes were lit perfectly, others were hard to see due to uneven lighting. It was just not enough instruments to cover that large of an area. There were a lot of missed lighting cues throughout the show. The LED backlight wash was never in sync with the rest of the lighting. They would turn on in the middle of scenes and or strobe without notice. There were scenes where the lights just didn't work at all. Ultimately it became a huge distraction.

As there was no costume designer listed, most were probably gathered collectively from the cast and theatre. The costumes were modern in style, none of them outstanding, though the silk robe the millionaire wore through the whole show was my favorite piece.

The direction by Gillian Salerno-Rebic was adequate. Her blocking was great to watch. The flow of the characters' lines was wonderfully timed out to keep a comedic element to this dark show.

Sound design was also created by Salerno-Rebic. I loved the music used between some of the scene changes and intermission. With that said, I think the director may have spread herself a little thin by doing too many things which cause several other things like character mannerisms, character development, and technical elements to fall through the cracks.

Shane Beeson did a good job acting as Warren, the murderer. While having some slight delivery problems, Mr. Beeson still made a believable portrayal of the mentally unstable character.

Warren's wife Helen transforms herself into a man to hide from her murderous husband. Aubrey Ferguson gave a solid performance in playing the female role. Her two page monologue in the first act was flawless and not an easy feat. It was a little harder to believe her as her male persona due to her facial features being a little too feminine.

The two police officers in the production, Tyler and Agee, were very hard to believe. Tyler, the senior officer, was played by Paul Vaughn while Agee, the young rookie detective, was portrayed by Jake Shanahan. Both actors' portrayals were not necessarily bad, they just needed a little bit more to be believable.

Michael Carl Speck took on the role of Tim, Warren's lawyer. This was another character that needed a little work. Mr. Speck projected his voice to the point that you felt you were listening to a radio show instead of a theatre play. Mr. Speck's character is supposed to be in a gay relationship with Chris but the acting didn't sell that. The interaction between Mr. Speck and Mr. Velasco was cold and not believable.

Chris is the unstable boyfriend, played by Angel Velasco. After Mr. Velasco first scene I thought to myself that he was doing a good job with this role. During the show Chris quits taking his antidepressant medication. You never saw a difference between the drugged Chris and the non-medicated Chris. There was no true depth to his character.

Easily for me, the best character in the show was Norton the eccentric millionaire. Van Quattro took on the challenge and succeeded. His delivery of some of the craziest lines in the show was brilliant. As he was contemplating becoming an alcoholic as a means of escape his dead pan look made me think, "Is this guy for real?" Every time that wing-backed chair came out I knew I was going to laugh.

Another great performance was Chip Wood's Tennel. His portrayal of the snobby accountant to Norton sold the character to the audience. His transformation into a video store owner made it believable that a successful accountant would buy a video store, leaving all that money, for a little freedom.

Nikki McDonald's character Annabel Lee was excellent. While McDonald looked a little more mature than a sixteen-year-old girl, she still pulled off a good rendition of a crazy teen. Annabel Lee's interaction with her brother Sidney was believable even when it becomes an incestuous love circle.

Sidney, the crazy brother played by Matt Brown, comes to life in this play. The way Mr. Brown played the character was truly creepy, as well it should be. The character is supposed to be an angry young man that at some point in time blows his top. Mr. Brown perfects this role I with his performance.

This was one of Keith Reddin's earliest works so it can be a tough script to make work. One of the flaws in this work was that he rarely mentions the names of the characters in the show, so if you miss the name you find yourself waiting and hoping they say the name again.

Mainstage Irving-Las Colinas Theatre On The Edge's production of All the Rage is right on the edge of being a good production. The script is fun and the talent gathered is definitely capable of doing a good production of this work.
---
ALL THE RAGE
Mainstage Irving-Las Colinas
Theatre on the Edge

at the Rudy Seppy Rehearsal Studio, 2333 Rochelle, Irving, Tx 75062
Limited run through August 24th.

***This play is recommended for mature audiences only.

Friday and Saturday at 8:00 pm. Tickets are $10.00, paid with cash or check at the door. For info, go to www.irvingtheatre.org. Make Reservations by calling the Studio number at 972-594-6104.