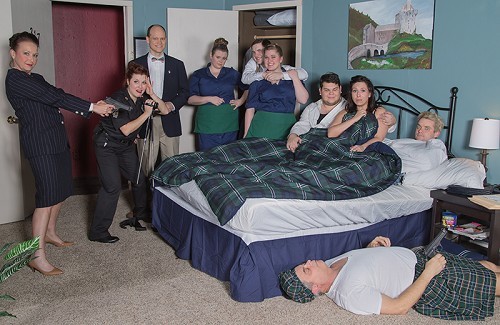 UNNECESSARY FARCE
by Paul Slade Smith
Runway Theatre
Director – Erynn Michelle
Set Design – Judy Bauman Blalock
Lighting Design – Emilie Buske-Ferman and Jeremy Ferman
Costume Design – Julie Vicars
Property Design – Danielle Vance
Sound Design – Erynn MIchelle
Stage Manager – Michelle Phillips
Choreographer – Kimberly Anne Cooper


CAST (from reviewed performance)
Jeremy Beck – Hotel Bellhop
Caroline Carter – Hotel Maid
Laura Merchant – Hotel Maid
Michael Alger – Officer Eric Sheridan
Ginger Smith – Officer Billie Dwyer
Laura Merchant – Karen Brown
Chuck Barlow – Mayor Meekly
Ryan Davila – Agent Frank
Steven J. Schreur – Todd
Suzy Dotson – Mary Meekly

---
Reviewed Performance: 2/6/2015
Reviewed by Angela Newby, Associate Critic for John Garcia's THE COLUMN
Two cops, three crooks, and eight doors. This comedy, now playing at Runway Theatre, is full of outlandish characters, mistaken identities and language confusion, enhanced by the characters themselves!

Unnecessary Farce premiered at the BoarsHead Theater in Lansing, Michigan on October 27, 2006, and has had over 145 productions to date in multiple countries.

There is fear of embezzlement in the Mayor's office. The Mayor requests to meet the new accountant in a hotel room, where all mayhem breaks out. Two cops in the next room are trying to entrap the Mayor, yet nothing goes as planned. Unnecessary Farce takes the audience on the journey of who has the missing money.

Director Erynn Michelle did an amazing job with Unnecessary Farce. The cast camaraderie was evident, and allowed the play to flow freely and smoothly. Michelle also created the sound design, and while there were technical mishaps, the design was thoughtful. A comedic element was Todd's phone playing a Scottish ditty for his ring tone,

Set design by Judy Bauman Blalock was amazing, and I was impressed with its attention to detail. The two hotel rooms are mirror images of each other and include the customary elements of a hotel room. The rooms included wrought iron beds with plaid comforters and lots of pillows. Extra pillows, blankets and a complimentary robe were on full display inside the closets. These extra details enriched the set's realism.

Lighting Design by Emilie Buske-Ferman and Jeremy Ferman was an important asset to the show. The clear design powerfully added to, and not distracted from the acting on stage. While most of the play is fully lit, opening scenes to each act are illuminated only by stage practicals of tableside lamps, which boosted the unprofessional actions, including making out in rooms, and slacking on their responsibilities, of the hotel staff.

Julie Vicars was challenged with the script's need to have the actors constantly undressing onstage. Officer Billie Dwyer's black police uniform was simplistic, save for the PD pin in the lapel. Officer Eric Sheridan was dressed in jeans, button-down shirt, sports jacket and tie, which the tie was used throughout the play in the throes of passion. Mayor and Mrs. Weekly were smartly attired, he in khaki pants and sweater and she in a business suit. Karen Brown's business suit allowed easy movement to show her frantic nature. Vicars put good attention to details in the costumes and all worked effectively for their characters.

Kimberly Anne Cooper's choreography added greatly to the comedy. The pace of the fight scenes were perfectly timed to procure even more laughter. Cooper's subtle elements within the choreography were sometimes easy to miss when I focused on only one room, but was humorous when they caught my eye.

Michael Alger's Officer Eric Sheridan was the epitome of a farce police officer. He played the officer's insecurities by racking his hands through his hair, long silent pauses, and a slight stutter. Through exaggerated facial expressions and body language, Alger easily portrayed the anger and frustration of the situation. Overall, Alger was perfect for the role.

Ginger Smith played Officer Billie Dwyer spectacularly. Even when a supporting actor in a scene, I was drawn to Smith due to her character's bubbly personality and energy. Smith's body movements and breathy excited voice believably portrayed hyper Officer Dwyer's high stress of her undercover work. Smith never lost focus and continued to impress me as the play went on.

Laura Merchant's Karen Brown was a hoot. Fidgeting and pulling at her clothes, and speaking at a frantic pace, Merchant comedically played the nervous employee. Her kilowatt smile and easy transition between strong and steady and weak and frantic further enhanced the humor of the play. Merchant's characterization was spot on as she confidently portrayed the strength of Brown's character.

Chuck Barlow played Mayor Meekly, a rather dry person, and Barlow nailed his character nicely. Pulling on sweater sleeves and quickening his speaking pace, showed the mayor's nerves, while wide smiles showed his fake political side. By playing up his character's seriousness and using varying vocal inflections, laughter amassed.

Ryan Davila's Agent Frank was energetic and enigmatic. His character's hyperactivity and swift movements enhanced the humor of his scenes. Davila's high-pitched voice was funny the first time, and though predictable, was funnier each time after. His wide stance and locked arms may have showed the authority of a security agent, but his half-smirked smiles belied the seriousness of the job.

Steven J. Schreur played Todd, the antagonist of the play. Standing too close to the other characters, fist clenched, Todd was a bully, yet Schreur's passive expressions and looks portrayed his character's weaknesses and indecision. A highlight was Schreur's thick accent, which never faltered and actually got better as the play progressed.

Mary Meekly, played by Suzy Dotson, is a dynamic character full of twists and surprises. Dotson portrayed her through facial expressions that contradicted what she was thinking. Her firm stance and pointed glances were strong and exactly what her character needed.

The hotel staff of Jeremy Beck, Caroline Carter, and Laura Merchant added another level of comedy. They were full of energy, with bright smiles that highlighted the nature of the play. With clever precision, rapid movements were countered with intentional slow speeds to accentuate the climax of each of their scenes.

Runway Theatre does not disappoint with Unnecessary Farce. Every element of the play works hand in hand with each other that makes the play even better. Come prepared to laugh so hard, you'll leave wiping the tears.
---
UNNECESSARY FARCE

Runway Theatre
215 North Dooley St.
Grapevine, TX 76051

Runs through February 22nd

**This show is rated PG-13 due to content.

Friday – Saturday at 8:00 pm and Sunday matinee at 3:00 pm

Tickets are $15.00, $12.00 for seniors (60+) and students.

For information and to purchase tickets, go to www.runwaytheatre.com or call the box office at 817-488-4842.