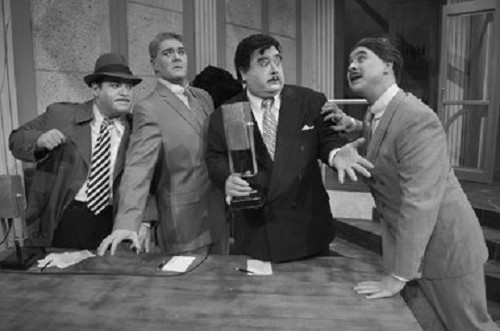 REHEARSAL FOR MURDER!
Pegasus Theatre
Pegasus Theatre
Directed by Michael Serrecchia
Stage Management by Cathy O'Neal
Set Design by Scott Kirkham
Lighting Design by Sam Nance
Costume Design by Jen Madison
Wig Design by Stephanie Williams
Props Design by John Harvey
Piano accompaniment by James McQuillen
Singers' Costumes and Lady in Red design by Laurie Land


CAST
Ben Bryant as Nigel Grouse
Chad Cline as Lt. Foster
Patrick Detloff as Adrian Garson (Understudy) and Singer
Gordon Fox as The Stranger
Francis "Frank" Henry as Edgar Doyle
Kurt Kleinmann as Harry Hunsacker
Terry McCracken as Rebecca Holmes
Chris Messersmith as Seth Murdock
Alex Moore as Jenny Stewart
Scott Nixon as Adrian Garson
Leslie Patrick as Alexis Eden
Ben Schroth as Frank Cameron
Sarah Powell as a Singer
---
Reviewed Performance: 1/4/2014
Reviewed by Joel Taylor, Associate Critic for John Garcia's THE COLUMN
Pegasus Theatre's production of Rehearsal for Murder! is a "hit". Harry Hunsacker is once again at his bumbling best in the latest Living Black and White production by Pegasus Theatre and currently being performed at the Eisemann Performance Center in Richardson.

Rehearsal for Murder! takes place in 1946 and is set in a haunted hotel located in a remote and not always accessible area of the Green Mountains in Vermont. The hotel includes secret passages, a maid and hotel handy man that look like characters from The Munsters or the The Addams Family, and eerie music that plays by itself (or does it?). Add a theatre company that is Broadway bound, a visiting ex-theatre critic, a stranger and a few murders and the fun begins.

Harry Hunsacker, a private detective and aspiring actor, is hired by the producer of a theatre company staying at the hotel to solve a recent unexplained murder. When Hunsacker and his paid-by-the-hour assistant Nigel Grouse arrive, the hijinks and mayhem take center stage, as well as stage left and right..

Scott Kirkham designed the set as the interior lobby of a quaint rural hotel or large home of that era. Entrance/exit doors are used both downstage and upstage throughout the show. A large, functional staircase dominates stage right and is frequently used for the actors to pose on as well as traverse back and forth to the upstairs second level. The stage left area is dominated by an enormous stone fireplace. Remember that this is a murder mystery and appearances are often not what they seem. Above the fireplace hangs a large portrait of the former owner, glowering down on the people in the lobby. When the frosted glass, double door entrance to the lobby is open, the audience sees a believable front porch with trees and plants beyond. The hotel's period reception counter holds an old-style guest ledger. Behind the counter is the curtained entrance/exit area for the servants and new owner of the establishment. A large bookcase filled with books of various sizes contains a surprise feature.

Property design by John Harvey includes period dinner ware, various knives, an Ouija board, the guest ledger, bellhop service bell that is used and various pieces of period furniture. Standing, box-style microphones are used at the opening of the show and during the intermission.

All of the costumes designed by Jen Madison are period appropriate. Hunsacker wears his trademark double-breasted suit and his assistant Grouse wears his single-breasted two-piece suit. The remaining actors wear character appropriate, stereotypical costumes which work well for the setting and time period of the show, that include high waist slacks or dresses for the female characters, younger style for the younger actresses and very sever and frumpy for McCracken as Rebecca Holmes. Wig Design by Stephanie Williams is well done, making it look as though the actors have their own hair colored various shades of grey to black

The costumes worn by the singers and Lady in Red, and designed by Laurie Land, provide the only non-black, white or grey colors in the production. These costumes include vivid blues and reds that really pop out in contract to the rest of the costumes, set and props.

Michael Serracchia brings his vast directing skill to Rehearsal for Murder! and it shows in the actors' use of the stage, the verbal and non-verbal interaction between the characters on stage that keeps the audience's attention, and impeccable timing in line delivery, including many one-liners and the synchronized over-reaction of the characters at just the right moments.

Lighting Design by Sam Nance provides the use of various shades of blues, yellows, lightening effects, and a believable glow of logs burning in the fireplace.

Pianist James McQuillen provides the music for singers Sarah Powell and Patrick Detloff as they perform a well-known medley of songs in duet or solo. McQuillan also tickles the ivories to supply mood and background music for the suspenseful, haunting and resolution moments during the play.

Detloff and Powell open the show and warm up the audience as they enter and locate their seats, as well as during intermission, with their medley of songs. Each singer has a style that kept my attention and made me want to sing along with them, at least in my mind.

Gordon Fox, as The Stranger, enters dressed in an overcoat, large hat and glasses that hide much of his face. Fox uses abrupt, quick and furtive movement and mannerisms to deepen the mysterious nature of his character. Fox's accent is consistent with where this character states that he is from as the plot thickens.

Francis "Frank" Henry plays Edgar Doyle, the unscrupulous producer for the theatre company staying at the hotel. Henry gives Doyle believable, conniving and manipulative characteristics of a businessman that will do anything for a buck. His scenes with Adrian Garson, the director of the theatre company, remind me of the musical, The Producers, as they scheme to achieve their goals. Henry has the look, movement and overall style of the stereotypical theatre/film producer often depicted in films of the 1930-40's era.

Scott Nixon as Adrian Garson has what we think a theatre director of that time period would look like. Dressed in a costume that almost screams, " I am the director", he is always moving and interacting with confidence, and the ease and intent in which Nixon delivers his lines make him enjoyable to hear and watch to see what he will do next.

Alex Moore as Jenny Stewart and Leslie Patrick as Alexis Eden play the female roles as part of the theatre company staying at the hotel. Each plays the opposite of each other in looks and temperament. Where one is blond (light gray) and calmer in personality, the other is brunette (medium gray) and obviously more energetic. While visually opposite, these two are both after the same goal and will do anything to achieve it. Stewart plays her character with a calmness of purpose while Patrick gives her character more fire and direct passion. Watching these two women interact and compete for the same goal is like watching a slow moving tidal wave complete with an active volcano.

Ben Schroth plays Frank Cameron, a writer for a New York paper, who just happens to arrive at the hotel on vacation. Cameron is, coincidentally, a former theatre critic, free with his words of encouragement for Hunsacker's acting ability and equally free with his accusations and derision when mayhem begins. Schroth gives Cameron an arrogance and flamboyance to make him a strong and commanding character in any scene he is in, whether an active part of the dialogue or as a part of the ensemble.

Terry McCracken as Rebecca Holmes and Chris Messersmith as Seth Murdock are captivating to watch throughout the show as the spooky staff of the hotel. Messersmith reminds me of a slightly more animated, though no less spooky, version of Lurch from The Munsters. Being tall, he uses his size and posture well, giving conflicting impressions of whether he is going to help or harm the guests in the hotel. His physical comedic timing is good, as are his facial and non-verbal expressions. McCracken's Holmes is creepy in a horror film way, as she will suddenly appear and quietly stare at the guests. These two characters have great chemistry onstage and both offer a few surprises of their own in the final scenes of the show.

Kurt Kleinmann as Harry Hunsacker, Ben Bryant as Nigel Grouse and Chad Cline as Lt. Foster, the steady and serious police detective, are all actors and characters that have performed and are present in the Hunsacker series of plays. Having watched XSR:Die last year, and now Rehearsal for Murder!, I cannot imagine any other actors playing these roles.

Kleinmann simply is Hunsacker. It is as if they are an aspect of each other and Kleinmann delivers Hunsacker's lines as if they were written specifically for him, which indeed they were, he being the playwright as well, Kleinmann's Hunsacker has a certain vulnerability and tongue-in-cheek style that either has me feeling sorry for or laughing at him.

Where Kleinmann plays Hunsacker with a certain silliness, Bryant gives Grouse such seriousness and earnestness that it provides a great balance between the two characters. Grouse uses a certain vocal quality and upstanding, almost heroic posture and poise, to give Grouse a Dudley Do-Right characteristic.

At the other apex of the triangle is Chad Cline as Lt. Foster. Cline plays Foster as a by-the-book cop, and whose verbal and non-verbal actions depict a man with no time or tolerance for the bumbling Hunsacker. There are several times when guests at the hotel refer to Hunsacker as Foster's friend, and while Lt. Foster adamantly denies it, you decide which you believe. Having performed together many times this trio plays off each other well and provides varied levels of both character depth and comedy, throughout the show.

For almost thirty years, Kurt Kleinmann, Artistic Director at Pegasus Theatre, has been producing the Harry Hunsacker series of plays, spoofing the1930's and 40's who-done-it cliffhanger-style series of black and white film noir Like the shows of an era when the story focused more on the characters than explosions and other visual special effects often found in contemporary theatre and film, the Living Black and White series of plays presented by Pegasus Theatre bring the audience's attention to the performance of the actors. The fact that this is accomplished partly through very good acting and partly through a top secret and patented process making the costumes, the actors' skin and hair, the surrounding set and props all appear in shades of grey, is ironic in that it uses modern technology to provide a retro look, and genius in the way that this technology is applied and used with the superb acting.

The characters in Kleinmann's plays are often parodies and stereotypes of the genre and their witty one-liners, over dramatic posturing, snappy and, at times, corny dialogue, not to mention the fascinating way everything looks, make these shows worth seeing over and over. This is something that is unique and that cannot be experienced with any other theatre, If you have not yet had the chance to see the Black and White series of shows, take the time to go see this show. During intermission the audience is also given the opportunity to guess who the killer is. If you have not yet taken the time to go this unique event, go see it, take a date or go by yourself. In fact, go several times as you might miss something the first time that you see it as there is so much to take in.
---
REHEARSAL FOR MURDER!

Pegasus Theatre
Charles W. Eisemann Center
2351 Performance Drive
Richardson, Texas 75082

Plays through January 26th

Thursday-Saturday at 8:00 pm and Saturday-Sunday matinee at 3:00 pm

Tickets are $20.00 Thursday, $30.00 Friday and Saturday-Sunday matinee and $35.00 on Saturday evening.

For information and to purchase tickets, go to www.eisemanncenter.com or call the Eisemann Center ticket office at 972-744-4650.