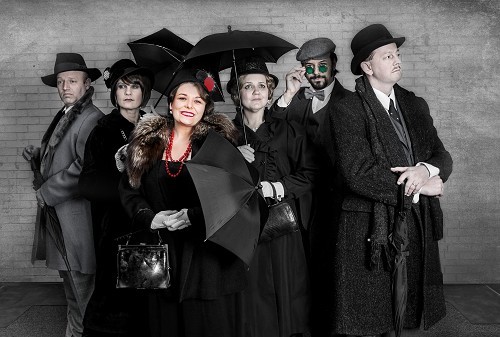 ENCHANTED APRIL
by Matthew Barber
Based on the Novel by Elizabeth von Arnim
Theatre Arlington
Director/Sound Designer – Melanie Mason
Stage Manager – Sarah Barnes
Technical Director – Brian Scheffer
Set Designer- Tony Curtis
Lighting Designer – Bryan Stevenson
Costume Designer – Ryan Matthieu Smith
Properties Designer – Cathy Pritchett
Scenic Artist – Roxanne Mather

CAST:
Lotty Wilton – Sara Ragsdale
Mellersh Wilton – William Kledas
Rose Arnott – Lindsay Hayward
Frederick Arnott – Michael Prescott
Lady Caroline Bramble – Staci Cook-Ingram
Antony Wilding – Travis Cook
Mrs. Graves – Judy Keith
Costanza – Elizabeth Webb

Photo by Eric Younkin
---
Reviewed Performance: 1/17/2014
Reviewed by Eric Bird, Associate Critic for John Garcia's THE COLUMN
Enchanted April is based on the book "The Enchanted April", written by Elizabeth von Arnim and released in 1922. Matthew Barber released a new stage adaptation that successfully premiered on February 24, 2000, produced by The Enchanted April Company, LLC. This new version of the play debuted on Broadway in 2003 where it was nominated for two Tony Awards and also for the Drama League Award for Distinguished Production of a Play.

Enchanted April relates the stories of four women who are in need of an escape: Lotty, Rose, Lady Caroline, and Mrs. Graves. Desperate for a break from their daily routines and the rain in England, they are persuaded by Lotty to spend a month at a beautiful coastal castle in Italy. While there they are able to rejuvenate and also to learn about hope and love.

The set, as designed by Tony Curtis, was simple for the first act, with a basic living room setup and very subdued colors which also show the subdued regularity of normal life. The set then goes through a remarkable and elaborate change into the beautiful and elegant castle scene for the second act. The collaboration between Curtis and Scenic Artist Roxanne Mather resulted in an impressive display, putting the actors in a very convincing environment in which to place the action. This was especially visible with the stone archways, dripping with flowers and wisteria, creating a very believable Italian patio. The actors were able to use the set fully to their advantage, making it their home away from home for the production.

Director Melanie Mason also designed the sound for the production. She clearly had a talented cast to work with, and the effort they put into this production paid off. The blocking made for naturalistic action. The sound design was spot on, especially noticeable with the realistic thunder storm and using it to go off as specific decisions were made. Mason's direction and sound were well done and both added seamlessly to the production of the play.

Bryan Stevenson's lighting design fit in with the world of the play, creating a believable environment, whether it was in the separate houses where the Wiltons and Arnotts live or in the castle of coastal Italy. Stevenson's design was masterful and contributed to the success of the show. One moment I especially appreciated was how the light of the sunset shone through the archways of the castle while Lady Caroline was in the castle.

Ryan Matthieu Smith very successfully designed the costumes for this production. They were spot on, showing Lady Caroline's social status as easily as the changes that Rose goes through from the beginning of the play where she dresses so conservatively to Italy where she begins to relax and literally lets her hair down. Mrs. Graves' costume clearly indicated her as a matron with clear Edwardian influences, which fit in with the time period in which the character would have been raised. The rest of the cast similarly reflected the time period.

Properties by Cathy Pritchett were fitting for the world of the play, including numerous tea items, period shaving articles, and the much used flask of alcohol. All of these made the show realistic and added to the enjoyment. Pritchett went into great detail for this production and it definitely paid off.

Sara Ragsdale was fabulous in her portrayal of Lotty Wilton, one of the two older women who decide to go on a vacation without telling her husband. Ragsdale had an easy going personality onstage that fit well for her role. Her interactions with the other women in the play were enjoyable and her comedic timing was well played, especially in her interactions with Rose and Mrs. Graves. The way Ragsdale's character tended to talk without first thinking about what she was saying added many fun, awkward moments.

Rose Arnott, the woman who is first convinced to accompany Lotty, was played by Lindsay Hayward. Hayward had an easy grace on stage, and an extraordinary ability to play the part of Rose. Her change between Act 1 and Act 2 was extremely well played, showing a woman who wants for things to improve, and is willing to put the effort into making it happen. Hayward modified her posture and her speech habits, going from severe and restrained to relaxed and gentle as her interactions with Lotty develop while in Italy.

Staci Cook-Ingram played the part of the beautiful Lady Caroline Bramble, the socialite who is searching for peace in her own life. Her portrayal of Lady Caroline was stunning. Cook-Ingram would drape herself on furniture whenever onstage and would haughtily trade quips with Mrs. Graves. Yet from her expression and tone I could tell Bramble was keeping secrets throughout the play, and it finally made sense when they were revealed. Cook-Ingram modified her mannerisms when certain other characters, like Lotty, were onstage, softening her expression and tone to show her trust in them. Cook-Ingram made this character her own, adding a fun dimension to the role, one that showed a complex woman with a very different perception of the world around her, especially through the different ways that she interacted with the other characters.

Judy Keith was amazing as Mrs. Graves, the bitter old woman who manages to find peace amidst her surroundings. The way Keith portrayed her character reminded me of my studies on the 1920's, with her rigidity and nearly constant look of disapproval towards others that don't share her étiquetteor her view of the world. It was enjoyable seeing how Keith changed her character throughout the play, beginning to relax and act like a younger Mrs. Graves, eventually laughing and having fun. Keith was admirable in the role, always adding a different and enjoyable twist to the character that made me want to know more about her. Overall her acting was incredible and I enjoyed the humor that she added to the play.

William Kledas played Mellersh Wilton, the stiff, demanding husband of Lotty. I especially liked how Kledas portrayed his character presenting an uptight Englishman, and then a slightly more relaxed version of himself. Kledas changed his posture and vocal quality from rigid, with clipped demands to his wife, to easy going with a relaxed voice and occasional smile. His performance was irritating in a comical way, especially when he arrives in Italy.

Michael Prescott portrayed Frederick Arnott, Rose's artistically-minded husband. His acting was believable, especially in his interactions with Rose during the beginning of the play to how he changed his perceptions at the end. Prescott was enjoyable to watch, delivering his lines clearly and in the persona he developed for his character.

Antony Wilding, the owner of the castle, was portrayed by Travis Cook. Cook had a commanding presence onstage and played the kind host admirably. I liked his scenes with Mrs. Graves and how he won her over. His interactions with Lady Caroline, where he portrayed contrasting emotions, showed a complicated character and added a whole new reality to the show.

Elizabeth Webb was hilarious as Costanza, the woman who keeps the castle in order. For me, having grown up in a foreign country, I could relate to the frustration when people don't speak the language, or when I couldn't speak it correctly. Webb portrayed that irritation in an extremely comical way, making me look forward to each time she came onstage.

I highly recommend Theatre Arlington's production as a great way to dream of spring for one night, leaving behind the cold we've been having and journeying to the enchanted month of April in coastal Italy. The high skill level of the performers will have you laughing as you enjoy your own enchanted night.
---
ENCHANTED APRIL

Theatre Arlington
305 W. Main St., Arlington, TX 76010

Performances run through February 2nd

Thursday at 7:30 pm, Friday - Saturday at 8:00 pm and Sunday at 2:00 pm
Ticket prices are $22.00 and $20.00 for seniors (62+)/full time students. Student rush tickets are available five minutes before the show begins and are $5.00 with student ID.

For info and to purchase tickets, go to http://www.theatrearlington.org/ or call their box office at 817-275-7661.