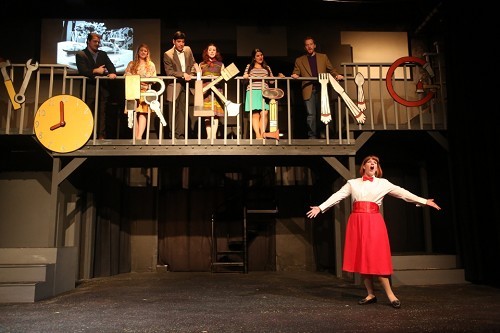 WORKING
From the book by Studs Terkel
Adapted by Stephen Schwartz and Nina Faso
Songs and Lyrics by Susan Birkinhead and Mary Rodgers, Craig Carnelia, Micki Grant,
Matt Landers and Graciella Danielle, Stephen Schwartz, and James Taylor
Dance Music by Michele Brourman
Contemporary Theatre of Dallas
Directed by Michael Serrecchia

Musical Director – Gary Okeson
Scenic Designer – Rodney Dobbs
Scenic Artist – Kaori Imai
Lighting Designer – Zane Whitney
Costume Designer – Rhonda Gorman
Sound Designer – Rich Frohlich
Properties Designer – Jen Gilson-Gilliam
Stage Manager – Kasson Marroquin

MUSICIANS
Gary Okeson – Keyboards
Alan Pollard – Guitar
Sam Walker – Drums

CAST
Brittany Adelstein
Jeff Burleson
Bradley Campbell
Mary Gilbreath Grim
Ivan Jasso
Art Kedzierski
Marla Jo Kelly
Natalie King
Bryan Lewis
Grace Loncar
Sue Loncar
Jane Willingham
Ecko Wilson
---
Reviewed Performance: 1/24/2014
Reviewed by Mary L. Clark, Associate Critic for John Garcia's THE COLUMN
I've had a love affair with author Studs Terkel since reading his famous book with the long-winded title Working: People Talk About What They Do All Day and How They Feel About What They Do. Several online sites have the book published in 1974 or 1978, but looking at my well-worn copy, it was first published in 1972. Terkel's oral history compiles interviews on the jobs and careers of 133 Americans from all over the country and across a broad spectrum of occupations.

I've also had a love for the theatrical version of Working ever since seeing it around 1982, and their performances left an impression on me all these years later. Composer Stephen Schwartz (Godspell, Pippin, The Baker's Wife, Wicked) was sorting through his mail back in 1974 and saw a Book of the Month Club flyer promoting Terkel's book. Fascinated by it, he asked long-time collaborator, writer and director Nina Faso, to help him adapt the text, mostly using the original words of these ordinary, yet extraordinary, men and women. Flying to Chicago, they received Terkel's blessing, staged a production at the Goodman Theatre in Chicago late 1977, and finally landed on Broadway in May, 1978.

The non-fiction musical only ran for twelve previews and twenty four post-opening performances but was there long enough to receive five 1978 Tony Award nominations, including Best Book of a Musical, and Best Original Score. Schwartz used a variety of songwriters such as James Taylor, besides himself, to present as wide a diversity of styles as the people in the book. Since Broadway, it has had many reincarnations via high school, university, community and regional theatre productions.

By 1999, Schwartz and Faso began reworking the musical to incorporate the technology-filled workplace of today. Reducing the character list from forty to twenty six, they conducted their own interviews of workers, some of whose job positions weren't even invented back in the 70's, with the obsolete telephone operator switching to a tech support. Further revisions began in 2008 with two new songs by Lin-Manuel Miranda (In the Heights). A touted production at The Old Globe in San Diego, 2009, Chicago in 2011, and another in 2012 all revised the characters to address aspects of our new century's workforce, where outsourcing and automation have taken over the artisanal skills, and blue-collar hedge-fund managers and philanthropic fund raisers are the more "revered" occupations. The deletions and additions are minor, though, and the piece preserves Terkel's earlier material, still relevant in today's world.

The original production included forty characters played by seventeen to twenty actors. With the revisions, and economic times being what they were then and now, the characterizations were reduced to twenty six and the recommended casting eleven or so actors. A daring, stripped-down production in 2008 had six actors playing all the roles, changing costumes onstage to focus on the fact that the actors too are workers. I believe Contemporary Theatre of Dallas and Director Michael Serrecchia are working with the fuller, revised script, with some additions and deletions of their own.

Director Serrecchia is a musical theatre veteran with vast experience performing and directing them. In that regard, Working is more a revue than a book musical, each character having their moment to talk or sing about their jobs, defining their hopes, aspirations, and what "If I Could've Been". And though it doesn't warrant "jazz hands" or full ensemble dance numbers, this production has been directed more as a series of monologues than interviews. Their stories have no passion or urgency for people who otherwise would never get the chance to say these things. There also isn't a solid connection between the characters, and the musical lacks the pace and vibrancy to keep the audience's interest in each worker's life. Some of the songs are rousing, but timing between pieces is delayed, and the scene transitions lack energy.

Casting thirteen actors seems superfluous, as only five actors sing fourteen of the eighteen songs, either solo or with the company. Some actors are only seen once or twice. The two new songs, "A Very Good Day" and "Delivery" are left out of the production, and a song "Hey Somebody" is on the playbill list twice, but is not on the original cast album or any Working song list online.

I appreciate the use of regional accents for a few characters – a New England lilt for the stone mason, and a Boston (or maybe Chicago, as homage to Terkel?) accent for the receptionist. Brittany Adelstein, however, attempts a strange accent (British for sophistication?) as the fund-raiser.

The score for Working can be uplifting and hopeful one minute, then quiet and heart-wrenching the next. The down-to-earth lyrics, also based on real interviews, celebrate the American spirit and satisfaction of "having something to point to". Wildly or quietly proud of themselves, the songs don't reflect so much their actual job, but instead how they feel about the job they do. Musical Director Gary Okeson has assembled some talented musicians who, playing only keyboard, guitar and drums, beautifully convey the songwriters' intent and nicely support the singers onstage. However, due in large part to playing on the upper level of the theatre space, behind an acrylic railing, their passion floors the quieter singers and leaves the others belting their solos to be heard. Marla Jo Kelly's grocery clerk song, "I'm Just Movin", is almost unintelligible over the musicians.

Of the solos, Ecko Wilson simply rocks the house both musically and humorously as the dancing parking lot attendant in "Lovin' Al". Being rolled around the stage, with the other men playing the truck, Wilson sings the life of a long-haul freight driver in "Brother Trucker". His physicality is large and his voice even larger and exuberant.

Mary Gilbreath Grim's two main songs couldn't be more different. She shines and practically tap dances as a waitress who loves to serve in "It's an Art". Taking that energy in the opposite extreme, her ballad, "Just a Housewife", reflects a discontented woman who feels herself less than.

Bradley Campbell plays Joe, a retired shipping clerk. Seen towards the end of the musical, he describes his new day after day existence, paralleling the end of his life with the end of a working day. Joe's story is half spoken, half sung, which works for the character, but Campbell needs more thought between the words, more regret and resignation, to equal one of the better characters in the musical.

Easily blowing the roof off the theatre is the powerhouse voice of Natalie King. She belts her part in "If I Could've Been", a song about all the things we thought we'd be. Her gospel vocals ring above the other singers for a rousing Act I closer. Coming back later, she and the other women describe the life of "Cleaning Women" with soulful defiance and sass.

For the last solo of the musical, Bryan Lewis' construction worker sits on the edge of the balcony, as though finishing his work day, and reveals his hope that his son reaches for even higher goals in the poignant "Fathers and Sons". Photographs of dads with their children accompanying this song are equally as poignant.

The best song of the evening, though, is James Taylor's "Millworker". Speaking or singing of the mind/soul-depleting monotony of assembly work, their words are heightened by the choreographed, repetitive movements of the workers. Looking quite like Tai Chi, the beautiful motions could make one forget that these women (and we are told women endure this work longer as their minds multitask better than men) are permanently injured by repeating these steps thousands of time a day.

The set is one of the more stark I've seen at CTD. Painted entirely black, it has the cold metal feel of a building under construction, a hidden spiral staircase leading to the full-width, railed balcony for more varied acting space. Entrances/exits come from sides on both levels. Sesame Street-like, cartoon-drawn letters, spelling out WORKING on the railing, are overly cute and distracting. A better cut-out is the clock, its hour hand manually moved hour to hour, from early in the morning to late into the night. Its presence visually reminds that a working person's day truly never ends, and as many work through the night as are people in their beds.

Using Rodney Dobbs' "open to the back" black box set, actors mime set pieces and most props. This is where time periods seem to confuse. By miming typing in an office cubicle, characters could be using a typewriter, word processor, or a computer. Palming an invisible cell phone is a good giveaway of time period but the costume choices by Rhonda Gorman and black and white slide projections (no design credit) are not consistent.

While many of costumes have no set time period – overalls, grocery checker apron, delivery person's brown uniform, fireman's heavy over suit being the same for decades – others, especially some women's thin, sheath dresses, the teacher's dress, and the waitress's uniform, are stuck in the late 50's, early 60's.

Black and white photographic slides are projected on the second level, far stage right, so that the eye is not directed toward them for any particular scene. I only glanced up there when an actor crossed in front. The photographs themselves are wonderful reminders of a time long past - a long row of telephone operators sitting in front of a manual switchboard, wearing small, cardigan sets, their hair tightly waved in a 50's style. Photos of migrant workers in the field still resonate today, but sheets blowing on a clothesline or streets filled with 40's gray/black automobiles does not reflect the 1978 setting of the original Working nor the revised musical.

Lighting for the production is generic in hue, inconsistent in execution, and its design full of shadows and darkness. Zane Whitney's plot fades actors into darkness before cross fading them into light, rather than bringing up the second light first. This would be trivial were it to happen once or twice, but being the most used lighting transition adds to its relevancy. Several actors either could not find their spotlight, their faces in half light, or the lighting instruments are not focused correctly. There is simply too much darkness, and on a set painted entirely in black, too little or misdirected lighting is a definite problem.

Rich Frohlich's sound effects are a wonderful addition to each worker's scene – fire engine sirens or the clank of steel for the iron worker – and did I really hear typewriter/computer keys, background voices of customers at the grocery or the clink and clank of glasses and dishes in the restaurant? No matter if it was in my imagination or one of the effects, the fact that the sounds make me recall the scenes is enough to know the design is good.

Terkel's journalistic roots make his book, Working, a great slice of our 20th century history. In the still early years of the 21st century, and in a country whose distribution of wealth is sorely unbalanced, Working continues to celebrate our working class as essential elements to the continual building of America. Contemporary Theatre of Dallas' production has flaws, but the compelling words from Studs Terkel's interviews, the music and lyrics, and some of the singers, is enough to make for a memorable theatre experience.
---
WORKING

Contemporary Theatre of Dallas
5601 Sears Street
Dallas, TX 75206

Plays through February 16th

Thursday at 7:30 pm, Friday – Saturday at 8:00 pm, and Sunday at 2:00 pm.

Main floor seating is $40.00, $35.00 for seniors. Balcony seating is $35.00, $30.00 for seniors.

For information and to purchase tickets, go to www.contemporarytheatreofdallas.com or call their box office at 214-828-0094.