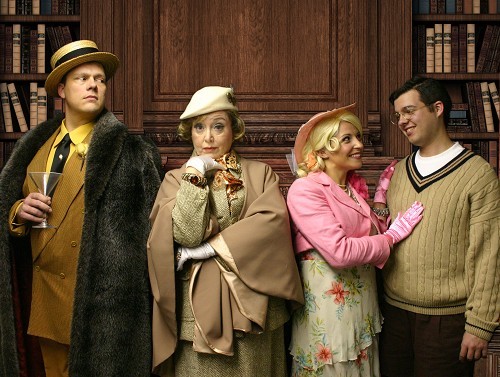 SOMETHING'S AFOOT
Book, Music and Lyrics by James McDonald, David Vos & Robert Gerlach
Additional music by Ed Linderman
Rover Dramawerks
Director - Mark C. Guerra
Music Director - Lynn Ambrose
Choreographer/Props Designer - Rebecca McDonald
Stage Manager - Phineas Bennett
Costume Designer - Ryan Matthieu Smith
Sound Designer - Randy Wright
Lighting Designer - Jeff Mabray
Set Designer - Cindy Ernst & Mark C. Guerra
Assistant Stage Manager - Elizabeth Serafin
Technical Director - Donny Covington
Dialect Coach - Yvonne Vautier-DeLay

CAST:

Lettie - Danielle Shirar
Flint - Eddy Herring
Clive - Roger Hogarth
Hope Langdon - Katherine Mayer
Dr. Grayburn - Duncan Rogers
Nigel Rancour - Philip Bentham
Lady Grace Manley-Prowe - Heather Walker Shin
Col. Gillweather - Andrew Hamilton
Miss Tweed - Mary Tiner
Geoffrey - Stephen Wantland

BAND:

Lynn Ambrose
Ricky Pope
Evan C. Wennerberg
Nicholas Eugene Rothouse
Tim McGee
---
Reviewed Performance: 1/26/2013
Reviewed by Charlie Bowles, Associate Critic for John Garcia's THE COLUMN
Back in the days before iPad and PS3, families spent evenings playing games. Clue was one of the most popular. Clue was the game that required logical thinking and a bit of intuition. In the end it came down to Mr. Green in the Kitchen with a Candlestick. Of course, before Clue, it was Agatha Christie who wrote murder mysteries. Her books spurred the genre and she became the "best-selling novelist of all time," according to Guinness World Records.

Something's Afoot is a mystery about who might be killing people, in this case at the lake house of the wealthy Lord Dudley Rancour. It's also a spoof on Agatha Christie, a comedy and a musical tribute to the great author. The visitors to the island are both the victims and the suspects. The problem is that the visitors keep dying off and it's only a matter of time before, well, I won't give that way. It's up to the characters to solve the crime, if they can stay alive.

With book, music and lyrics by James McDonald, David Vos and Robert Gerlach, Something's Afoot premiered in 1972 and played on Broadway in 1976. It was an award-nominated production in London, with over 300 performances, but has since faded in the light of too much crime competition. Rover Dramawerks brings the musical back to life under the direction of Mark C. Guerra.

Set in 1935, sound Designer Randy Wright used 1930's era recorded music for pre-show and intermission. But the musical itself was backed by a live orchestra, led by Musical Director Lynn Ambrose. This small band was effective in providing a musical landscape with keyboards, woodwinds, and percussion instruments.

Although orchestra volume slightly overplayed the vocals, making words hard to understand, it was very slight and we got the meaning of the words, if not the precise enunciation. In quieter solos and duets, this was not a problem. But the band was tight and precise with their orchestration and sounded like a larger band.

Actors were true to the medium, presenting the meanings to the story in their songs rather than trying to create perfect musical phrasings.

They were credible singers and each seemed true to their own character while singing. Notable for voice quality was soprano Katherine Mayer as Hope Langdon and baritone Philip Bentham as Nigel Rancour, who both sounded like they really could do serious concert singing. But that doesn't take away from the rest. All singers were powerful and performed their solos and harmonies with panache.

Being a spoof and an English farce, there was a lot of physical comedy and the dialog and songs were over-the-top. The actors in this show did their jobs well, put their heart and soul into their performances, and made character intentions easily visible in song, dance, and dialog.

Miss Tweed, an artist invited to the Estate, was played by Mary Tiner. Tweed, in a style reminiscent of Angela Lansbury, became self-appointed detective and Tiner took the stage to become the driving force of the show. Her songs provided background and heart for the story and her humor carried through the crimes as they happened. Tiner was a dynamo on stage. I marveled at her energy which affected the actors around her and helped make the show come alive.

All the actors created proper English characters who commanded the stage during their songs and scenes. Col. Gillweather and Lady Grace Manley-Prowe learned surprising things about themselves, but Heather Walker Shin as Grace and Andrew Hamilton as Gillweather, created their characters as quintessential but slightly tarnished high-society British aristocrats. They were fun to watch and they were not alone. Each character in this story was critical to the plot and outcome and every actor made their character an essential piece.

The set for this piece encompassed the whole stage of a great room in the English estate of an English lord, much like a hunting lodge. In dark woods with tall ceilings, doorways and stairways to everywhere, Cindy Ernst and Director Mark C. Guerra created a wholly believable setting with lots of nooks and crannies where crimes could occur.

I'd say the dominant color was redwood, though I'm sure it was actually some exotic wood color, and walls were accented by artwork and hunting implements. The house was on an island separated from the mainland so visitors were trapped in this setting when the bridge washed out, which created a desperate desire to escape, and a sense of urgency. And yet, actors made sure to maintain their proper English air, according to their station, which we've all come to learn from PBS.

Lighting effects included explosives, thunderstorms, and blackouts. Jeff Mabray coordinated these with the storyline while fully highlighting actors' faces. Randy Wright's sound effects coordinated with lighting effects and provided murder moments with shock value. Costumes varied, running from Col. Gillweather's bright red English officer's uniform to lavish gowns for Hope Langdon and Lady Grace to Lettie's short-skirted maid's outfit. Each character was dressed by Ryan Matthieu Smith with believable 1930's clothing and each costume gave background for the character and lots of little accessories for the actor to play with.

Rebecca McDonald provided enough properties for this show to look like a small hardware store. Actors carried and used a large variety of props and it made their silly antics seem believable. McDonald also choreographed the dances and there were several ensemble and solo or duet numbers. Notable among them were the little jitterbug dance by Geoffrey and Hope during the young lovers' duet, a chorus line high kick by the ladies while the men explored the island, and a little cat and mouse dance by Lettie (Danielle Shirar) and Flint (Eddy Herring) during their duet, "The Dinghy Song." All of the dances were appropriate to the song and the dancers' skills. A great piece of choreography and a really fun song came when Mary Tiner sang "Suspicious" with the entire company after one too many drinks of sherry. This scene was hilarious, well danced, well-acted, and well designed.

Being a musical that required the full ensemble, all deserve to be described, but Directors Mark C. Guerra and Lynn Ambrose, really deserve accolades. The challenge in a production of a slightly outdated story, with actors who had to play over-the-top while creating believable characters that also dance and sing, is enormous.

Guerra was able to get the most out of every actor, enough to make it spoofy but not too silly. Ambrose put the physical comedy into an enjoyable set of songs with meaning for the story. And these actors had to act, sing and dance and work comfortably with various English accents. Coached by Yvonne Vautier-DeLay, they did this about as good as I've heard in any English play lately. This show was a successful directing effort and I applaud the whole team.

Get over to downtown Plano. Go early, grab dinner nearby, and see this totally enjoyable evening of light entertainment. You'll laugh a bit, tap your toes, maybe hum along, and see a funny mystery with a real surprise ending. Those are really surprising these days.
---
SOMETHING'S AFOOT
Rover Dramawerks
Courtyard Theatre, 1509 H Ave. Plano, Texas

Through February 9th
Thursdays, Fridays, Saturdays 8:00 pm
Saturday February 2 at 2:00 pm

Ticket Prices:
Thursday and Saturday matinee - $18.00
Friday - Saturday evening - $22.00
For information and tickets, go to www.roverdramawerks.com
or call their box office at 972.849.0358.