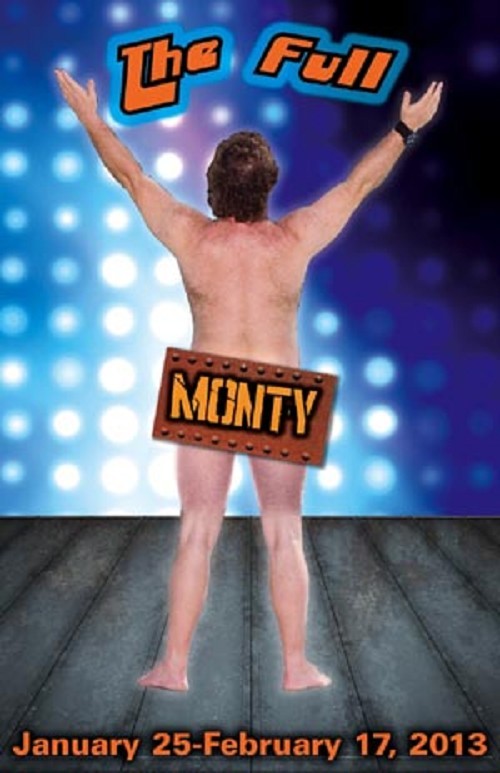 THE FULL MONTY
Book by Terrence McNally, Music and Lyrics by David Yazbek
Runway Theatre
Direction by Byron Holder
Assistant Direction by Linda Fullhart
Choreography by Mallory Brophy
Set Design by Richard Brown
Lighting Design by Scott Davis
Costume Design by Amber Sebastian


CAST (In order of appearance):

Georgie Bukantinsky - Laura Jennings
Estelle Genovese - Stephanie Jackson
Susan Hershey/Molly MacGregor - Sarah Fullhart
Joanie Lish - Dana Harrison
Buddy (Keno) Walsh/Minister - Jeremy Johns
Reg Willoughby/Teddy Slaughter/Repo Man #2 - John Grissom
Gary Bonasorte/Marty Popelka - Russell Sebastian
Jerry Lukowski - Woody
Dave Bukatinsky - Alex Krus
Malcolm MacGregor - Ethan Dunn
Ethan Girard - Chris Edwards
Nathan Lukowski - Tristan Thomas
Pam Lukowski - Suzanna Bell
Harold Nichols - Jackie L. Kemp
Vicki Nichols - Noelle Salter
Jeanette Burmeister - Sheila D. Rose
Noah (Horse) T. Simmons - Ecko Wilson

BAND:

Keyboards - Byron Holder
Drums - Randy Lindberg
Guitar - Enrique Olachea
Bass - Steve Cullen
---
Reviewed Performance: 1/25/2013
Reviewed by Richard Blake, Associate Critic for John Garcia's THE COLUMN
In this Americanized musical stage version adapted from the 1997 British film of the same name, six unemployed Buffalo steelworkers, low on both cash and prospects, decide to present a strip act at a local club after seeing their wives' enthusiasm for a touring company of Chippendales. One of them, Jerry, declares that their show will be better than the Chippendales dancers because they'll go "the full Monty" - strip all the way. As they prepare for the show, working through their fears, self-consciousness, and anxieties, they overcome their inner demons and find strength in their camaraderie.

If you want to laugh out loud and be thoroughly entertained with "in-your-face" comedy, then Runway Theatre's production of the Full Monty is just the ticket!

I've seen shows (as a patron and reviewer) at Runway and I love the intimate performing space they have, you always feel like you're part of the show. With this production, even when you enter the lobby you know this is going to be different with the high energy, Euro Dance music playing! When entering the theatre proper, the music gets louder and the stage offers you a fixed set accented nicely with the lighting.

Byron Holder's direction is well planned and executed. Most scenes played well and you're always involved with the action on stage.

There did seem to be some awkward placements throughout the performance, but that may have been opening night nerves by the actors. All-in-all, Mr. Holder's direction made for a nice musical experience.

Set design by Richard Brown is simple, yet nicely divided for a fixed set. Each location in the story was represented by its own facade of a building or interior area. The center of the set opens up completely to offer some very nice scenic elements, like the bathroom scenes and Malcolm's car "incident". The set was also very colorful and eye catching. The design had a very nice use of the space for so many locations called for in the script.

Scott Davis' lighting design was very complicated. The use of intelligent lighting that produced large amounts of color and patterns with movement was very complimentary to the performance. Standard instruments were focused nicely with rich colors that allowed each scene to be well lit. Some of the moving templates with the moving lighting were a bit distracting in scenes that were intimate or emotional, but in most cases they worked well. It was obvious, however, a lot of planning and design went into the execution and overall it was a nice aspect of the performance.

Costume design by Amber Sebastian was very nicely done. Each actor was dressed appropriately and they worked well for each character. Some were simple and some were way over the top where necessary. Detail to accessories such glasses, hats, wigs and shoes were also done with success. I've never made this statement about a costume before - but even the live dog in the show had a great costume! Congratulations on an excellent job Ms. Sebastian.

The ensemble cast did a nice job tackling the show. Everyone?s acting was very well done and each performer played well against others. The timing was great with this cast, which is a MUST for this show, and you were always involved in the scenes. Vocally, everybody performed well (there is no Music Director credited) but some performers seemed to struggle with the demands of the music and had difficulty pulling off note executions.

There were some difficult high notes for the men and tight harmonies in group numbers that lacked a bit, but overall the performers were entertaining while on stage. I will, however, say they did do a wonderful job with the "personally revealing" moments of the show. It takes a LOT of guts to take off your shirts and parade around to a live audience (I know, I actually HAVE gone "Full Monty" on stage) and every one of them did it wonderfully with no revealed hesitation. Bravo!

Oh, and since you've been reading this entire review looking to find out if the cast actually DOES go "Full Monty?" you'll have to go see the show yourself since I'm not going to say if they do or not!

There are some performances that did stand out and were wonderfully executed, adding to the overall entertainment of the evening. Sheila D. Rose as the guys' rehearsal pianist, Jeanette Burmeister, gave a side-splitting, raucous, foul-mouthed, PERFECT execution of her character. I've seen this show many times, performed in it myself, and Ms. Rose created the best portrayal I've ever seen. Even improvising live during a scene with her dog was sheer perfection! You will definitely remember her performance and laugh many more times, recounting it with your friends.

Ethan Girard, played by Chris Edwards, was simply superb in the role. Vocally he handled the music excellently and always sang with drive and passion. His acting and comedic skills were perfect, including difficult physical elements like TRYING to run up the wall and flip like in "Singing in the Rain". Every moment Mr. Edwards was onstage was a pleasure to watch!

I also have to mention the wonderful young man, Tristin Thomas, who plays the son, Nathan Lukowski. This kid had talent that was amazing for his age. He played his character perfectly with passion and timing like a seasoned pro and you were drawn to him whenever he was onstage. This young man is surely going to take the industry by storm! Great Job Tristin!!

You will definitely have fun when you go to this performance of The Full Monty and walk away laughing, singing and wanting to dance the night away - and NO, I'm still not going to reveal if they DO go "all the way"!!
---
THE FULL MONTY
Runway Theatre
215 N. Dooley St., Grapevine, Texas 76051
Runs through February 17th, 2013

NOTE: This show is for mature audiences only.

Friday and Saturday at 8:00 pm and Sunday at 3:00 pm
Tickets are $15.00 for adults and $12.00 for students/seniors.
For more info and to purchase tickets, please visit: www.runwaytheatre.com or call the box office at 817-488-4842.