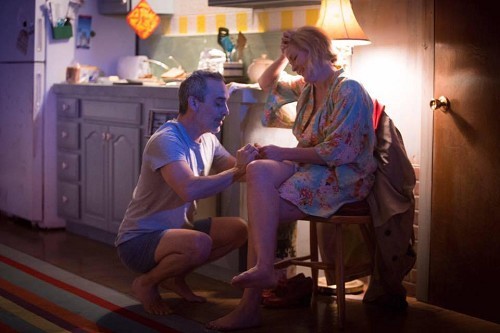 FRANKIE AND JOHNNY IN THE CLAIR DE LUNE
by Terrence McNally
L.I.P. Service
Directed by – Stefany Cambra
Set Design – Ben Hall and Jason Leyva
Lighting Design – Branson White
Sound Design – Danny Bergeron
Costume and Prop Design – Barrie Alguire, Jenny Tucker, and Stefany Cambra
Stage Manager – Barrie Alguire


CAST
Jenny Tucker – Frankie
Jason Leyva – Jonny

---
Reviewed Performance: 1/28/2017
Reviewed by Carol M. Rice, Associate Critic for John Garcia's THE COLUMN
You don't expect to find an amazing set in a dance studio. You just don't. Yet once you make it into what L.I.P. Service Productions calls their "theatre" for this show, that's exactly what you do find. It's a cramped studio apartment in New York, complete with a working fridge, running water, and a stove you can really cook on, with a Murphy bed on the opposite end of the room. The small door into the bathroom reveals chipped tile, and there's a tiny table and chairs that serve as the rest of the furniture, along with various practical lamps. Set designers Ben Hall and Jason Leyva, aided by the beautiful and deceptively simple lighting design by Branson White, have created the perfect space for director Stefany Cambra to bring her vision of Terrence McNally's 1987 two-person play to life.

The play begins as a couple, played by Jenny Tucker and Jason Leyva, finishes their lovemaking in the dimness. As they talk in the "afterglow," lamps are gradually turned on, providing a depressing gloom for Frankie's apartment. While the two have known each other via the diner where they both work, this is their first real "date," although you wouldn't know it from how Johnny goes on and on. He is convinced it's love, but Frankie isn't so sure.

Leyva portrays the overly talkative Johnny with just the right amount of bravado and the perfect New York accent. He is charming without being smarmy, and he manages to stay charming even as he becomes annoying, because he just won't shut up! It's a fine line for an actor to walk, and Leyva is a master at such a tightrope. He really gives a flawless performance.

Tucker is the far less confident Frankie, who just wants to be left alone once they've made love. The role was originated by Kathy Bates and played in the less than stellar film version by Michelle Pfeiffer. Physically, Tucker is much more the Michelle Pfeiffer type, as she has a nice body and is very fit, so some of the self-deprecating lines don't have the impact they might have. That said, Tucker has great facial expressions and brings a lot of nuance to Frankie as she goes through a slew of different emotions throughout the play.

Danny Bergeron's sound design is spot on - especially the first time the radio plays "the most beautiful song ever written." The version of Debussy's Clair de Lune used in this production gave me chills, especially in context. Food props are always a challenge, and the prop/costume design team of Barrie Alguire, Jenny Tucker, and Stefany Cambra do a great job of making it all real.

Two-handers are tough. Especially full-length plays. Director Cambra does an excellent job keeping her actors interesting at all times as she deftly maneuvers them around the matchbox of a set. I always enjoy her work, but this was one of the best I've seen her do.

The biggest problem I have with the play isn't the fault of anyone involved with this production. It's the fault of the playwright, Terrence McNally. This beautifully imperfect couple has decided they want to give things a further try, and they're watching the sun rise...as they brush their teeth. Really? Pardon the pun, but it left a bad taste in my mouth, especially after how wonderful the rest of it was.

Frankie and Johnny in the Clair de Lune was my first visit to a L.I.P. Service show, and I look forward to many more. Do yourself a favor and catch this one before it's gone.
---
FRANKIE AND JOHNNY IN THE CLAIR DE LUNE
L.I.P. Service Productions
Performing at Amy's Studio of Performing Arts
11888 Marsh Lane, Suite 600, Dallas, TX 75234
Runs through February 12

Actual days (Friday through Sunday at 8:00 pm). Tickets are $20.00. For info and to purchase tickets, go to www.lipserviceproductions.info.