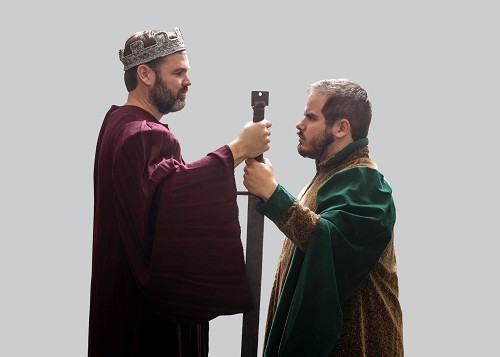 HAMLET, PRINCE OF DENMARK
By William Shakespeare
Poor Yorick Productions
Director/Set Dressing/Sound/Costuming – Emmalyn Gladney Miron
Stage manager – LeeAnn Ducker
Lighting – Chase Hughes
Fight Choreographer – Kim Collazo

Ghost/layer King – Sam Baker
Horatio – Matt Jonston
Queen Gertrude – Laura Jones
King Claudius – David Jones
Guildenstern/1st clown – Chase Hughes
Polonius – J King
Laertes – Daniel Lunt
Ophelia – Emmalyn Gladney Miron
Hamlet – Javier Morante
Rosencrantz/Francisco/Osric- Jessica Smith
Marcellus/Fortinbras/Priest/First Clown/Ambassador – Alex Swanson
Player Queen/Cornelius
---
Reviewed Performance: 1/26/2019
Reviewed by Mark-Brian Sonna, Associate Critic for John Garcia's THE COLUMN
To be, or not to be: that is the question: Whether 'tis nobler for a theatre to suffer The slings and arrows of a haughty critic, Or to take arms of mounting a play of troubles, And thus forge on producing theatre?

Poor Yorick Productions has made its debut as a theatre company with what is considered the greatest play ever written, and one of the most difficult to get right. This audacious act is something very few other new born companies would ever attempt. I'm glad to report that even though there are some flaws in this initial production, they can count it as a success.

Emmalyn Gladney Miron, who is the artistic director and in charge of mounting this production, is passionate about Shakespeare. Her passion is evident at every moment in this production of Hamlet.

For the 2 or 3 people who don't know what Hamlet is about let me begin by saying that is the biggest Soap Opera ever written. People fall in and out of love, there's treachery, a ghost that won't go away, murders, shifting alliances, social climbers, heartbreak, slapstick comedy, cliff hangers after every act, and a thrilling climax that will make you squirm in your seat. To describe the plot in a few words is difficult: Hamlet is angry at his mother for having remarried his uncle after his father's death under suspicious circumstances and plots to avenge his father's death after seeing his father's ghost while suffering with existential angst. I'll stop there because I just described the first 7 minutes of the play. To write down the overall plot I would have to basically re-write Hamlet because the plot is quite convoluted but because it was penned by Shakespeare at no point is there confusion as to who is doing what to whom and why. Wrapped up in all this dialogue are great one liners that are still used to this day. There's also musings about what it means to be human, the meaning of life, love, liberty, familial relationships, etc. etc. etc. Oh, and the character Hamlet has 6 well known soliloquies including the oft parodied "To be, or not to be".

As a theatre lover I seldom enjoy Shakespeare plays. It isn't that I don't admire the Bard and what he's done, it's just that too many theatre companies try to tackle his works and fail. I'd rather see a dentist than sit through a badly produced Shakespeare play. This said, when done right, I am captivated and never bored.

Let's face it, most English teachers would have a conniption if a student wrote such complicated and run on sentences the way Shakespeare does. My biggest complaint upon seeing a Shakespearean play is that the performers put on an air of artificiality and are so enamored with the poetry that I feel as though I'm watching a recitation, not a play. It takes an expert director along with strong actors to insure that this does not happen. When done right, the complicated and strange grammar Shakespeare employed should sound almost like modern English. Miron obviously worked at length with her actors so that the dialogue sounded natural. The language is the biggest hurdle an audience will have in being able to enjoy Shakespeare. Miron and her cast overcome this obstacle with ease. And since the plot and the characters are so magnificent one can't help but get caught up in the play. It also helped that some of her cast were able to not just say the lines so that they were understood, but created brilliant characterizations and interpretations that even surprised me, and I've lost count on how many Hamlets I've seen in my lifetime.

Miron was essentially responsible for most of the technical side of the production. In some areas she succeeded and in other faltered. Besides helping the actors make the dialogue sound almost like plain English, she costumed them marvelously. She curated her costume selections from Oklahoma Shakespearean Festival and Southeastern Oklahoma State University. They were a feast for the eyes. They instantly informed the audience as to the social class and temperament of the character. I wish more of the shoes had been period correct, but considering that this was a low budget production she was wise to invest in enrobing her actors in lush period looking threads.

The set was minimalist though a bit shopworn. This said, a lush set is not necessary to mount Hamlet even though it mostly deals with royalty and the upper class. The concave mirror center stage, the two imposing wooden chairs and benches along with the lovely stained glass windows provided by Dane Walker-Gladney gave enough of a feel for the era. When Shakespeare wrote his plays and performed them 400 plus years ago, stagecraft wasn't as advanced as it is today, and he smartly included at some point in his dialogue a line or two about where the characters were so as to inform the audience of the location thus making an elaborate set less important. Miron hewed to this tradition, and it worked.

Miron also chose some musical selections before the show and during the intermission that helped capture the mood of the era and she incorporated a practical drum sound that was banged on a drum that would have been used during the era giving an aura authenticity.

The other thing Miron did quite well is in choosing someone to expertly do the lighting design. This play is being presented at OhLook! Performing Arts Center. The stage is small and the lighting system is basic. Chase Hughes designed the lights to maximize what the theatre had to offer. A myriad of moods were created and every performer was well lit. Miron also smartly hired a Fight chorographer. WOW! The word fight in the final scene made me jump out of my skin. It was so real, rapid, and violent it truly felt like a fight had broken out on stage. I must tip my hat to Kim Collazo who choreographed the violence. I can't recall ever seeing a stage combat scene that made my pulse quicken. It rivaled the film versions I've seen.

Where Miron faltered as a director is in the staging. She gave the actors too much leeway. At times they wandered the stage for no apparent reason. Their movements were unmotivated. Not many strong stage pictures were created either. This is high drama and lots could be communicated via the position of the actors on the stage in relationship with each other, and these opportunities were missed. Actors frequently were caught standing behind another actor when it was time to say their lines thus causing an awkward "steps to the side and begins to speak" moment in order for the audience to see them. On the positive, she did insure that at no point did the action drag. She paced the play beautifully so when rapid fire dialogue and movement were required it happened, and during the quieter moments of contemplation the tempo slowed down appropriately.

Miron was also able to cut the length of the play down to two and half hours. Most Hamlets run about an hour longer. Her cuts to the script were smartly done. At no point did I feel like I missed an important plot point or crucial dialogue. Her edited version kept the focus on the plot which made the play seem to fly by. Intermission happens an hour and thirty minutes into the play and I resented the interruption for I was ready for the play to continue and found myself surprised I had sat there for that long. I would recommend other theatres use her edited version because it was one of the best..

Another thing I must applaud Miron is having all her actors use, mostly, American accents. It can be cloying listening to an actor butcher accents from across the pond. By creating uniform speech and dialect one never gets distracted. Some of the actors played multiple roles and they wisely used various regional accents to help demarcate their different characters; it worked.

As far as the performances go, in this area the production was uneven.

The standouts in this production were Matt Johnston as Horatio, Laura Jones as Queen Gertrude, and J King as Polonious. These three actors not only delivered their lines in the most natural fashion but made character choices which intrigued.

As Horatio, Johnston was able to convey not just his preoccupation with the palatial intrigue, but one could sense that his underlying worry was how this was going to affect him. His apprehension in his involvement in the unfolding plot was palpable. To display an emotional discomfort is very hard to convey if there aren't lines to support it. He understood the subtext of the lines and gave an effective nuanced performance.

Jones as Queen Gertrude was sublime. She is married to the enemy of her son and knows it. This said, she is conflicted because while she cares for her son, this marriage was convenient for her so as to remain in her position of power and to stay alive when it becomes evident to her that her current husband murdered her prior husband after Hamlet arranges for a play to be performed that re-enacts the murder. Even though she distrusts her husband she needs to appear to be loyal to him and this creates an undue amount of stress for she also loves her son and wants to be protective of him. Jones captured in her performance all the subtleties and conflicting emotions and made her character sympathetic.

J King who played Polonius who is an advisor to the throne and father of Ophelia, Hamlets on and off again love interest, gave an off-beat and somewhat comedic performance. Polonius is somewhat Machevellian by nature, but King's take was that he was an older man past his prime whose mental faculties are diminishing. But because he's done his job for so long his ability to cajole and at times gaslight others has become second nature to him. When he comes up with a solution to the unfolding problems at hand -which also serves his self-interest- it surprises and amuses him. I've never seen Polonius played this way before and it was absolutely delightful. When he is accidentally killed midway through the play I mourned for him because he was so loveable. His take on Polonius was the best I've ever seen.

Chase Hughes as Guildenstern and Jessica Smith as Rosencrantz, Alex Swanson as the Gravedigger, David Johnston as King Claudius, and Emmalyn Gladney Miro as Ophelia gave solid performances.

Miron as Ophelia hit all the rights notes though at time her performance seemed a bit rushed. Her affection towards Hamlet was genuine as was her distress during their break up scene. Where she slightly faltered was in the famous scene in which Ophelia has gone mad. She rushed through the scene. Actors should never be self-indulgent in their performances with the exception of this famous scene. She needed to milk the scene. Other than this small critique she was quite riveting.

David Johnston as Claudius was a bit tentative in his character portrayal in the first scene, it's as if as an actor he had to warm up before he gave us the full tilt Claudius later on in the play. What I loved about his performance was that he made Claudius likeable. Claudius is in essence a murderous con man. He almost made me feel sympathetic towards him, as a good con man does, until of course I was reminded that he really was a murderer. I enjoyed this fresh take on the character.

Alex Swanson played several roles: Marcellus, Fortinbras, Priest, First Clown, Ambassador. The one in which he stood out the most was as the Gravedigger. While the other characters weren't as defined, his work in this one scene was spot on. In the past when I've seen Hamlet this scene always seems to drag. But the rapid fire dialogue between him and Chase Hughes doubling as the second grave digger besides playing Guildenstern was sublime. By this point in the drama levity is needed and Shakespeare wrote some marvelous lines for these minor characters and it was a joy watching them being delivered with zest and gusto.

Chase Hughes as Guildenstern worked well in tandem with Jessica Smith as Rosencrantz. This duo sparkled. Even though traditionally they are played by two men, by having Smith being a woman they played as if they were brother and sister. It helped that they both also had nearly identical red hair. The timing and chemistry between these two zinged. Smith also plays several other characters, I wish they had been developed a little bit more, but she still gave competent takes on them.

The weakest members in the cast were Sam Baker as the Ghost and the player King, Daniel Lunt as Laertes, Dianne Walker-Gladney as the player Queen and Cornelius, and Javier Morante as Hamlet.

Baker and Walker-Gladney were relegated some of the smallest roles in the play. While they both excelled as the player King and Player Queen respectively, the other characters failed. Baker as the Ghost moved too much like someone who was attempting to be a ghost. While his body moved in the correct slow pace, his arms and head moved as though he was alive, and this disjointed movement didn't read well. As the Player King he hit the commedia spot on. Walker-Gladney also gave a very good animated performance as the Player Queen, but as Cornelius I never got a sense of the character, and her line delivery was too tentative.

Daniel Lunt as Laertes was too cerebral. When he did convey emotion it was flat and lacked dimension. I must give him credit in his line delivery. Much of his dialogue is expository in nature and informs the audience of key plot points. It is imperative that the audience understand Laertes' lines otherwise the audience will get lost in the plot and Lunt made Shakespeare's dialogue sound like contemporary speech, which is a feat unto itself. Kudos.

Then there is Hamlet. Javier Morante was cast to play what many consider the most difficult role in the history of English literature. I have to applaud him for getting all the lines down (it's a huge role) and delivering them so they are clearly understood. Unfortunately, with such a large role whoever plays Hamlet must be able to convey a wide range of emotions. Morante's take was too internalized. Changing volume to convey anger isn't enough. Changing pitch to convey insanity isn't enough either. An audience will believe what they see more than what they hear. He came across as an actor proficiently delivering lines. There are 6 well known soliloquies in Hamlet, and each one conveys a differing take on the human experience that should leave the audience either bewildered, in tears, or enraptured. He uttered the lines beautifully, but he failed to convey the passion behind them. It was a valiant attempt to tackle this titular character, and while it wasn't a failure because he was able to convey the script, it left me longing for more. It felt like he was "acting" and not "being" the character.

This production of Hamlet is definitely worth seeing. It's not a perfect performance (few shows ever are), but the good definitely outweighs the bad. A lot of work and care was put into this show. This rivals some of the other Shakespeare productions I've attended by much larger and well funded theatres. Miron and her cast and crew need to be commended for keeping me thoroughly entertained from start to finish. And to think they kicked off their theatrical debut with what is considered one of the most difficult plays to mount and they did it quite competently is a sign of hopefully much greater things to come from this nascent theatre company.
---
HAMLET, PRINCE OF DENMARK
Poor Yorick Productions
OhLook! Performing Arts Center
Now through February 3rd, 2019
Friday
1631 West Northwest Highway,
Grapevine, TX 76051
Performances are February 1 & 2 at 7:30 PM, and February 3 at 2:30pm. Tickets $15. For information and tickets visit www.pooryorickproductions.com or call 817-421-2825.