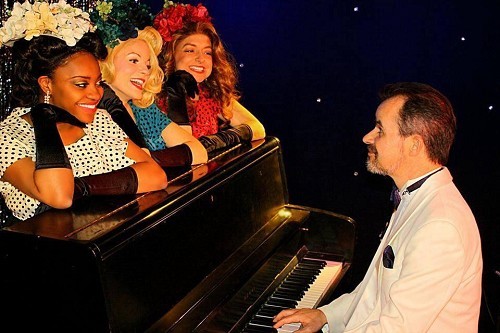 HER SONG
Conceived and Developed by Annie Benjamin, Kateri Cale, Lorena Davey, Terri Ferguson and Shelby-Allison Hibbs
Echo Theatre
Directed by Shelby-Allison Hibbs
Musical Direction/Arrangements by Scott A. Eckert
Choreography by Danielle Georgiou
Set Design by Terri Ferguson
Lighting Design by Brooks Powers
Costume Design by Ryan Matthieu Smith
Properties Design by Kateri Cale and Terri Ferguson
Stage Management by Michelle Claerhout

THE ECHO ROOM CROONERS
Annie Benjamin – Lulu Glaser, The Madcap Princess
Malcolm Beaty – Comic Songmeister Digby Bell
Kristen Bond – The Mellifluent Voice of Adelaide Hall
Kateri Cale – Proprietor Babe Lowry
Lorena Davey – Famed Spanish Soprano Maria Galvany
Terri Ferguson – Proprietor Edith "La Sylphe" Langerfeld
Jonathan Garcia – Musical Heartthrob Montague Love
Maranda Harrison – Blanche Tate, Sweetheart of the Lake
Bartenders – Dominique Brinkley, Stephanie Butler and Brooks Powers

THE MATT TOLENTINO QUARTET
Matt Tolentino – Bandleader, Clarinet, Banjo
Scott A. Eckert – Piano, Guitar
Rick Norman – Double Bass
Michael Plotkin - Percussion

THE DANIELLE GEORGIOU DANCERS
Gabriel King – Roderico Neyra
Veena Naik – Maude Allen
Jen Obeney – Hazel Dawn
Stephen Raikes – Francis Albert
---
Reviewed Performance: 1/30/2014
Reviewed by Mary L. Clark, Associate Critic for John Garcia's THE COLUMN
"Broadcast live at the Echo Room, on the glittering shores of White Rock Lake in beautiful Dallas", join us as our lovely singers croon some great tunes, played by our debonair band. Sit back or take a turn on our dance floor, enjoy a drink, and let yourself go back to that bygone era and the songs you fondly remember or might never have known.

The Bath House Cultural Center has metamorphosized into an intimate supper club, complete with table seating, bar, band and dance floor. Club goers are escorted to their seating area and offered to partake of beverages (even bottled sodas), snack food and desserts either brought to them or available at the bar. Big Band dance music and some rousing Busby-Berkley style tap numbers are already playing on the speakers as the singers and dancers mingle around, greeting guests and making certain the patrons are being served.

Echo Room's show is titled Her Song as all the music, lyrics, or both, are composed by women from the first half of the 20th century. Speaking with Co-Producer, Kateri Cale, she informed me the idea began to percolate after singer, Annie Benjamin, saw a PBS documentary on the Tin Pan Alley songwriters, and the enormous influence women writers had on the songs of that era. More than a year later, gathering songs and working on the concept, Echo Theatre has staged their largest production yet, and to marvelously entertaining success.

The supper club interior, designed by Terri Ferguson, instantly sets the mood. Entirely in black and white, with curved bandstand, swirled motif on the dance floor, a starry back wall and shiny tinsel curtain behind the band, the set beckons you to the dance floor, which club goers are encouraged to do at intermission and definitely after the main floor show. The modern "living room armchairs" of the Bath House have been entirely changed out to cushioned nightclub seating with small side tables to place your drinks. Those that choose "Champagne Seating" have tables to the side of the dance floor. You can also choose seating at the bar, definitely one of the busiest and most fun places of the evening.

Brooks Powers keeps the mood warm and inviting by lighting in shades of rose, aqua, gold and yellow. Company numbers or those around the old-fashioned, standing microphone (remember, it is being broadcast "live") are fully lit, with solos around the two downstage columns or at the bar spotlighted and more subdued.

Sound quality, the most important element of the production, is actually quite good and some of the clearest I've heard at the venue. All singers are body mic'd, and while there was some dropped sound or imbalance between singers and speakers during my evening, the sound levels are excellent, and for once the band supports the singers rather than drowns them out, a compliment I gave both Bandleader Matt Tolentino and Music Director Scott A. Eckert.

Speaking of music, what glorious, "makes you wanna get up and dance" sound comes from The Matt Tolentino Quartet. Tolentino, on clarinet, takes on bandleader Glenn Miller imagery, and the foursome rounds it out on piano, double bass, percussion, and sometimes guitar or banjo. The music comes alive in such a deceptively simple way, you have to hold yourself back from singing out loud – but actually, why hold back . . . .
I didn't!

On a black and white set, my oh my, does the costuming stand out! Gorgeous, colorful gowns, black or white tuxedoes, some with tails, adorn both the singers and dancers. Vintage jewelry abounds, dripping diamonds and pearls as the costuming warrants. Feathered and flowered headdresses and hair adornment of the period are used liberally. More street fare is worn for certain songs, and on the dancers who double as both the club's entertainers and patrons on the dance floor. There are innumerous costume changes, I imagined to represent time progression, but later noticed the songs have no set sequence, so am uncertain why so many changes, except that they are wonderful representations of the rapidly-changing fashion of those fifty years.

There is only one element of the entertainment that does not fit the supper club aura, that of choreography by Danielle Georgiou. Two women and two men dance numbers in the period style of the song, but several are modern dance, with twisting leaps and on the floor arching movements, i.e. Martha Graham. While those would be wonderful for much larger venues such as the famed Cotton Club or The Latin Quarter in New York City, the Echo Room is a small, intimate club, and ragtime, Charleston or jazz moves, as well as closely-held partner choreography, would be much more suitable.

The selection of songs span from 1899's "Hello! My Baby!" through 1946's "Good Morning Heartache". Representing a wide variety of styles, from ragtime and blues to the pop songs of their era, they showcase the mood of our country during pre-war times, depressed times, and the hopeful times of a renewed America after WWII.

Kristen Bond and Annie Benjamin sing of the Roaring 20's with "Jazz Baby". One of my favorite songs is soulful Alberta Hunter's "Down-Hearted Blues", sung by Bond with all the pain and despair needed to convey her story.

Doris Fisher's "Blame It on Mame" oozes a whole lot of sensuality, and Lorena Davey's voice fairly drips with it, giving Jane Russell's rendition a run for the money.

A song most everyone who's watched the old Walt Disney cartoons should know is "Who's Afraid of the Big Bad Wolf?". Malcolm Beaty's swagger as the top hat and tails wolf is comical, and his voice has all the variety to handle a silly song or one with more style, such as the prolific Dorothy Fields' "I Won't Dance" with Kristen Bond.

Jonathan Garcia has the enviable and fitting character name, Montague Love. Costumed in a white tuxedo with tails, a jeweled brooch on his lapel, his "swavey" looks and sleeked back hair remind me of a cross between Cesar Romero and John Leguizamo. His rendition of "The Way You Look Tonight", danced with Lorena Davey, holds all the musical theatre quality of composer Jerome Kern, with dreamy lyrics by Dorothy Fields. Garcia is the visual and vocal essence of that particular style, now long past.

A clever turn to keep the illusion of the live broadcast is to announce Echo Theatre's sponsors as a commercial, much as radio shows recognized various companies (soap, biscuit mix, toothpaste) during their live performances.

The program handled out also has a menu on the back. The supper club proprietors want you to know that because of Prohibition laws, they have chosen to provide complimentary libations, so if you behave yourself they won't have to call the cops and the supper club can remain open! Food is offered for a nominal fee, and so tipping your wait person should go without saying.

The most enjoyable aspect of Her Song, however, goes beyond the set, the costumes and even the music. Director Shelby-Allison Hibbs' inclusion of the audience into the supper club atmosphere makes them immediately relaxed in the setting and more willing to participate and not rely on "sitting in the dark" separation.

The actors' improvisational quips to each other show no limits, and by allowing them to wander amongst the audience, linger onstage during the songs, sit at empty tables (though I believe there won't be any empty ones soon) and use the entire area, including the bar, to croon those lovely songs, the theatricality falls away as you enter this forgotten time, even if only for the ninety or so minutes. Don't be surprised, however, if you find yourself lingering afterward to finish your drink and maybe take a spin on the floor to the post show music. The cast will remain there, waiting for you to join them in all the fun they are obviously having.
---
HER SONG

Echo Theatre
Bath House Cultural Center
(Eastern shore of White Rock Lake at end of Northcliff Drive)
521 East Lawther Drive
Dallas, TX 75218

Singing through February 22nd

Thursday thru Saturday at 8:00 pm, except for Saturday, Feb. 1st, at 9:00 pm

Tickets are $25.00 - $35.00, from Tiered to Champagne seating options. There is a $5.00 discount available for seniors and students on all tickets. Group sales are available by calling the box office.

For information and to purchase tickets, go to www.echotheatre.org. You may also reserve tickets at reservations@echotheatre.org.