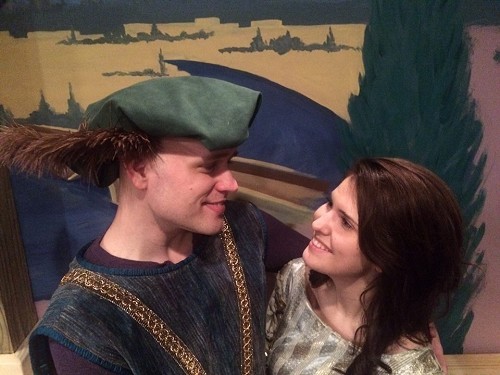 ROMEO AND JULIET
By William Shakespeare
Rockwall Community Playhouse
Directed by Steve Golin
Assistant Director – Laura Blenk
Set Design – Jonathan Brown
Set Artist – Jerrell Drake and Joetta Curie
Costumes – Judy Perser
Fencing Instruction – Jonathan Brown
Lights/Sound Tech – Lloyd Turney


CAST
Romeo – Brandon Whitlock
Juliet – Mackenzie Osborn
Prince Escalus – Phil Alford
Paris – Preston Wells
Mercutio – Michael Logue
Benvolio – Caleb McCabe
Tybalt – Micah Brooks
Capulet – Doug Luke
Lady Capulet – Mary Thacker
Montague – Ike Thacker
Lady Montague – Betsy Cooley
Nurse – Rachel Granville
Sampson – Camryn Golin
Gregory – DJ Sommers
Abraham – Mitch Walker
Balthasar – Anne-Marie Thacker
Friar Laurence – Vance Wittie
Friar John – Rob Richardson
Apothecary – Victoria Sawyer
The Chorus – Emily Miller
Servants – Jamie Cooley, Shay Tapia
Guardsman – Kris Komstock, Tommy Redfearn
Page – Vanessa Cooley

---
Reviewed Performance: 2/8/2015
Reviewed by Charlie Bowles, Associate Critic for John Garcia's THE COLUMN
It's a good bet everyone reading the title of this review will have already formed opinions and associations about the story. Whether it's through a staged version or one of the many movie adaptations, in a professionally staged Shakespeare theater or in the local high school auditorium, opinions about Shakespeare originate with this play. Is it possible everyone who ever studied Shakespeare as an elementary student started with Romeo and Juliet?

Of course, Romeo and Juliet was not Shakespeare's invention. The play's subject goes back to antiquity with similar stories, a couple of which were known to be inspirations to the Bard. But he enhanced his tale with amazing language, created characters to expand the story, and filled it with themes the original storytellers never imagined. And it's his version which is considered the basis for everything that's come along since.

Rockwall Community Players is the latest in DFW who's adapted Romeo and Juliet for their stage. They, like all companies, have chosen a particular printed version of the text, a time period for their story, decided which characters are most important and changed the language to fit their actors and community. Shakespeare plays could be long. He didn't have to fit performances into the hour and a half modern audiences expect. This production was a bit less than three hours. Even so, Director Steve Golin cut text but left the story intact, so there's no loss of the full experience.

No need to summarize much. Romeo, Juliet, Capulets, Montagues, misunderstandings, deaths of many major characters – every schoolchild knows the story.

The setting is Verona, probably in the 1500-1600s. And that appears to be where Director Golin chose his time. Set Designer Jonathan Brown created a uni-set, with the main area an open public place in Verona and then added simple set pieces for different places in the story. There was the obligatory balcony and two simple family crest signs that identified where families resided - Montagues on the right, Capulets on the left. Scenes painted on the back arched walls and doorways displayed the town of Verona. Jerrell Drake and Joetta Curie are credited with this well-done art and, while the paintings were understated, they set a nice atmosphere for the play.

Sound effects were simplistic - birds, crowd, town noises, and periodic antique music – but all supported the scenes well. Lighting was minimal and scenes were often shrouded in shadows for darkness. Few property pieces were chosen, only what was necessary for the story. Of course, most men had swords and the actors used rapiers, or perhaps fencing swords, as fencing instruction is credited to Jonathan Brown as well.

Judy Perser's costumes included a wide variety of likely period pieces looking like those seen in movies from that era – long brown robes for Friars, colorful dresses of silk and finery for rich ladies and rich robes for the Prince, peasant frocks and pantaloons for working class. All were colorful, believable and aided the storyline perfectly.

Much of the success of this show came from the directorial choices made by Steve Golin. Design elements showed a unified vision. The scene cuts he made were judicious and the language phrasing very well coached. All in all, the cast seemed to be enjoying telling the story and I always credit the director for providing that energy and passion.

There are many characters in Romeo and Juliet and the theatre used many actors, too many to mention, though each seemed committed to their role, their character choices and the story. Even minor characters bought into their importance in bringing this tale to life and it showed in their sense of ensemble. All stories have main characters, but often the meat and bones are shown by supporting characters and this is especially true of Shakespeare, where a speech by a jester or even a servant could provide important exposition. But in Romeo and Juliet, well, you have to talk about them first.

Brandon Whitlock created Romeo as a young man over-possessed by love, a true romantic, in that all life could be falling around him and he laments that his love is not in his clutches. Whitlock sounded a hopeless romantic. His voice droned, even lilted. He looked crestfallen. His puppy dog eyes were on the ground most of the time, except when Romeo sees Juliet on the balcony. In time, Whitlock showed excitement as Romeo gets close to Juliet, even adoring of her. But when his friend, Mercutio, is killed by Tybalt, Whitlock showed us the fire of an out-of-control young man. We saw a burst of powerful energy. In speaking his text Whitlock spoke the words carefully, succinctly and fully understandable, but he also effectively brought Romeo's emotions into each moment.

Juliet was played by Mackenzie Osborn. We tend to forget that Shakespeare's Juliet is only thirteen, certainly an acceptable age in those days, but she is played as sixteen in this production. Osborn showed a young, innocent child growing up quickly. Her face was bright and made Juliet look hopeful and curious. Her voice was excited, imploring and demanding as Juliet asks Nurse those important questions about life. She walked with light, yet dignified, steps as befits a teenager of one of the most important families in Verona. And she, like Whitlock, gave the text a careful phraseology and pacing, making it easy to understand the words. I didn't get a sense that anyone misunderstood words or missed the story. Well done to Director Golin and the cast with one of the main challenges of Shakespearean acting.

The downside of careful phraseology is that it can seem a bit unnatural to our ears, and for actors new to the form, sounds more like little memorized speeches than impassioned dialog and heartfelt thoughts spoken aloud. This was true of some of the actors, but does one make it sound like street speech in the 1500s or do they make it understandable to modern audiences? Golin sided more with the latter and that was a good choice for this audience.

Nurse is an important character, as comedic relief and a foil and aid to Juliet. It's through her we learn much about both Juliet and Romeo. Rachel Granville fully put herself into this character and played a balance between an underling with no power and the enormous power Nurse had over Juliet. Granville used cynical vocal inflections to spice up the text as Nurse fights her young ward's teenage outbursts, but when she advises Juliet, Granville dropped into a comforting voice of a mother. Nurse is also pretty ribald and Granville let worldliness come out full bore. The juxtapositions of these different character choices give Nurse her humor and Granville pulled it off well.

Phil Alford played Prince Escalus, the real power in Verona. His voice was booming and his posture showed the confidence a Prince would have. Alford spoke with the kind of voice we imagine a powerful royal needs, without overplaying it to become the focus. In both investigating crimes and meting out punishment, Alford had the air of a modern-day judge.

Friar Laurence, on the other hand, is meek and subservient, though clearly powerful when it counts. Vance Wittie looked the part of a Friar, in plain brown robe over a slightly arched back he walked with the stance of a pious man. In counseling Romeo and later supporting the couple's marriage, Wittie's voice was not as a church leader but more like a loving father with his kids. When the end comes for the couple (sorry for the spoiler), Wittie visibly mourned the loss as Friar takes responsibility for their demise. Often turned into a preachy sermon against the two fathers, his sorrow was more genuine because Wittie didn't play morally superior over them.

There were, of course, fights, sword fights. It's Shakespeare! These came at the hands of Tybalt (Michah Brooks), Mercutio (Michael Logue) and Romeo and Tybalt. Later, Paris (Preston Wells) and Romeo got into it and Benvolio (Caleb McCabe) was right there in the mix. Fights were basically quick duels, more like fencing than stage combat. The duelers had some nice stage combat awareness but I would have liked to see a bit more to the fights since they're important in moving the storyline forward. Kudos to the actors, however, and to Jonathan Brown for his choreography.

Community theater is a force for art in America, closer to the theater of antiquity. It provides close connections for actors and audiences, revealing some of the magic of the stage. Rockwall Community Players' Romeo and Juliet is a community theater production. The cast and crew are community volunteers. It's not a Royal Shakespeare production but, in fact, it is closer to Shakespeare's original intent than the lavish productions we often see. I have no doubt RCP will introduce new members to the Bard's fan club in Rockwall and I applaud them for producing this play in such an accessible way. I look forward to their other ventures into the Shakespearean world.
---
ROMEO AND JULIET

Rockwall Community Players
609 East Rusk
Rockwall, TX 75087

Plays through February 22nd

Friday-Saturday at 8:00 pm, and Sunday at 2:00 pm

Ticket prices are $20.00 and $15.00 for seniors and students.

For information and tickets, visit http://www.rockwallcommunityplayhouse.org or call their box office at 972-722-3399.