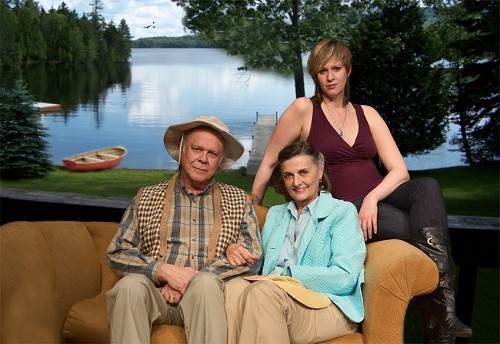 ON GOLDEN POND
by Ernest Thompson
PFAMILY ARTS
Director - Chan Harris
Stage Manager - Kristin Moore
Assist. Stage Managers - Jency Allison Weeks / Catheryn Hooper
Set Designers - Chan Harris / William R. Park
Costume Designer - Kristin Moore


CAST:

Norman Thayer - John S. Davies
Ethel Thayer - Jane Willingham
Chelsea Thayer - Ashley Puckett Gonzales
Billy Ray - Zack Moore
Bill Ray - Ken Orman
Charlie Martin - Charles Ryan Roach
---
Reviewed Performance: 2/8/2013
Reviewed by Danny Macchietto, Associate Critic for John Garcia's THE COLUMN
PFamily Arts' production of On Golden Pond is a lovely, elegiac character study of Norman Thayer. Norman is ready to die. His eightieth birthday is upon him and he has settled into a state of defeat about his withering condition. A sourpuss wit is his last and only functional device to aid in living out the rest of his days.

John S. Davies embodies Norman with natural ease, speaking with a laconic charm that bites as much as it will make you laugh and projecting a cautious dread with each step of his deliberate and age appropriate walk. Norman and his wife of more than 40 years, Ethel, saunter into their annual summer home and hope to once again settle into a season of fishing, reading, strawberry picking, and just good-ole, plain nitpicking on each other. This set-up alone is reason enough to spend a comfortable evening at the theatre watching two old people trade loving jabs at each other.

Jane Willingham as Ethel is a fitting foil to Davies' Norman. She is appropriately spunky and conveys the patience of a saint when dealing with someone as cantankerous as Norman. In a poignant moment she tells Norman "You're the sweetest man and I'm the only one who knows it." It is a distinct and important line in a production that often allows us to see this sweet man through Ethel's eyes.

We see Norman through other peoples eye's as well: his emotionally estranged daughter, Chelsea, pays an unexpected visit with her current boyfriend, Bill Ray, and his 13 year old son, Billy. Playwright Ernest Thompson's script is conventional in plot structure, but the true revelations come through in its subtlety, with some of the most memorable moments stemming from when Norman is forced outside of his comfort zone.

The catalyst to this strain is a marvelously structured exchange between Bill and Norman. Bill asks if it's okay that he shares a bed with Norman's daughter at the summer home. Simple enough, but without revealing too much, director Chan Harris skillfully paces this scene as the turning point where life gets more interesting than Norman originally bargained for as the rest of the play turns into a glimpse of his future.

Ashley Puckett Gonzales plays Chelsea Thayer. She is effective in harnessing a rather large "chip on [her] shoulder". As Bill Ray, Ken Orman brims with a controlled confidence and brevity as the one person in the room that can turn Norman silent.

Rounding out a very solid ensemble is Zack Moore as Bill Jr., a natural presence that behaves the way I've observed many bright and laid back teenagers behave, and Charles Ryan Roach as Charlie Martin, appropriately ingratiating as the kindly mailman who grew up knowing the Thayers.

Costume Designer Kristin Moore does a lovely job of outfitting all the characters organically and without distraction to the action; however, at times it looked as if she went a little overboard costuming Norman, seemingly ordering everything straight out of the LL Bean catalog.

The set design by Mr. Harris and William R. Park is left refreshingly open, opting for no interior walls save for the troublesome screen door. Erecting the shelving units of the living room area with wires and ornamenting with family portraits, classic literature, coat and hat racks' the room breathes of nostalgia. It suggests an expansive world for the Thayers outside of Golden Pond and when leaving the theatre I left the whole experience with a truly warm feeling in my heart.
---
ON GOLDEN POND
PFamily Arts
4017 Preston Road, Suite 544, Plano, TX 75093
Runs through February 16th

Thursdays 7:30pm, Fridays at 8:00 pm, Saturdays at 2:30pm and 8:00pm. Tickets are $35.00 adults, $25.00 for seniors and students. For tickets, call 972-378-1234