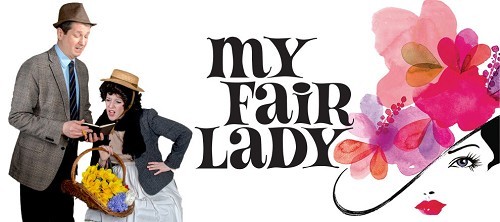 MY FAIR LADY
Book and lyrics by Alan Jay Lerner, Music by Frederick Loewe
Adapted from George Bernard Shaw's play and Gabriel Pascal's
Motion picture "Pygmalion"
Artisan Center Theater
Executive Producer – DeeAnn Blair
Associate Producer – Natalie Burkhart
Director – John Wilkerson
Music Director – Richard Gwozdz
Assistant Director – Rian Slay
Choreographer – Amy Jones
Stage Manager – Hannah Cooper
Lighting Designer – Daniel Orges
Prop Designer – Cassondra Plybon
Costume Designer – Nita Cadenhead
Stitchers – Nita Cadenhead, J.L. Sunshine, Lana Withee
Hats – Megan Brady, Bonnie Ann Buswold
Set/Scenic Designer – Wendy Searcy-Woode
Photography – Al Smith
Playbill Design – Brian Blair



CAST

Eliza Doolittle – Amanda Hollis
Henry Higgins – Stan Graner
Colonel Pickering – Richard Buswold
Alfred P. Doolittle – Tom McWhorter
Freddy Eynsford-Hill – Cameron Potts
Mrs. Pearce – Mary Hanna
Mrs. Higgins – Louise Childs
Zoltan Karpathy – Travis Miller
Mrs. Eynsford-Hill – Tamera Miller
Lady Boxington – Jessica Olson
Lord Boxington/Harry – Adam Richard
Jamie – Duncan Parkes
Dancer/Servant – Heather Krebel
Dancer/Servant – Avery Withers
Dancer/Servant – Madelyn Myers
Servant/Chorus – Julina Durling
Servant/Chorus – Danielle Downs
Servant/Chorus – Cara Panico
Servant/Chorus – Anna Windle

---
Reviewed Performance: 2/10/2017
Reviewed by Laurie Lynn Lindemeier, Associate Critic for John Garcia's THE COLUMN
In the modern day world of 2017, audiences remain thrilled to watch a man teach a woman how to speak proper English to be accepted as a lady in "My Fair Lady." Evidence to this are packed houses around the world for this popular musical for more than 50 years. This included one in Hurst, Texas—the Artisan Center Theater which was chocked full of an eager audience on opening night.

Yes, the riveted viewers filled to capacity the main stage theater to take in what some have dubbed the "perfect musical." The beloved show is based on George Bernard Shaw's "Pygmalion" and set to Lerner's witty lyrics and Loewe's memorable music.

Perhaps this miraculous musical's never-ending popularity is due to the unexpected plot turns, boisterous characters, catchy tunes, and elaborate costuming possibilities. All of these elements for this story set in England were embraced and lauded at the 195-seat theater-in-the-round in this little 'ol Texas Theater that's been around for 15 years.

The themes are as relevant today as ever: class distinction between the rich and poor, men dominating women and women pushing back, lack of commitment in an absentee parent, Britain's relationship to America, and the basic theme—what does one actually need to have a life that's "loverly."

The abundantly sexist and degrading comments made by men are overlooked and even applauded in this show. The cast, crew, costumes and set were simply quite strong in this production and reeled in theater lovers with ease. The Artisan delivered a complete package of entertainment!

The pompous Henry Higgins admirably played by Stan Graner, calls Eliza, superbly played by Amanda Hollis, "deliciously low" and "horribly dirty" and even suggests he may "throw the baggage out." The audience was charmed and delighted. This satisfaction is due to the acting and relatively strong singing of both of these performers. Graner played the role for the Artisan in the past and returned to present it solidly again. Hollis has a strong soprano voice, delightfully expressive facial expressions and supreme comedic timing. She captured the spunk of the flower girl turned proper lady brilliantly.

Another notable character was the maid, Mrs. Pearce, played beautifully by Mary Hanna who never dropped her brogue accent and tilted her head in subtle quizzical expressions that were marvelously effective. The actor who played Eliza's sponge-loading, drunkard father Alfred Doolittle was Tom McWhorter. He had enthusiastic and playful acting skills, but also received laughter due to his drawl repeatedly leaking into his Cockney accent. Still, McWhorter did a fine job of "Get Me to the Church on Time" with the support of an excellent chorus who danced him to the dreaded marriage with steps of great fun and encouragement.

Choreographer Amy Jones created vivacious dances and obviously knows how to corral a bunch of Texan community theater actors to fly about the stage with flurry and precision. Brava!

Costuming of both the sumptuous gowns and the plain lower-class garb added immensely to the flourish of the big chorus dance scenes. Costumer Nita Cadenhead styled flowing and effective costumes. Especially splendid were the black and white gowns and suits worn by the snobbish onlookers in the horserace scene. Megan Brady and Bonnie Ann Buswold created the ladies' elaborate hats that an opulent touch and helped to underline the huge difference between the social classes in Edwardian England.

Freddy, Eliza's suitor, was sonorously sung by the strong tenor Cameron Potts. His voice is solid but I would like to see gesturing while he sings "On the Street Where You Live." There's a great opportunity for him to express himself with his arms, yet they remained glued to his side while he strolled and sang. Still, Potts plays the enamored suitor well and has good chemistry with Eliza.

The role of the stuffy Colonel Pickering was arrogantly performed by Richard Buswold. The kindness and respect this character showed Eliza was a welcome oasis to the treatment she received from her cold linguist teacher.

The snobbish Mrs. Higgins was acted by Louise Childs, and while she has the "reserved" part of her character down pat, she needed more underlying energy. The danger in playing a reserved character is to lack a seething core of energy and distain beneath the external indifference.

In general, the chorus of servants and dancers were in character and engaged, but there were a couple who did not know the words to the songs and noticeably fudged them and/or were not engaged with the central character. Nonetheless, on the whole, chorus' strong singing and dancing kept the audience engaged.

One chorus member role stuck out in a splendid way, like a rose in a tulip patch. That gem was Avery Withers as a servant girl. She connected well to the action and played the small role with sincerity and sweetness.

With a beautiful set, designed by Wendy Searcy-Woode, and an overall fine group of dedicated performers, I expect the Artisan will continue to fill the house throughout Valentines' week and till closing on March 11th… deservedly so.
---
MY FAIR LADY
Artisan Center Theatre
444 E. Pipeline Rd, Hurst, TX. 76053
Box office: 817-284-1200.
Website: http://www.ArtisanCT.com

The play runs through March 11th. Mondays, Tuesdays, Thursdays, Fridays at 7:30 pm, and Saturdays at 3:00 pm & 7:30 pm. Ticket prices are $10-$24. For info and tickets, call 817.284.1200 or go to http://www.ArtisanCT.com