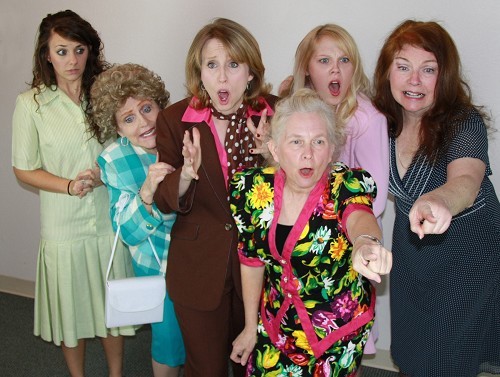 STEEL MAGNOLIAS
by Robert Harling
Mesquite Community Theatre
Directed by Nancy Pistilli
Assistant Director/Stage Manager – Delores Lelsz
Set Designer – Kevin Brown
Lighting Designer- Scott Davis
Properties Designer – Karen Carboni
Costume Designer – Emily Hunt

CAST:
Shelby– Ashley Markgraf
Annelle– Keila Lorenc
Truvy– Johnna Leigh
Clairee– Sue Goodner
M'Lynn– Darla Meek
Ouiser– Nancy Lamb
---
Reviewed Performance: 2/22/2014
Reviewed by Amy Thurmond, Associate Critic for John Garcia's THE COLUMN
Steel Magnolias is undeniably a piece of classic, modern-day American literature. Written in 1987 by Robert Harling and set in Natchitoches, Louisiana, 1984, Steel Magnolias is an audience favorite, based around true events impacting the lives of six women whom we encounter at a local beauty shop. It packs a
powerhouse of memorable lines, loveable characters and plenty of laughs. I feel certain the vast majority of readers are familiar with the show and its tender, Southern charm, with the mantra, "there is no such thing as natural beauty". Truvy owns and operates the busiest, most prestigious beauty shop in town. We, the audience, are given a front-row seat with the entire action of the play taking place inside the shop. This work of art offers a simple, heartwarming tale of community, friendship, and most importantly, love, while paying homage to the joys and trials we encounter on any given day.

As I walked into the black box for Mesquite Community Theatre's production of Steel Magnolias, I was welcomed by the peppy, pre-show/intermission/scene change music. The music was a fun walk through the 1980's hits heard on popular pop radio stations of the day. Often times, the music was too loud to the
point of overpowering the actors. There were also brief and sharp cutoffs instead of smooth fade ins or outs. Those things aside, the music set a peppy, happy mood for the evening. Set designer Kevin Brown created a fun, functional beauty shop. By way of styling stations, manicure table and vintage hair drying chair, the beauty shop was brought to life with simplicity and suggestion. With the help of Properties Designer, Karen Carboni, the stage certainly carried me back to a hair salon in the 1980's. From the period telephone to the sponge rollers to the teasing comb, we were firmly planted in the 80's. Such an iconic era, the fashion of the 1980's reigned supreme on the women of MCT's Steel Magnolias, so hats off to Costume Designer, Emily Hunt. Stirrup pants, the hats, leggings, and Christmas sweaters, oh my! Shelby's short hair style wig appeared silver, not blonde, and just didn't work. If it the idea was to play up a certain look considering the circumstances, it fell short (or rather, too silver). Otherwise, the wigs were a fabulous throw back. The best costume of the evening must go to Truvy's Act II, Scene I costume. I'll just mention shoulder pads, stone wash and boots…ahhhh, viva la 1980's fashion!

Johnna Leigh as Truvy made the audience feel right at home in her carport-turned-beauty shop. She set a nice pace for the show and kept it running throughout. Her take on Truvy was unique, and the audience responded kindly with laughter and empathy in all the right places. Leigh's performance
was predominantly up to par with regard to comedic timing. However, some of her best lines were thrown away or delivered in such a nonchalant manner, some were missed them, and thus, laughs were lost. However, Leigh as Truvy was the bee's knees in this hive! She kept the pace moving forward, and her movement about her shop played out naturally.

Annelle, played by Keila Lorenc, offered a sweet, sincere quality to her character. In the opening scene, we found ourselves peering in on her "hands-on" interview for a hair stylist position at Truvy's. Annelle was hired within the first ten minutes of the play and Lorenc showed promise of meeting Leigh's Truvy sentiment for sentiment, laugh for laugh. Lorenc offered a few tender moments but failed to capitalize on the intricacies woven into play for her. With the greatest potential for character development and arc within the show, Lorenc offered little depth to her portrayal. Her saving grace, by far, was her explanation of how she deals with loss. In that moment, Lorenc had the audience in the palm of her hand, and her delivery was sincere and heartfelt. It came from a real and honest place that shone through.

The character of Shelby is a sweet and strong young woman. Ashley Markgraf gave a performance that, at times, could be categorized as spirited.

Unfortunately, more often than not, Markgraf's portrayal came off as "put on" instead of genuine. Her performance most certainly had its moments, but the color and range of emotion was limited and uneven. Markgraf worked the audience like a pro at times, though, especially in the funnier bits. At other times (seemingly the most pivotal of times) her performance was simply forced and unnatural or, to the other extreme, flat and unfeeling, such as in the haircut scene. This scene is a pivotal moment for Shelby, an extremely emotional moment, and a symbolic gesture of things to come. It seemed Markgraf did not truly have a grasp of what her character was going though, of what she was about to go through, so that the end result, therefore, was detached.

Sue Goodner's performance as Clairee was the highlight of the evening. Her command of every moment on stage, her ability to engage the audience, her comedic timing and her seemingly effortless comprehension of the material made the night a huge success. It wasn't just my take, I can tell you. The audience was following her every move. Without stepping on anyone's feet, without overshadowing anyone else, Goodner got the audience to buy in from her entry, and they willingly followed her through the last scene. I can say that with firsthand knowledge. I watched my fellow audience members laugh, cry, sigh and utterly respond completely to Goodner's performance. What really put her performance over the top was her understanding of playing to the audience in the round completely, without excluding them in any way... With her back turned to a certain area of the audience, she delivered her lines with her head slightly turned so everyone could hear and see her. When Goodner got emotional, I got emotional. When Goodner delivered a laugh line, I laughed. When Goodner moved, my eyes followed her movement. Enough said.

In the performances of M'Lynn, played by Darla Meek, and Ouiser, played by Nancy Lamb, both actresses had truly captivating moments. Overall, however, their acting was lacking in critical areas. Meek's portrayal of M'Lynn was somewhat cold and insincere. She played a very stern woman, lacking of maternal
tenderness and almost overbearing at times. I believe she tried to convey her deep and protective love for her daughter, but it played as harsh & detached. Lamb as Ouiser often seemed uncomfortable and forced which produced an awkwardness that followed her through the show. Both women had their grand moments in the spotlight, however. Meek's monologue at the end of the show brought tears to not only her cast (though they are actors who do know how to cry on queue), but to many members of the audience. Her retelling of the details to her friends at the beauty shop was her best moment of the evening. She commanded the stage in that moment and saw that monologue through from beginning to end like a pro. Instead of coming off as a crotchety old Southern lady, Lamb seemed to be "doing as she was told". Her gesturing, though, was excessive to the point of being distracting; her intonation was mild-mannered instead of gruff. Her comedic timing was her saving grace. She knew how to work most of her laugh lines and did so successfully about 70% of the time.

Regardless of this being an ensemble show, there are plenty of built-in moments for Ouiser that allow her to pull focus, to command all the audience's attention. But Lamb lacked the ability to pull focus, to command attention in her direction. Instead, her portrayal was awkward, nervous, and almost timid. Ouiser's lifelong friendship with Clairee was one area that Lamb did an outstanding job conveying, even in the midst of her own grumbling and disenchantment with everything happy. Her concern for Shelby's well-being seemed sincere. As purely an audience member, I wondered if Meek and Lamb might have swapped roles. In the end that wondering doesn't matter. Both women played well as part of the ensemble cast.

With the decision to present the show in the round, Director Nancy Pistilli had a definite challenge.The logistics of bodies during group scenes seemed like disorganized chaos most of the time (the last scene notwithstanding). Many times throughout the show, actors were standing in a perfect diagonal line from one corner to the next. At other times, the actors moved about with no sense or security to that movement, no impetus for their crosses, sits or stands. Beyond the special challenges, this method of staging played well overall for such an emotion-filled, intimate show. There is no question when it
comes to Pistilli's knowledge of and passion for the material presented. This is an ensemble show, though each character has many opportunities to shine in singular moments, and with only six characters and almost two hours of dialogue, it is clear that Pistilli pulled her ensemble together. That is not something that just happens, it takes planning, experience, communication and love. She certainly had those things on her side. Though a bit rough around the edges, Pistilli delivered a polished ensemble.

If you don't know the greatness that is Steel Magnolias, or if you haven't seen it in a while, I encourage you to make time, support Mesquite Community Theatre, buy a ticket, and soak up this beautiful piece of art. You will be walk away glad to have spent the time and money.

It is incredible to find a community theatre still in business after thirty years. The performing arts are critical to the culture and education of our world. I am convinced this world can't do without them!
---
STEEL MAGNOLIAS

Mesquite Community Theatre
Mesquite Arts Center
1527 North Galloway Avenue, Mesquite, Texas 75149

Runs through Saturday, March 1st

Thursday-Saturday at 8:0 pm, and Sunday at 2:30pm Friday/Saturday tickets are $15.00, $12.00 for seniors over 55/students/S.T.A.G.E. members (with ID card), and $8.00 for children up to age 6. Thursday tickets are $12.00. For more information and to purchase tickets, go to http://www.mesquitecommunitytheatre.com/ or call their box office at 972-216-8126.