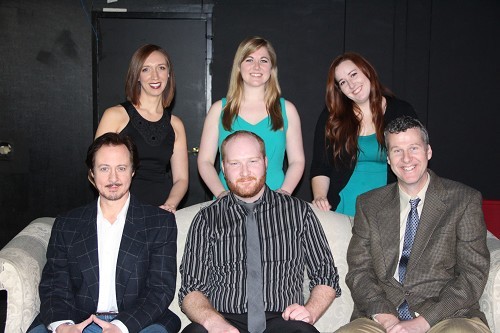 I HATE HAMLET
By Paul Rudnick
Lakeside Community Theatre
Director – Matt Stepan
Assistant Director/Property Designer - Jared Seman
Stage Manager - Lindy Englander
Scenic Design – Bradley Gray
Sound Design – Danica Bergeron
Lighting Design – Benjamin Keegan Arnold
Costume Design – Cynthia Beene
Fight Choreographer – Joseph Taylor

Felicia Dantine – Jeny Sidall
Andrew Rally – Benjamin Keegan Arnold
Deidre McDavey – Caroline Carter
Lillian Troy - Molly Bower
John Barrymore – Mike Tibbetts
Gary Peter Lefkowitz – Scot Michael Walker

---
Reviewed Performance: 2/27/2016
Reviewed by Mark-Brian Sonna, Associate Critic for John Garcia's THE COLUMN
"I Hate Hamlet" by Paul Rudnick is a comedic play in which an LA television actor named Andrew Rally agrees to take on the titular role of "Hamlet" in New York's Shakespeare in the Park. He's moved in to what was John Barrymore's townhome, and thanks to an impromptu séance the ghost of John Barrymore re-appears to coach, tutor, and plague the beleaguered actor. This play is comedic fodder for it skewers theatre, film, television, Shakespeare, and the business of entertainment.

The director Matt Stepan assembled a competent cast with, for the most part, good comedic timing to bring the hilarity to life. He creates many sight gags along with sound designer Danica Bergeron to produce some inspired and guffaw inducing moments. The result is a fun entertainment chock full of laughs.

In order for the production to work effectively the casting of the TV star Andrew Rally and John Barrymore is key.

The joy in this production is watching both Andrew Rally and John Barrymore, played by Benjamin Keegan Arnold and Mike Tibbetts respectively, spar both verbally, and at one point figuratively with swords. Rally and Barrymore must develop a love/hate relationship for the comedic zingers to work, and both Mr. Arnold and Mr. Tibetts create a palpable chemistry and work off each other well. Every joke lands. When the play turns serious the drama is believable because both actors have been able to develop what on the surface would seem like one note characters but have given them depth.

The supporting players in the production include Felicia Dantine, played with a flawless New York accent by Jeny Siddall, the real estate broker who inadvertently conjures up Barrymore, Gary Peter Lefkowitz, a LA TV producer played with smarmy charm by Scot Michael Walker, Lillian Troy who is Rally's agent in New York played with aplomb by Molly Bower, and Deidre McDavey who is Rally's virginal girlfriend played by Caroline Carter.

The supporting performances are more a mixed bag. Jeny Sidall nails her characterization of a brash and pushy real estate agent. Even when her character is not speaking she induces laughs with some of her stage business such as checking for lipstick on her teeth when she loses interest in the conversation. Gary Peter Lefkowitz exudes a reptilian charm as the TV producer, for he is no more trustworthy than a snake. His delivery never leaves any doubt that he's only looking out for himself, even though he acts as if he's concerned for Rally's career. Lillian Troy is supposed to be played by a much older actor. Molly Bower who is not the correct age does a valiant and competent job of playing the role under heavy old age make-up. Her only flaw in her performance is that she attempts to vocally make herself sound old, and the result is she speaks too softly, and some of the lines become difficult to hear. This said, her comic reactions are divine. Caroline Carter plays Deidre McDavey with too much earnestness to the point that it seems like she's in a different play altogether. For comedy to work the pace must be fast, and her frequent pauses as her soul searched replies took the thunder out of what should have been quick comedic zingers and quips.

On the production side Cynthia Beene as the costume designer obviously had fun in picking out the costumes. The enormous shoulder pads and tacky power suits for the real estate broker were a comic sight gag as was Barrymore and Rally's Hamlet costumes. Even though both Hamlet costumes were identical, the fit wasn't, which spiced up the hilarity: Barrymore looked suave, Rally looked like a lump of draped cloth. Joseph Taylor's fight choreography was fun, funny, and fearless. Benjamin Keegan Arnold's lighting design not only served the purpose to illuminate the stage but to create moods as necessary to enhance the flow of the show. Unfortunately, the set by Bradley Gray is the one element that lacked finesse. The entire set was draped with fabric. While fabric covered walls would have been appropriate in the apartment given it was Barrymore's old haunt, the execution was messy.

The only other minor quibble I had with the production was the pacing in Act 2. This is a light and breezy comedy that has its authentic dramatic moments in the second half. In this production the drama was overplayed by the slowing of the pace in the second act. Had the comedic pace been kept up the drama wouldn't have been lost but made more effective.

"I Hate Hamlet" is a play worth seeing for an entertaining evening. It is capably directed and has some outstanding performances. And the best part? You are allowed to laugh at Hamlet.
---
I HATE HAMLET
Lakeside Community Theatre
6303 Main Street, The Colony. TX 75056
Now through March 5, 2016

Friday March 4th, 2016 8 PM, Saturday March 5th 3 PM $10 to $15. For information and tickets visit www.lctthecolony.com or call 214-801-4869