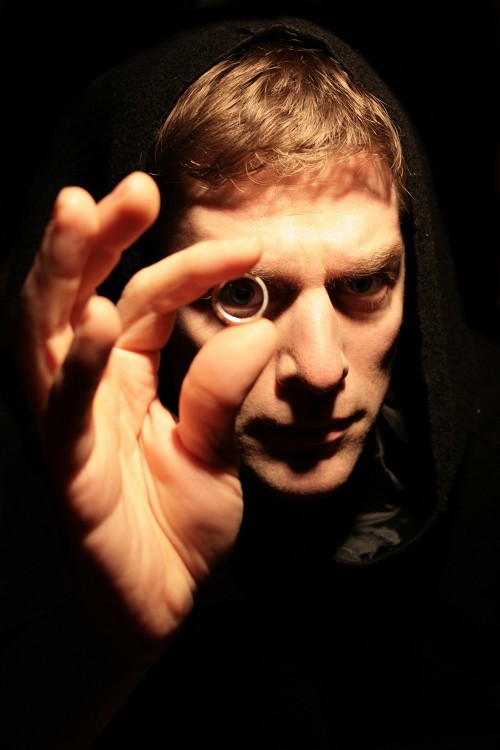 ONE MAN LORD OF THE RINGS
Written by Charles Ross
Based on the literature of J.R.R. Tolkien
Part of the Out of the Loop Fringe Festival
WaterTower Theatre
Directed by T. J. Dawe

CAST
All 100,000 Characters and 9 Companions - Charles Ross
---
Reviewed Performance: 3/2/2012
Reviewed by Mary L. Clark, Associate Critic for John Garcia's THE COLUMN
Lord of the Rings fans take note ? now you don't have to sit in front of your TV or laptop all day to get your Tolkien fix! Charles Ross has condensed those 11 hours and 23 minutes of film into the most spectacular, often mind-blowing 65 minute performance uniquely entitled - One Man Lord of the Rings!

Headlining the Out of the Loop Fringe Festival, Charles Ross ? actor, playwright, and self-proclaimed "professional geek" - meticulously watched the LOTR trilogy a couple thousand times. Perfecting the vocal accents and movements of the lead actors, he gloriously plays an amalgamation of 42 characters (and armies of tens of thousands!), as well as including all the theme music and sound effects. Ross deftly switches from Frodo to Sam to Gandalf, to Gollum ("My precious. . ."), then army legions, Orks, sounds of wind, water and so much more. To witness such precise attention to detail, such obviously beloved storytelling, from an actor is a breathtaking rarity.

Now for those who are not Tolkien fans or have only seen one or two of the films (and not read the books), fear not. I've seen the films but am not an aficionado myself and Ross's performance is still engrossing. As it turns out, several in the audience (after asking for applause as to who knew the stories) had never seen or read the Ring Trilogy. I believe they enjoyed it all the same if only for the spectacle of this one-man tornado.

What's most fun about his performance is his inside jokes about the film (he makes great fun of Orlando Bloom's long white hair and Ian McKellan's wizened stance), and his asides to the audience. Needing to take a few quick water break before continuing, he pauses to talk to the audience, see how they're doing, asks questions, plays with them a bit, and then dives right back in. During Friday's performance, Ross was singing a bit of the film's music when a front row audience member got up and left. Without missing a beat, Ross shifted his song to include the exiting person, wishing him well and good. . .

One Man Lord of the Rings, for all its electrifying theatricality, would only be half as good without the assistance of Ross's stage manager who masterfully works the many light cues, and blends sound effects so essential to bring out each character's vocal nuances, making the performance that much more astounding.

Ross was a headliner at the OOTL Festival two years ago with his infamous One Man Star Wars Trilogy. While not seeing that performance, I am so grateful I ventured over to Addison to be a part of a rare moment of pure theatre.

If only to watch a master of his craft present an equally masterful story, please try to see the last performances of Charles Ross in One Man Lord of the Rings. One hour in the dark was never more enjoyable (don't go there!) or captivating.
---
ONE MAN LORD OF THE RINGS

Part of the Out of the Loop Fringe Festival
WaterTower Theatre
Addison Conference and Theatre Centre
15650 Addison Road
Addison, TX 75001

One Man Lord of the Rings' last performance is Sunday, March 4th
at 2:00 pm.