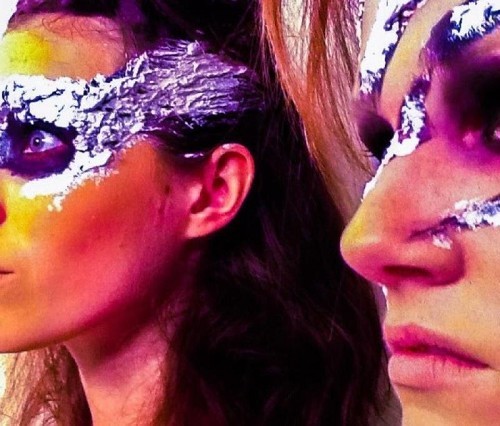 LORD OF THE FLIES
Adapted by Andy Baldwin, Cheyney Coles & Mikaela Krantz
From the play by Nigel Williams
Based on the book by William Golding
Level Ground Arts
Directed by Andy Baldwin
Stage Manager ? Cheyney Coles
Choreographer ? Brandon Mason
Set Design ? Max Marquez
Lighting Design ? Max Marquez
Sound Designer ? Jordana Abrenica
Costume Design ? Andy Baldwin, Cheyney Coles
Props ? Bill Fountain

CAST
Ralph ? Chloe Hobbie
Jack ? Lela Gannon
Piggy ? Kate Werner
Roger ? Libby Hawkins Roming
Simon ? Mikaela Krantz
Sam ? Lindsey Hall
Eric ? Porcia Bartholomae
Maurice ? Courtney Christine
Tribe Members ? Stephanie Fuller, Christina Beard
---
Reviewed Performance: 3/3/2012
Reviewed by Charlie Bowles, Associate Critic for John Garcia's THE COLUMN
"Kill the pig! Cut his throat! Kill the pig! Bash him in!"


English high school classes have long been offered the chance to read Lord of the Flies, by William Golding, as required reading. For a boy brought up in a conservative Texas neighborhood in 1966 this novel was a shock. Its brutal violence and murderous anarchy by children on a deserted island had a profound impact on my world outlook and foreshadowed the later brutality I saw in the news, movies and TV.

Golding wrote Lord of the Flies in 1954 after his experience in WWII, possibly enhanced by his experience as a school teacher in an all-boys school in England. In 1995 Nigel Williams penned the authorized stage play and it is this play Level Ground Arts adapted for the stage.

Directed by Andy Baldwin, this production deviates from the play in several ways, most notably with an all-girl cast, a choice that opens a new perspective on the timeless themes of the novel. Baldwin uses the original "boy" names so the story unfolds without confusion.

Lord of the Flies follows the original plot but paints events with a broad brush, making them more impressionistic. The most important events and the inevitable descent into anarchy still occur and the timeless themes of civilization versus savagery and lost innocence are well-played. It is a good versus evil story with strong archetypal characters to show this epic battle. The main departure from the familiar story is the ending. It abruptly stops before any resolution so the audience leaves with no resolution. Baldwin wants to tell this story to imply, not specify, meanings. "Is this a piece about equality? Se*? Politics? Religion? The answers are there but I would not dare to spoon feed them to you."

The audience's first encounter with this play is the set which is seen on entry. It is a simple and impressionistic design by Max Marquez. The white square floor, which the audience looks down on, provides both the island the girls land on and a projection screen for designs and titling. Off-white drapes fall from the grid to the floor upstage with small scrims covering shadow acting. Lighting, by Marquez, includes stark reds and whites with white spots pointing in harsh angles, creating strong shadows and backlighting. Lighting is used to off-set separate locales on the island. This is an effective use of the small space to create the illusion of a larger island. The audience learns before the lights go out that this story is not realistic.

Sounds provide the second encounter as audiences wait for the opening. Jordana Abrenica uses unfamiliar mood music to create a pulsating, sometimes droning, sometimes driving beat, to suggest the island. A more traditional island soundtrack would use waves and surf but Abrenica fills the theater with the impressions of meaning and contributes to Baldwin's experimental vision.

Baldwin and Cheney Coles work costuming into the story so effectively that their clothing helps tell the story. Uniformed girls from boarding schools arrive disheveled from a rough landing. Over the course of the story the uniforms morph into disarray, mirroring the girls' descent into anarchy. The rogue hunter group becomes increasingly wild with their clothing and body painting and all the costumes slowly disintegrate mirroring the girls' mental strain.

Bill Fountain provides prop support by using iconic images from the book. A conch shell is a metaphor for order, justifying civilized behavior while being challenged for its authority. A pig's head represents evil which drives the hunters into bloodlust. Piggy's glasses become a holy grail, the means to make fire and be rescued. They fight and kill for the glasses.

Director Baldwin wants his female cast to be thought of as actors, not "actresses." Perhaps there's some fear they will be thought of as "girls" playing parts. Not to worry. This cast is strong.

Conflict within Lord of the Flies is shown in the epic battle between Ralph, played by Chloe Hobbie, and Jack, played by Lela Gannon. These characters fight over leadership from the first day on the island and split the kids into two warring factions. Hobbie and Gannon make the conflict palpable. Gannon's Jack brings physicality to the role combining femininity with hard-edge violence. Hobbie's Ralph shows the challenge of a reluctant leader growing into her power in the face of chaos.

The groups fight over the idea of civil order, demanded by Piggy, played by Kate Werner. Piggy insists on using the conch shell as a symbol of law which inflames Jack to break away from the "civilized" group and descends with her group into anarchy. If Piggy represents order, then Simon calls for calm intelligence. Played with a sense of wide-eyed innocence by Mikaela Krantz, Simon calls for reason and is killed trying to tell the truth. Werner's Piggy balances between a fearful child, ridiculed all her life, and a strong champion for right and honor as she discovers her own courage. Krantz's Simon walks a tightrope between truth and the knowledge that truth is dangerous.

The rest of the characters represent participants in the anarchy. Sam (Lindsey Hall) and Eric (Porcia Bartholomae) follow Ralph but get caught up in the savagery. Roger (Libby Hawkins Roming) leaps to Jack's side from the start, but questions his leadership. Maurice (Courtney Christine) and Stephanie Fuller and Christina Beard, as Tribe Members, split their loyalties and struggle with their wavering choices.

These are challenging, complex characters and these actors use their well-directed craft and sensitivity to play them. We never question their heart and skill.

Are we supposed to learn from plays? Director Baldwin and Artistic Director Bill Fountain think so. "Art is more enticing when it poses a question and allows the audience to answer for itself," writes Baldwin in the Director's notes. A Level Ground mission is "to establish a theatre that transcends boundaries and opens up opportunities for exploration and discovery." What do we learn from this play?

The themes in Lord of the Flies are obvious, even for people who haven't read the book. Telling the story impressionistically and ending before the kids can be rescued by adults raises newer questions than Golding poses. Can we older adults rescue the younger generation from our mistakes? Is it possible that good no longer overcomes evil in this world? Chaos and anarchy seem common in the world today and it's hard to see justice prevail. Youth have cause to wonder.

This play shows violence that shocked us a few decades ago but today it seems common. Even as we watch Piggy and Simon die, we're struck by the artistic presentation, not the brutality. Have we become that jaded by decades of violent movies and television? Violent images occur in the nightly news. We watch Survivor and reality TV. We are shocked by outrageous behavior but not by violence.

People will leave this play with different reactions. Some may see entertainment and recognize a good story. Some may miss the impressionistic shades of value in the play. Some will question their beliefs about the new themes. All will be appropriate. Level Ground Arts wants "to bring creative projects to an audience: both bold new works and amazing classics seen through fresh, new eyes." They accomplish that goal with Lord of the Flies.
---
LORD OF THE FLIES
Level Ground Arts
KD Studio Theatre, 2600 N. Stemmons Freeway, Dallas, Texas 75207
Runs through March 18th

Fridays - Saturdays 8:15pm; Sundays 3:00 pm
Tickets are $15.00 - $20.00
For information and tickets, go to www.levelgroundarts.com
or call 972-302-1801.