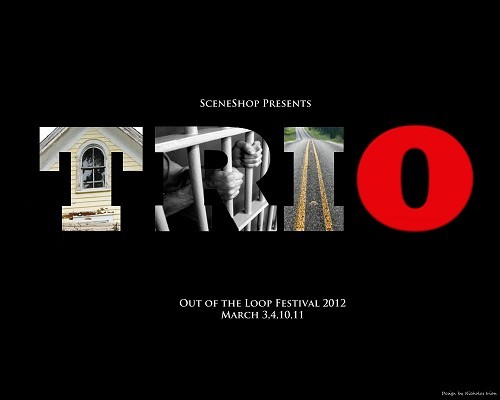 TRIO-Three one-acts
"lived in. . ."
Written by Steven Alan McGaw
Performed by Kyle R. Trentham
"Freak"
Written by Nicholas Irion
Performed by Steven Cashion and Ellanie Patman
"Trafficking with the Devil or She Drove Me To It"
Written by Steven Alan McGaw
Performed by Peggy Bott Kirby and Steven Alan McGaw
WaterTower Theatre
---
Reviewed Performance: 3/4/2012
Reviewed by Mary L. Clark, Associate Critic for John Garcia's THE COLUMN
WaterTower Theatre's Stone Cottage space is a perfect location for some intimate theatre. This year the riser seats were reduced to rows of folding chairs. Appropriate black cubes and stools made these three plays' changes easy. The pre-show music was classical but a bit short as it stopped short then repeated three times before the productions began.

Trio, being produced by Scene shop, had a subtitle Intent. Result. The Gulf Between. Each of the one-acts had intent, and there was a result. It was that gulf in between where the problems lay.

The first play entitled lived in. . . was about a newly married young couple who bought an old house with problems - big problems. The man and his girlfriend purchased the house from one of his relatives. It was a real fixer upper and his relative warned that it had been "lived in". That was an understatement. Things started happening stuff was found pushed against the wall in the morning, and all the trash that had been taken out of the house for months found its way back into the bathtub. The girlfriend insisted the problem stemmed from something in the basement. In Steven King-like fashion, the "haunting" got worse, and the man ended up alone with a house that he couldn't rid himself of.

I'd explain more but, frankly, it was difficult to listen to this story as the lone performer was reading the script while sitting on a stool down front. I don't believe a play reading was appropriate for the Out of the Loop Festival, but if an actor was going to read the play, he should know it well enough to look more often at the audience than the script. Kyle R. Trentham's vocal inflections were not natural. He was not the man with the house, he was reading the play, and it sounded like it. After awhile, I had to look down at the wood floor to try to follow the storyline. The reading was so rapid it became difficult to keep up with what could have been an exciting story but ended up a confusing disappointment.

Next was Freak about a man who was readying to leave prison after 20 years for carrying marijuana "one last time". Angry, defiant and not all that remorseful, the man with "Freak" tattooed on his chest explained how he came to be incarcerated. He spoke of his love for his daughter, who only visited him once or twice before she came to take him home.

The reason for the play seemed to be to take a jab at the penal system. The man ranted that he is more reformed to be in prison than to be in the outside world. He felt the problem was religious organizations being a catalyst for the laws used to imprison people for non-violent crimes.

Freak had some interesting concepts and Steven Cashion acted well enough to portray this broken man reduced to "Yes Sir" and "No Sir" to his guard. What held him back was the direction. Cashion spoke directly to the audience, then went into his memories of his daughter coming to meet him as a little girl. Monologue, then play, monologue, and then play. That style watered down the power of the prisoner's plight. Freak would have been better served as a lecture within his cell to warn us, if author Nicholas Irion had something he truly wished to say. All the rest was superfluous. The addition of the daughter visiting as a young child and an adult was unnecessary and could have been told in the monologue.

This play had potential but got muddied in the execution.

The final act from Trio was Trafficking with the Devil or She Drove Me To It, which I believed revealed a personal side of author Steven McGaw. A beleaguered husband is forced to take his wife's Aunt Nonnie on an antique shopping trip to Fredericksburg, Texas from Dallas. These two are not the best of friends in fact they loathe each other. Nonnie is old-fashioned to the core, is a penny choker and a massive complainer. The man is no dream date himself. Bad mouthing, cursing and yelling at Aunt N., he takes no guff from her but tries to make the best of the situation for his wife's sake (and because the aunt would tell on him). Aunt Nonnie takes extreme advantage of the husband's reluctant generosity, and he enacts his revenge with a little "tailgate" return home.

Trafficking. . . was a humorous story that would have had a better performance if Steven McGaw had done the entire story by himself. He had a natural comedic talent that needed honing, mainly from a volume standpoint. He could easily have played both roles, not in costume like Tuna Texas, but in spoken word. If McGaw could tune down his yelling, which started high and never relented, and worked on an opposing voice for Nonnie, he would have a funny show. The other character was unnecessary.

Aunt Nonnie was played by Peggy Bott Kirby. Unfortunately, she was too young to portray this old curmudgeon and her movement and actions simply did not fit her age. All that housedress, socks, orthopedic sandals, and cane was stereotypical and overdone.

The direction and blocking was also sporadic. If the director didn't want it to be a monologue to the audience, why were the houselights up? The husband spoke to the audience, went into a past memory with the aunt, back to us, and then back to his memory. The two cubes representing the front and back seats of the car were placed too far apart. How much more humorous would it be to have Aunt N. badger him from right behind. The imaginary objects kept coming and going he was driving the car, then the steering wheel disappeared, and then returned. He held the cell phone invisibly appeared to his ear, and it dropped away while he still talked (was it Blue Tooth?). The cell phone hand hold reappeared, then was gone again.

Generally, McGaw's story, partly real or fictional, would be best presented as a comedic stand up. Otherwise, it was a silly story poorly told.

Overall, Trio, produced by Sceneshop, was not on par with the quality work usually presented at Out of the Loop Festival. Attention to detail, better direction, and an understanding of what fringe festival audiences expect would go far to make their next venture a success.
---
TRIO
Sceneshop

Part of the Out of the Loop Fringe Festival
WaterTower Theatre
Addison Conference and Theatre Centre
15650 Addison Road
Addison, TX 75001

Very limited run for Trio?Saturday, March 1oth at 8:00pm and Sunday, March 11th at 5:00 pm.

Out of the Loop Fringe Festival runs through March 11th.