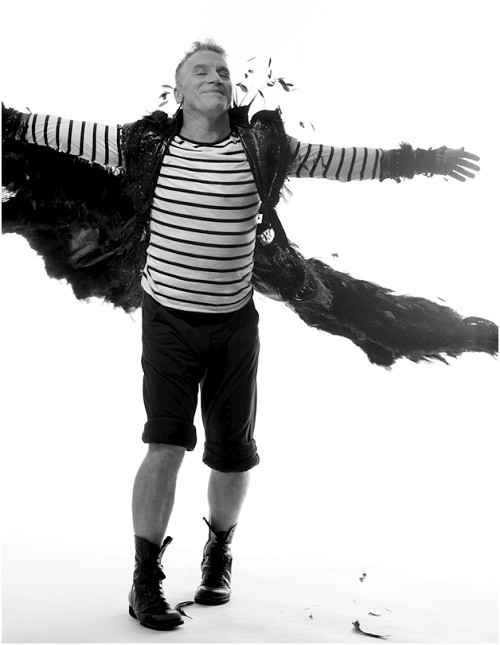 BEYOND WORDS
Written and Performed by Bill Bowers
Developed with and Directed by Scott Illingworth
Part of the Out of the Loop Fringe Festival
WaterTower Theatre
---
Reviewed Performance: 3/9/2012
Reviewed by Mary L. Clark, Associate Critic for John Garcia's THE COLUMN
You can put your thoughts of mimes in that invisible box - Bill Bowers? one man performance is nothing like the beloved Marcel Marceau or that annoying, pushy mime with French beret and striped top. This masterful mime wears no white face and actually speaks!

Part semi-autobiographical, part fictional characterizations, Bowers takes classical mime and narration to play some of the many people that molded his life, as well as characters to answer the questions "What is a Boy"? and "What is a Man"?

As introduction, he explains his life as a highly imaginative gay boy in small town Missoula, Montana. Then in twelve separate vignettes he talks about and mimes eventful portions of his early life and later career performing and teaching, in particular a tiny town where, as the visiting artist he performed, taught in schools and special needs center, and directed Oliver, all in one week!

Using intricate sound effects by designer David Larson, and delicate lighting spots and stars gobo, Bowers chooses reflections from his childhood? old radio commercials promoting the newest cowboy or army gun, narration from shows like Father Knows Best, as to what that world thought boys should be. He becomes a mischievous, runny nose, care-free child, playing in the yard, making believe.

Using different clothing and props from off two coat racks, Bowers performs typical movements such as walking in place or picking up objects as he goes into his child's imagination, being a real cowboy coming to the saloon in town, or going to the county fair - we can see the rides, the Carney, balloon man, photo booth and more. In between the mimed pieces come stories of his life, his family, and true events that touch him deeply. And it is here the mime becomes more physical, more explosive.

One of the two most powerful pieces is a story taken from the 1919 novel Winesburg, Ohio by Sherwood Anderson about a gentle and kind man with a type of wild hand palsy, brought on by being falsely accused of 'touching' the children of his classroom. The other is a brilliant depiction of the murder of Matthew Shepherd in Laramie, Wyoming. Coming from the view of all those involved, the bicyclist who finds him, the murderers and Matthew, his mother, while all the while a young woman sings gently of the incident. A silent tribute more poignant than any words can ever express.

Bill Bowers uses parts of his life experiences like posters, displaying how other people's words and actions can so determine one's self-esteem and self-worth. An uncle's cruel remarks, an employer's squelching of creativity - all become catalysts for his artistic endeavors and open-minded spirit. One piece that especially made me smile is the factory worker who gets off the subway in a different place and discovers that true happiness can sometimes be found in red satin and tulle. A sweet, uplifting moment.

Beyond Words, to my opinion, is just that. It goes beyond the normal convention of mime. It elevates the art form to much greater, more accessible heights. Please do not get me wrong. I loved Marcel Marceau and his flower-chapeau Pip. In college, I stayed in line overnight twice to get tickets to see him. However, Bill Bowers takes his characters from his heart, his life, and moves beyond mere stories. He offers reflection, understanding, and the thoughts and joys of a small boy out there in the big, open skies of anywhere America.
---
BEYOND WORDS

Part of the Out of the Loop Fringe Festival
WaterTower Theatre
Addison Conference and Theatre Centre
15650 Addison Road
Addison, TX 75001