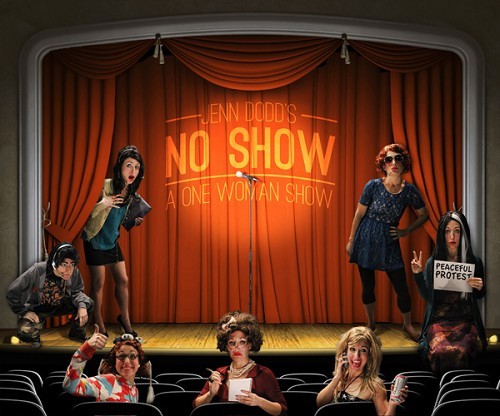 NO SHOW: A ONE WOMAN SHOW
Written, Conceived and Performed by Jenn Dodd
Part of the 2014 Out of the Loop Fringe Festival
WaterTower Theatre
---
Reviewed Performance: 3/8/2014
Reviewed by Joel Taylor, Associate Critic for John Garcia's THE COLUMN
enn Dodd, Ben Hill, Tom Lorenzo Katie Hartman and Sharon Jamilkowski collaborate to present a show that is clever, witty, hilariously funny, at times provocative, and always entertaining. Creator, co-writer and performer Dodd and the others have strong backgrounds in comedy writing and performing with groups and in places that include Second City, Circle in the Square Theatre School, Columbia and Edinburgh Fringe Festival. In No Show: A One Woman Show, all create and perform a show that is worth experiencing as much for sheer entertainment value as for the training and insight it offers actors and performers of all levels to show the hard work that goes into making a comedy show seem entirely improvisational.

It is opening night of a one woman show – tickets are sold, the audience is seated, and friends and family of the star have arrived for the big night – but the star has disappeared. Or has she? Through the appearance of several characters that do show up, the audience is entertained, sometimes shocked, and surprised as everyone waits for star of the show to be found.

Playing over a half dozen different and distinct characters, Dodd displays differing comedic styles and delivery, delving into blatant, extreme feminism, low brow sex jokes, alien conspiracies and problems with technology, as well as material so subtle and underplayed that some might not get the joke, which is alright as there is plenty of humor to go around.

During the show, several of the characters borrow and repeat a phrase often used to describe Seinfeld, the sitcom that was developed on the strength and entertainment skills of the actors, but often did not have any real plot. "A show that is about nothing, funny". Like Seinfeld, No Show relies on the strength of its characters to keep it entertaining. Dodd uses a variety of costumes and wigs, mannerisms, speech patterns, and cultural accents to make her characters distinct enough to be believable.

A minimalist set design and props include two chairs, a cell phone, sandwich and bag of chips from a local sandwich shop, beer, and a purse. Creative use of multi-media projections, Dodd's strong improve skills, and a creative writing team help take the audience on an unforgettable journey to a show that is about something FUNNY!

No Show: A One Woman Show is clever, witty, unexpected at times, and was the highlight of my day at the Out of the Loop Fringe Festival. Dodd's performance reminds me of skits performed by the great Jonathan Winters and Red Skelton. Big exclamation points to her and this show !!
---