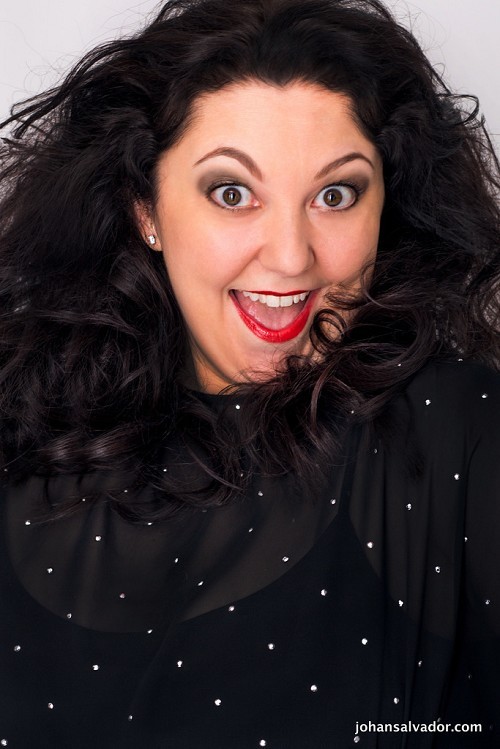 I'LL REGRET THIS TOMORROW
Written by Tori Scott and Adam Hetrick
WaterTower Theatre
Directed by Seth Sklar-Heyn
Musical Direction by Jesse Kissel

Performed by Tori Scott

MUSICIANS
Stan Graner – piano
Lincoln Apeland – bass
Matthew Morales – drums

---
Reviewed Performance: 3/13/2015
Reviewed by Charlie Bowles, Associate Critic for John Garcia's THE COLUMN
Tori Scott came home. The award-winning New York City cabaret singer returned to the place of her childhood to perform her club show, I'll Regret This Tomorrow, for the Out of the Loop Fringe Festival. This dynamo performer sang, told stories and commanded the stage like she's been there before. She has. Raised in Arlington and educated at Boston Conservatory, Scott has played several venues in New York, as well as on stage and TV.

In the sold-out show, she used different musical genres in telling her somewhat autobiographical story of a "shameless journey of her childhood years in Arlington … to her laughable and unlucky struggles in New York City."

And laughable they were. With intermittent commentary between, and sometimes within songs, it was often difficult to hear the next verse from all the laughter. Scott is one of those rare individuals who are naturally funny, and when she juxtaposed a seemingly all too natural life experience with a song that relates to but is totally out-of-character with the experience, the laughs just kept coming. Like all great comedians, Scott was not afraid to take on her own foibles and laugh at herself, and we loved her for it.

I'll Regret This Tomorrow was also highly musical. Scott is a fantastic singer with a wide vocal range and power to belt songs with the best of them. With classic songs, from Judy Garland to Michael Jackson to Grace Slick, her musical range was limitless. She both interpreted and owned these familiar songs, using them to punctuate and explore her missteps, to tell a story more than merely singing a bunch of songs.

The songs sounded like they were coming right out of Scott's soul. Watching her physically express them and explore the words with nuances, little pauses and playful phrasings was as much visual fun as listening to them. Like the best of musical theater singers, Scott acted out the songs and tied them into her commentary so tightly they blended perfectly together. Favorites actually included all of them, but hours later a few still rang in my mind. "Feel Like a Natural Woman" related to a story about eggs. Slick's "White Rabbit" stood out for its slowly building crescendo while relaying Scott's view on drugs. Michael Jackson's "Thriller" and a jazzy, driving version of Bette Midler's "Stuff Like That There" helped describe a performance at a New York bathhouse full of naked men. If somehow you fell asleep, those really woke you.

Scott was backed by a tight, well-balanced three-piece band consisting of Stan Graner on piano, Lincoln Apeland on electric bass and Matthew Morales on drums. Their timing and orchestrations balanced with the belting Scott, really supporting her powerful voice.

Directed by Seth Sklar-Heyn, he is also a power-house producer for shows like the 2014 Les Misérables revival, Phantom on Broadway, and last year's Evita. Musical Direction came from Jesse Kissel, who's working on Chita Rivera's The Visit and has many credits across the musical spectrum. Together with Scott and her writing partner, Adam Hetrick, the team created a tight production that packed thirty years into seventy minutes of hilarity and powerful music. This is one I would go back to see and just may for one of Scott's last two festival performances of I'll Regret This Tomorrow. You will leave a wiser and jumping fan.

I'll Regret This Tomorrow plays on Saturday, March 14th at 2:00 pm and Sunday, March 15th at 5:00 pm.
---
OUT OF THE LOOP FRINGE FESTIVAL
WaterTower Theatre
Addison Conference & Theatre Centre
15650 Addison Road
Addison, TX 75001

The Festival runs from March 6th through March 15th, weekends and weekdays.
All productions have only two-four performances and some theatre space seating is limited

Some productions contain adult language, sexual situations, and/or violence. Please consult the box office for content information regarding a particular production

Festival Passes are $65.00 for one admission to all 20 productions. Individual tickets are $10.00. WaterTower Theatre subscribers receive $10.00 off each festival pass.

For information on and to purchase festival passes and tickets, visit www.watertowertheatre.org or call their box office at 972-450-6232. In person reservations are also welcome, but seating is limited for most performances.